By Mark Berkey-Gerard and Gail Robinson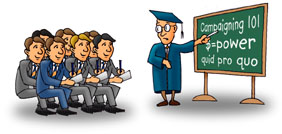 In his lecture entitled "How to Not Make Yourself Irrelevant," Councilmember Thomas Ognibene looked out at the early-morning audience of New Yorkers running for office, and asked what seemed like a straightforward question: "If elected to City Council, who would you vote for as Speaker?"
A candidate in the front row from Queens responded frankly that he did not know. A candidate in the back row from the Bronx raised her hand and said that she would vote for Adolfo Carrion, who is one of the 15 current Council members who are eligible to run again this year.
Ognibene nodded, a cross between Socrates and Oprah. Both answers, he said, would get them into trouble. Voters do not elect people to say "I don't know," he said. And supporting someone that may not ultimately be elected could be a costly political misstep: The new Speaker would remember, and "put you in the back of the room."
Then Ognibene, who is the Minority Leader of the City Council (and, like every other representative from Queens, on his way out), supplied a better answer: "You say, `Whoever is elected Speaker, I am going to work with them to make the city better.' That is how you keep yourself from becoming irrelevant."
It was clear that the audience who gathered to learn things like how a bill becomes a law and what a zoning resolution looks like were in for some lessons as well in the art of politics.
A hundred candidates gathered at 8:30 on a Saturday morning, many bleary-eyed, coffee cups in hand, for a crash course in city government that ranged from the intricacies of the budget process to how to rent an office. Local activists, relatives of current politicians, community board leaders, and people who have never been involved in politics came to size up their chances of mounting a winning campaign.
"This forum really provides a public service by educating people who might not otherwise feel comfortable entering the process," said Anna Lewis, a political newcomer who is running for Ronnie Eldridge's seat in district 6 on the Upper West Side of Manhattan.
The training seminar (which held all-morning sessions on two Saturdays in February, and will continue on two Sundays in March) is sponsored by Baruch School of Public Affairs and the New York's Women Agenda, and has the official endorsement of the City Council leadership. With term-limits set to empty 35 seats and erase five centuries of collective experience from the City Council chambers next January, everyone looks at the need for training as especially important this year for the candidates, the Council, and the government as a whole.
The Baruch seminar is not the only one this year. Many city civic organizations, policy analysts, and lobbyists are concerned about the potential turnover in government, and are holding their own training schools. The Coro Center for Excellence in New York City Governance at New York University's Wagner Graduate School of Public Service has plans for a similar policy-oriented training seminar. The Campaign Finance Board holds regular training on the workings of the city's matching fund program and the requirements of candidates. The New York League of Conservation Voters is also planning on doing an environmental training.
It will be a lot of information for candidates, many of whom could not help but feel overwhelmed, even after just one training session.
"My mother's advice was just to relax," said Yvette Clarke, who has an edge on some of the other novices. She is the daughter of Councilwoman Una Clarke, is looking to succeed her mother in Brooklyn's district 40.
FIRST DAYS
Queens Councilmember Thomas Ognibene started the first session off at Baruch, entitled "Your First Days on the Council," with a surprisingly frank lecture about the trappings of political life.
"When you are elected, that night there will be tremendous euphoria," said Ognibene. "People will come up and hug you and tell you how hard they worked all those months for you. And you've never seen them before."
He advised cooperating with other members, suggested carefully selecting issues to fight for, and pointed out one task that will be constant -- fundraising.
"Your swearing-in is really a fundraiser," continued Ognibene. "You have to do it right away because you haven't made any enemies yet."
Next, Manhattan Representative Ronnie Eldridge spoke just as candidly about her efforts to reform the rules of the Council in order to give more power to the members and less to the Speaker.
"These rules are crucial," said Eldridge, whose proposed revisions would make it easier for bills to be introduced on the floor, and for committee members to be selected differently. As for one of the Council's other crucial responsibilities, overseeing the actions of city agencies, it helps to have a cooperative mayor.
"Oversight has been a total bust," Eldridge said, "because the Giuliani people do not tell you anything. And when they do, they lie."
It was a day for bluntness. At a panel discussion where three Council members talked about the challenges of balancing the role of politician at City Hall with that of true representative for your district, Adolfo Carrion, Jr. said: "In the end, we are there to eke out power and wealth for our areas."
COUNCIL 101
City Council is sometimes characterized as the "do-nothing" branch of city government. But the list of the body's actual responsibilities, as outlined in the City Charter that was passed a dozen years ago, comes off as daunting. The Council oversees a $37 billion budget, which, as the students were told, is the fourth largest in the United States, after only the federal government's, and the states of California and New York. The Council is also supposed to provide oversight for one million public school students, 1.3 billion gallons of sewage, 127,000 city prison inmates, and a ton of land use and zoning proposals submitted each year.
"The piloting of the vast and complex ship that we call New York City will be entrusted to a new group of leaders, some with limited experience in government," cautioned Stan Altman, Dean of the Baruch School of Public Affairs. "It is a prospect that should inspire serious concern among all of us."
That is why, said Paula Gerard, the school's staff director, "our aim is to be a local version of Harvard's Kennedy School of training for congressional leaders."
Winning candidates will be invited to a two-day retreat and be given a new manual that Baruch is helping to put together which will explain the rules and procedures of the Council.
Meanwhile, the training sessions, which are open to the public, drew a handful of political consultants, campaign managers, reporters, and local political junkies. But the audience was mostly made up of New Yorkers who are serious about being candidates, many already with their own Web sites, campaign business cards, and a growing pile of cash. Who else would be interested in attending lectures about land use and the budget?
SURVIVING LAND USE AND THE BUDGET
"Your Role in Land Use and the Budget Process," Baruch's second session, aimed to be less inspirational and more focused on the "nuts and bolts" issues of land use and the budget, the two most complex but critical roles of the Council. Amy Klein, chief of staff to the Council's Finance Committee, compared the budget process to the television show "Survivor."
"Councilmembers are thrown into a room, sometimes without food, sometimes, sometimes with their cell phones shut off," said Klein. Then over the next weeks, the Council must wrestle with the mayor's proposals and come together with a consensus on how city money should be spent
As important as the Council's role in the budget is its participation in land use - approving changes in zoning, allowing something to be built in one place and not in another. When it comes to land use, "the Council's power is paramount," said Councilmember Gifford Miller. "There is a huge amount of money at stake in a lot of these decisions."
THE FUTURE
The training seminar will continue to provide basic training for the candidates; future panel discussions will focus on the police, parks, housing, and how to interact with lobbyists, advocates, and the press. After each official session, various groups will hold less formal "brown-bag lunch" sessions, which provide the only opportunity many in the audience would ever get to eat with people like the heads of the uniform workers unions.
Teachers always say that they get as much from their students as they give, but in these training sessions the quid pro quo is a little more direct. "We want to get in on the ground floor of City Council," said Sally Minard, President of the New York Women's Agenda. A "school" is a convenient and effective way for lobbyists, activists, policy institutes to contact, educate, and influence new city politicians. In the end, the greatest government turnover in New York City history may prove just as great an opportunity for them as for the candidates.
But the old hands on the Council who were the professors think it is worth it. Adolfo Carrion told the candidates that they were getting much better training than the one he received: His own introduction to government when he was elected way back in November, 1997, included a one-day presentation, which he characterized as superficial, by the Office of the City Council Speaker. And, he pointed out, it was only after he was elected. It is never too early to start learning what the Council members all agreed takes years to master. And the training is not the only head-start Carrion advised in a day's worth of blunt advice: "Start the transition after you win the primary."