By Philip Lentz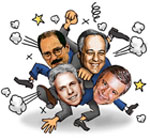 With the President-Elect becoming just President, and Florida for the moment forgotten, local attention from the press and politicos has already turned to the race for the next mayor of the city of New York. In reality, the race has been underway since Jan. 1, 1998, the day when the term limited Mayor Rudolph Giuliani was sworn in for his second, and last, term. But most of what has occurred so far is what political experts consider inside baseball--raising money, testing themes, seeking early publicity and rounding up potential allies.
Now, with the election clearly in view, the campaign is starting in earnest. The 2001 contest will be notable for several reasons. For the first time in 28 years, no incumbent will be on the ballot. Since 1977, every mayor except Rudy Giuliani (Abe Beame, Ed Koch and David Dinkins) has been defeated for re-election.
This year will also mark the first mayoral election to be held under new more generous public financing rules, which give candidates $4 for every $1 they raise, up to $250 per contributor. That public subsidy ensures that all the major candidates will be able to raise and spend the maximum allowed in the primary, $5.5 million.
Finally, this year's mayoral race will occur during a rare period of prosperity and relative domestic tranquility in the city. Few hot button issues divide the populace, which will make it more difficult for the candidates to differentiate themselves from one another.
In fact, one of the dilemmas facing this year's crew of aspirants will be figuring out how to maintain Mayor Giuliani's successes--lower crime, better quality of life, a booming economy--while appealing to a Democratic electorate yearning for a kinder, gentler and probably a more socially liberal leader at City Hall.
Though the election is still ten months away, the field is virtually set. There are four leading Democratic candidates: Public Advocate Mark Green, City Comptroller Alan Hevesi, Council Speaker Peter Vallone and Bronx Borough President Fernando Ferrer. All are veteran local pols with strong bases of political support, networks of friends and allies and well-oiled fund-raising operations.
Given the Democrats' 5-to-1 registration edge and the credibility of the four leading Democrats, it is unlikely a Republican can win this year. That means the next mayor will probably be picked in the September Democratic primary and he will likely be named Green, Ferrer, Hevesi or Vallone.
Green, 55, is the early frontrunner. Dapper, handsome and exceedingly glib, Green is the best known of the candidates. He holds slim leads in all the early polls, due primarily to the publicity he garnered as consumer advocate commissioner under David Dinkins, two failed runs for the U.S. Senate and seven years as the mayor's chief antagonist at City Hall.
He is the most liberal candidate in the field, never a detriment in a city like New York, and is popular among blacks, white liberals and Jews. His base is Manhattan, but he hopes to put together a coalition of progressives and political reformers from the other boroughs, plus sympathetic unions.
His big problem is that he's never actually run anything before. Yes, there was the Department of Consumer Affairs with some 250 workers, but that pales in comparison to being in charge of a city government with 215,000 employees.
Then there's the Nader connection. Green spent the 1970s as the top aide to Ralph Nader, with whom he wrote several books. That once would be a plus on a political resume. Not anymore. Given Nader's role in taking crucial votes from Vice President Al Gore in the presidential race, Nader is now anathema to many Democrats.. Green says he tried to persuade Nader not to run, but his foes are sure to remind voters of their ties.
Green also has spent much of his career attacking the business community, which has not made him many fans in corporate boardrooms. He has worked hard in recent years to repair those fences-helped by his brother, developer Steve Green-but there is little doubt that Mark Green is not the favorite candidate among the city's permanent political establishment.
Some believe Hevesi, 60, will emerge as Green's chief rival. Tall, articulate and well-schooled in the parry and thrust of Albany's partisan debates, Hevesi is considered one of the more thoughtful candidates in the race. He spent more than 20 years as an assemblyman from Queens before ousting Liz Holtzman as comptroller in 1993.
While a traditional liberal, his politics are considered moderate by New York City standards. His base is Queens, particularly its Jewish community, and he has a network of allies across the city through his friendships with assembly members with whom he served in Albany. One of his chief assets is his political consultant, Hank Morris, considered one of the most expert students in city politics and the man who guided Chuck Schumer to the U.S. Senate in 1998 (defeating, among others, Mark Green).
Hevesi has two problems. One is with black voters. In recent years, Hevesi attacked the Rev. Al Sharpton very publicly, refused to take part in the protests following the fatal Amadou Diallo shooting nearly two years ago and even complimented the mayor's handling of the shooting's aftermath. Some observers believe he once hoped to run as "Rudy Lite"-a less abrasive version of the mayor.
He has since become more critical of Giuliani in the last year, but there are still doubts as to whether he can appeal to minority voters and heal the racial wounds created by the incumbent.
His other problem is geographic. He isn't the only candidate from Queens. Vallone also calls Queens home, meaning Hevesi's base is not secure. The comptroller is favored to get the backing of the Queens Democratic organization-a big plus-but he must still prove that his Queens base is real.
Vallone, 65, is probably the best known contender after Green. As a candidate for governor in 1998 (he was crushed by Gov. George Pataki, but beat him 2-1 among New York City voters) and as speaker for 15 years, Vallone has spent a lot of time in front of microphones and television cameras.
As speaker, he is the absolute ruler of the City Council. Some dismiss him as a political hack for the way he wields iron-willed control over the council, but Vallone has been helping organizations, constituencies and interest groups for three decades-through city appropriations and other legislation--and many of those groups will remember that help come the mayoral election.
Vallone's problem is, like Hevesi's, geographic. He must share his base with Hevesi and, worse, is unlikely to have the backing of the Queens Democratic organization. In addition, some, remembering his languid gubernatorial race, question whether Vallone has the stamina and desire to win a mayoral campaign. A recent shakeup in his council staff did nothing to quiet fears about his motivation.
Ferrer, at 50, is the youngest of the leading candidates, but has been in the forefront of local politics for nearly as long as any of his rivals. First entering politics as a councilman, he became Bronx beep in the aftermath of the Koch political scandals in the late 1980s. His 13-year tenure has shown him to be a thoughtful and articulate expert in housing and economic development and he rightly deserves credit for the resurgence of many neighborhoods in the Bronx.
As a Hispanic, Ferrer's goal is to ride into Gracie Mansion by uniting the city's minority communities. It is a difficult strategy. Blacks and Hispanics have historically gone their separate ways in mayoral elections and there is little evidence that Ferrer will have any more success than previous Latino candidates.
The success or failure of his strategy actually rests elsewhere--with the Rev. Sharpton, who of late says he plans to run again for mayor. If he does, Ferrer's strategy is kaput.
In an effort to bring Sharpton into the Ferrer camp, Ferrer's chief ally, Bronx Democratic Chairman Roberto Ramirez, last year engineered primary fights throughout the borough to show that his primarily Hispanic Bronx political organization could promote blacks as well. However, Ramirez's strategy backfired badly. Not only did all of his candidates lose-mostly notably state Sen. Larry Seabrook in a challenge to U.S. Rep. Eliot Engel -- but the move alienated many Jewish voters and left Ferrer open to the charge that he tolerates racially divisive politics.
Worse, Sharpton now looks like he will run for mayor anyway. Of all the possible contenders, he is the only one with no hope of winning; he is too controversial and too disliked among whites. But as a candidate, he would draw black votes away from Ferrer and Green.
Given the strengths and political bases of the candidates, it is likely that no one contender can get the 40 percent required to win the primary outright. That means a runoff between the two top candidates will be needed to pick the Democratic nominee.
And the Republicans? Rudy Giuliani was an historical anomaly, a hiccup that occurs once every 25 years when the Democrats pick a clearly flawed candidate. Most of the Republicans mentioned as possible candidates, such as Assemblyman John Ravitz of Manhattan and CUNY Chairman Herman Badillo, would have little chance against the eventual Democratic winner.
However, there is another possible Republican candidate, still a long-shot, who could give Democrats shivers at night. That person is Michael Bloomberg, the media gazillionaire who, like Jon Corzine, would not be afraid to dump millions of his own money into the race.
Bloomberg, a former Democrat who switched parties in October, is now considering whether to run and he's is getting encouragement from Republicans like Mayor Giuliani, Staten Island Borough President Guy Molinari and Sen. John McCain of Arizona.
Most experts believe even Bloomberg's millions couldn't defeat a mainstream Democratic candidate. But if he runs, the general election will not be the cakewalk Democrats now expect.
Philip Lentz is the political reporter for Crain's New York Business.