By Philip Lentz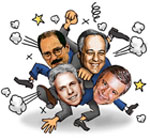 The public may not be paying much attention yet, but the mayor's race is about to enter the first turn with some crucial decisions in the offing. Ballot petitions begin circulating June 5, making that an unofficial deadline of sorts for some of the city's top political leaders to choose sides and decide who will be their "organization" candidate in the September 11 primary.
The candidate most affected by these decisions is City Comptroller Alan Hevesi, whose fate very well could be decided by Memorial Day.
First, an update: The general outlines of the 2001 mayoral campaign have not changed much in months. Public Advocate Mark Green, the best known of the four major Democratic mayoral candidates, has maintained the top position in the public opinion polls and remains the man to beat. By running a cautious centrist campaign, many believe, he has virtually assured himself of gaining one of the two coveted spots in a Democratic runoff, which would occur if no candidate gets 40 percent.
The other three candidates -- Hevesi, Bronx Borough President Fernando Ferrer and City Council Speaker Peter Vallone -- are scrambling for that second runoff slot. So far, Ferrer, employing the campaign's most strident anti-Giuliani rhetoric, has maintained a tenuous lead for the second spot. Hevesi and Vallone, both middle-of-the-road moderates from Queens, have found themselves at the bottom of the heap, each struggling to establish a base with outer-borough ethnics and a smattering of other voting blocs throughout the city.
Hevesi's languid early showing has surprised many observers, since the comptroller had raised more money than any other candidate and had been considered one of the stronger candidates in the field. But with primary expenditures capped at $5.5 million--each candidate has already raised that -- Hevesi's monetary edge no longer looks like that much of an advantage anymore.
Hevesi's mayoral strategy has been based on the expectation that he would get four key endorsements that would propel him into the runoff. That backing would come from the politically-powerful United Federation of Teachers, the Liberal Party ruled by potentate Ray Harding, the Queens Democratic machine run by Tom Manton and, finally in late summer, The New York Times.
However, Hevesi's poor showings in the polls has given cold feet to these potential backers, prompting Hevesi's media guru, Hank Morris, to throw a hail-mary pass six months before the primary, a one million dollar television ad blitz aimed at jump-starting the comptroller's campaign and improving his standing in the polls.
Early indications are that Hevesi's fortunes have been helped somewhat by the ad campaign. A recent Quinnipiac College poll showed Hevesi moving into third place behind Ferrer, a bump that has been reflected in private polls as well.
Now the key test: Have Hevesi's fortunes improved enough for some of his long-awaited endorsements to come home? Two of those endorsements will be made by mid-May, by Harding and Manton, and both could have a major impact on the campaign.
The Liberal Party endorsement is important because it would help Hevesi appeal to middle-of-the-road Democrats who voted for Mayor Rudy Giuliani in recent elections. The Liberal Party has backed Giuliani in the last three mayoral elections and, despite its name, is actually a centrist voice in local politics.
Harding and the Liberals have long been expected to be in the Hevesi camp; after all, Hank Morris and Harding are close and have worked together on other campaigns in the past. But in recent weeks, doubts have crept in.
First, there are those unimpressive poll numbers-did Harding really want to back a candidate who was fading, not gaining?
Second, there is the specter of Michael Bloomberg. The media magnate plans to run on the Republican line as the philosophical successor to Mayor Rudy Giuliani (never mind that he just became Republican last year). Like the mayor, he would like the Liberal Party line to appeal to Democrats squeamish about voting for a Republican. Bloomberg is also known to throw a lot of money at supporters (a la New Jersey Senator Jon Corzine) and Bloomberg's wallet could fund a lot of future Liberal Party political races.
Finally, there is the matter of Mayor Giuliani's recent jihad against Hevesi, prompted by a Hevesi television ad suggesting that Mr. Giuliani's police force engages in racial profiling. Steamed, the mayor ordered his friends and former aides helping Hevesi to cease and desist.
So the question: Does that order apply to Harding, one of the mayor's closest political confidantes? All this uncertainty has created an air of mystery around Harding's intentions.
Then there is the case of Tom Manton, the only remaining Democratic county chairman yet to make an endorsement in the mayor's race. With two Queens mayoral candidates, the endorsement of the Queens organization is crucial. It is hard to see how a Queens candidate can be considered a viable candidate for mayor if he cannot get the backing of his local Democratic leader.
There are strong forces among Queens Democrats pushing for both Vallone and Hevesi and Manton's response has been to dawdle and delay. "Constructive malingering" he calls it. But petition time is nearly here and he can't delay much longer. Does he go with Vallone, a long-time friend but whom many Democrats believe cannot be elected mayor? Or does he go with Hevesi, with whom he has had a rocky relationship in the past, but who could retaliate and threaten Manton's leadership if angered?
A decision is expected by late May.
What Harding and Manton decide will provide an early turning point in the mayoral race. If Hevesi gets both men's support, he will be able to claim "momentum" and look like a candidate on the rise. The UFT, which is leaning toward Hevesi but worried about his poll numbers, would likely be put at ease and endorse him later this spring. That means Hevesi would enter the summer in a strong position, help push him close to second place in the polls and maybe even make him the odds-on favorite to gain the runoff against his hated rival, Mark Green.
But if either Harding or Manton backs another candidate-or, horrors, if both men find other candidates to endorse-Hevesi's campaign could be grievously wounded.
The biggest beneficiary of a Hevesi fade may not be Vallone-it is unlikely Hevesi would leave the race if he lost some key endorsements-but Ferrer, who could see his strongest rival for second place fade from view. That could energize his Hispanic-black-white liberal coalition and help the borough president get into the runoff.
And Vallone? While the speaker has conducted a "Rose Garden" campaign based on City Council initiatives, it is hard to see how he can emerge as the premier challenger to Green as long as Hevesi remains in the race. And no matter how many misfortunes befall Hevesi, and no matter how much whispering his rivals try to put in reporters' ears, withdrawal seems an unlikely alternative.
Posted 4/25/01
Philip Lentz is the political reporter for Crain's New York Business.