By Philip Lentz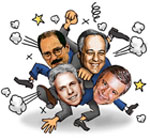 It has been decreed (on the front page of the New York Times, for one) that this mayoral campaign is dull and boring. When, political pundits ask, are these guys going to start attacking one another and make things interesting?
The attacks may be some time off, but the 2001 mayoral race is about to get the definition and shape that will likely determine the next occupant of Gracie Mansion. With the Sept. 11 primary two months away, television ads by all the candidates are going to begin soon, and that, finally, will likely alert the public that an important election is indeed on the horizon.
While the four Democratic candidates are relatively well known-all have been running for political office for several decades--these ads will give each a chance to reintroduce himself to New York City voters, tell his story and finally explain why he should be the next mayor.
The odd thing about the 2001 mayoral race is how little things have changed since the beginning of the year. Public Advocate Mark Green has run a smart if safe campaign and has kept his tentative lead in the polls. Meanwhile, his three adversaries-City Comptroller Alan Hevesi, Council Speaker Peter Vallone and Bronx Borough President Fernando Ferrer-have battled to secure the second place slot needed to face Green one-on-one in a likely Sept. 25 runoff (which would be held if no candidate gains 40 percent, considered a likely occurrence).
At one time or another, each of Green's three challengers has bobbed up into second place, but the truth is that the margin separating them has usually been too small to give any of them comfort.
In fact, the hot news of the last few months has favored Green. Not that it has been about Green. It hasn't and that's why it has been to his advantage. While the tabloids blare about Rudy and Judi and Donna and The New York Times records every tittle and jot on the city's newest politician-Republican mayoral hopeful Michael Bloomberg -Green has been able to float under the radar screen, putting out position papers, remaining unscathed.
That may soon change-frontrunners inevitably become targets-but Green remains either the first or second choice of most demographic voting groups and that assures that he will survive to the runoff one way or another. Some, especially in rival mayoral camps, say Green's support is thin and will fade, as frontrunners often do (remember President Muskie or Mayor Abzug?). But given the lack of a galvanizing issue or personality, knocking Green off his perch may be more difficult as the primary approaches.
Many initially thought Hevesi had the best chance to challenge Green. He had the most money, the strongest political support and the most reputable political consultant in Hank Morris. But despite an early media campaign waged in April and May, Hevesi remains back in the pack. His heavy television barrage did comfort some supporters and helped Hevesi lock up the backing of the Queens Democratic organization and the Liberal Party. But the third part of Hevesi's expected endorsement troika, the United Federation of Teachers, remains on the sidelines, depriving Hevesi of needed momentum and again raising doubts about his campaign.
Hevesi's problem is that he has not been able to shake Peter Vallone. Both Queens politicians are battling for the same chunk of voters-mostly white, moderate, outer borough ethnics-and many political observers believe if neither emerges as the favorite of these voting blocks, both could miss the runoff. With some polls showing Ferrer in second place, that theory has some validity.
More troubling for Hevesi is that Vallone, rather than fading away, is starting to gain momentum. Despite lounging in the political basement for most of the spring (many polls show the speaker in fourth place), Vallone recently locked up the endorsement of the powerful District Council 37 labor union, which represents 125,000 municipal workers.
DC 37 is the first major union to make an endorsement and its decision gives the speaker a much-needed psychological shot in the arm. Whether Vallone can rally enough to move into second place is unclear, but if he's doing better, Hevesi must be doing worse.
The prime beneficiary of the Vallone-Hevesi tussle is Freddy Ferrer. Unlike his foes, Ferrer has staked out some clear political turf on the left, trying to put together an Hispanic-black-white liberal coalition angry at the excesses of the Giuliani years. Ferrer is the only candidate with a strong, well-defined base-Latino voters-and he needs only to add a smidgen of voters from several other ethnic groups to get into the runoff.
The cornerstone to his strategy has been to attract black votes, but Ferrer has so far had trouble denting Green's popularity among African-Americans. Ferrer did win the endorsement of the state's only black elected official, state Comptroller H. Carl McCall, but most other black leaders are either supporting other candidates (like former Mayor David Dinkins, backing Green) or staying on the sidelines (like Rep. Charles Rangel, the black leader of Harlem).
As a result, the fate of Ferrer's campaign may lie with the 90-day resident of the Brooklyn federal detention center who has so far remained maddeningly neutral. Yes, the Rev. Al Sharpton's endorsement may be what Ferrer needs to get into the runoff. That backing seems likely, given that Sharpton shared the first 40 days of his confinement with Ferrer's campaign manager, Bronx Democratic Chairman Roberto Ramirez (both were jailed for civil disobedience to protest the Navy bombing on the Puerto Rican island of Vieques).
But Sharpton long ago gained a reputation as mercurial and unpredictable, so Sharpton's release in late August will undoubtedly cause some fretful nail-biting at Ferrer headquarters later this summer.
Will Messrs. Hevesi, Vallone and Ferrer at some point aim their fire at frontrunner Green? Probably, but a negative strategy may not work. In a four-way race, there's no way to know a political attack will ricochet. For example, if Hevesi goes after Green, voters who become disenchanted with Green may turn not to Hevesi, but to Vallone or Ferrer. Not knowing how the political billiard ball will bounce makes negative ads very risky.
Could Green screw up and turn the Democratic primary into a free-for-all? Of course. At some point in this campaign, the smooth-sailing Green will run into turbulence and he will be tested. It might be an off-handed remark, it might be a smirk or it might be one of those glib sound bites for which he is so well known. Or it might be an event-like a police shooting or civil disturbance-where Green speaks too slowly or too quickly.
The test will come. The question is whether he will pass it and, if he does not, whether any of his opponents can take advantage of his stumble. Eight weeks to go, and the public is about to tune in . . .
Posted 7/13/01
Philip Lentz is the political reporter for Crain's New York Business.
Campaign Feature: Introducing The Four Tops