Housing Issues and Options For New York City
by Michael H. Schill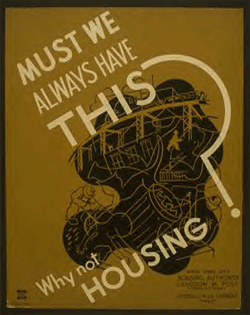 This paper presents a brief overview of the most important housing issues facing New York City as well as some background on existing programs and policies.
Issue 1: Affordability
Issue 2: Housing Preservation and Anti-Abandonment
Issue 3: The Disposition of In Rem Housing
Issue 4: Lead-based Paint Hazards in Housing
Issue 5: The Expiration of Use Restrictions for Subsidized Housing
Issue 6: Discrimination in the Housing Market
Issue 7: Predatory Lending
Issue 8: Public Housing
The Scope of Housing in New York
According to the Housing and Vacancy Survey, in 1999 there were 3,038,796 housing units in New York City. Renters occupied roughly two-thirds of all dwelling units, with the remainder occupied by owners. The rental vacancy rate was 3.19 percent, down from 4.01 percent in 1996. The highest vacancy rate in the city was in Staten Island (5.82 percent); the lowest was in Queens (2.11 percent).
Issue 1: Affordability
THE PROBLEM
Prices for housing in New York City have always been expensive and seem to be increasing at a rapid pace. According to the 1999 Housing and Vacancy Survey, 24.3 percent of renters in New York City pay more than half their incomes in rent. This actually represents a slight improvement in affordability from 1996. The improvement is largely attributable to increased employment and earnings among very low-income1 New Yorkers. Nevertheless, among very low-income New Yorkers, over half of all households have severe rent burdens. In addition, many middle-income households who do not live in rent regulated apartments are feeling the pinch of increased housing costs.
EXISTING PROGRAMS AND POLICIES TO DEAL WITH AFFORDABILITY
I. Rental
The city already has several housing programs to make housing more affordable. Among the most important rental programs are the following:
Public housing. The New York City Housing Authority2 currently rents over 170,000 units of subsidized housing (rent is equal to 30 percent of household income). Recent changes in federal policy will lead to more working families living in New York City Housing Authority housing. This will reduce the number of vacancies available to the poor, but will increase housing opportunities for moderate income households.
In rem housing. The city owns and operates approximately 13,000 units of in rem housing (housing taken by tax foreclosure). The incomes of households in in rem housing are the lowest in the city. Because the previous owners failed to maintain their buildings, the housing stock is also in the worst condition of any housing in the city.
Housing vouchers. Over 100,000 households in New York City receive Section 8 housing vouchers (which permit eligible households to rent private market units and pay only 30 percent of their income for housing). These vouchers are targeted to very low income households.
Private, project-based subsidized housing. Many privately owned housing developments are subsidized under a variety of federal, state and local programs. Among the housing programs that fit into this category are:

Section 8 developments
Mitchell-Lama rental developments
Section 202 elderly projects
Low income housing tax credit projects
80/20 housing
In rem housing disposition programs (see Issue 3 below)

Rent regulation. Under state law, rent regulation may remain in effect in New York City as long as the vacancy rate is less than five percent. In 1999, over half of all rental units in the city (54.5 percent) were either rent controlled or rent stabilized. In some parts of the city, however, rent regulation is irrelevant; the landlords in these areas are unable to charge the allowable rent because of the low incomes of their tenants. In other neighborhoods, rent regulation keeps rents well below market levels. In 1997, the state passed a law that allows owners to deregulate their apartments if the allowable rent exceeds $2,000 and the income of the tenant is $175,000 or higher.
Tax abatements. New construction of housing entitles the owner, as of right, to a partial tax exemption under Section 421-a for a period of between 10 to 25 years. The exemption is not available to owners of buildings between 14th Street and 96th Street in Manhattan unless (1) they reserve 20 percent of the units for low and moderate income families or (2) they construct affordable housing or purchase 421-a certificates from a developer who constructs affordable housing elsewhere. The City Council may also grant tax abatements pursuant to Article 16 of the General Municipal Law.
II. Home Ownership.
The city also has several programs to provide affordable homeownership opportunities. These programs typically involve construction on land that has been acquired by the city as a result of tax foreclosure or urban renewal. Therefore, the bulk of these programs operate in predominantly low-income communities.
New York City Housing Partnership New Homes Program
Through the New York City Housing Partnership, the city has produced over 15,000 units of housing. The city contributes land for a nominal cost. The city also provides a subsidy in the amount of approximately $10,000 which is matched by the State of New York. These subsidies become second mortgages on the properties that are forgiven over time. The homes are typically sold to households earning between $30,000 and $70,000. They are often two-family homes. (The owner uses the rental income from the other unit to pay his or her mortgage loan).
Nehemiah Program
Coalitions of churches have built somewhat more modest homes for moderate income families. The city typically provides $15,000 per unit and contributes the land at nominal cost for these houses which are typically built using cost saving (mass production) techniques. The incomes of purchasers, on average, are slightly lower than those of purchasers of Partnership homes.
New Housing Opportunities Program (New Hop)
This program, begun in 1997, promotes the development of housing (both rental and homeownership) for middle income families. The city, through its Housing Development Corporation (HDC), provides capital subsidies and below-market interest loans to developers to construct the housing. The sources of financing are Housing Development Corporation taxable bonds and corporate reserves.
Alliance For Neighborhood Commerce, Homeownership and Revitalization (ANCHOR)
Under the ANCHOR Program, the city has supported the construction of over 875,000 square feet of commercial retail space and over 300 units of housing on vacant city-owned land. ANCHOR uses a combination of federal, state, city and private funds.
POLICY ISSUES AND OPTIONS
Affordability problems are caused by the interplay of supply and demand. On the demand side, the incomes of very low income New Yorkers are simply too low to enable them to pay for the maintenance and debt service on either new or existing housing. In addition, in many neighborhoods, particularly in the boroughs other than Manhattan, prevailing rents are too low to encourage owners to build new housing. On the supply side, we are not producing enough new housing to satisfy increasing population needs (largely attributable to immigration) as well as to replace obsolete housing. Although it is expected that completions for 2000 were quite high, (in 1999, just under 9,000 units were built), recent production levels are nonetheless still low by historical benchmarks.
Policies to alleviate affordability problems could either address demand by increasing ability to pay (jobs, education, housing vouchers) or supply by promoting the construction of additional housing. Indeed, the mayor recently announced a plan to increase capital spending on housing by $1.2 billion over four years3. Many housing advocates would like a dedicated source of revenue to fund additional housing production for low-income families and for middle income families. Definitions of middle income occasionally run quite high, sometimes over $150,000 a year.
To increase the supply of affordable housing, New York City might enact proposals to reduce the cost of housing construction. A recent study, Reducing the Cost of New Housing Construction in New York City, [See Executive Summary4] by Salama, Schill and Stark, recommends over 60 different actions that could be taken by the government or by private industry and labor to bring down construction costs. These actions include:
Rezoning some manufacturing zones to permit housing construction.
Using the power of eminent domain to create buildable assemblages when combined with city-owned land.
Promoting the re-use of brownfields by passing laws to establish standards for safety and incentives for development.
Increasing the efficiency and effectiveness of the Department of Buildings.
Fighting corruption in the construction industry.
Adopting a model building code with provisions to reflect the idiosyncratic nature of New York City development.
Creating flexible power in the Chair of the City Planning Commission to waive restrictive zoning for affordable housing developments.
Creating developer-labor partnerships to reduce labor costs for affordable housing.
Even if the city were to adopt the proposals set forth in Reducing the Cost of New Housing Construction in New York City, the cost of new housing construction would still be too high for many households in the city. Therefore, city capital subsidies would still be needed to promote additions to the city's housing supply for these groups. Since 1986, the city has spent approximately five billion dollars in capital funds for housing construction and rehabilitation. This unprecedented expenditure of funds has led to the construction of over 22,000 homes, the gut rehabilitation of more than 43,000 units of formerly vacant housing and the moderate rehabilitation of over 97,000 units of occupied housing.
In deciding how to allocate capital funds for future housing production, difficult choices would have to be made to set priorities for spending, including:
How much money should be spent on housing as compared to other important capital expenditures such as schools, transportation and infrastructure
Whether the housing should be for homeowners or renters
What the appropriate incomes to be served should be- low, moderate or middle
Whether the housing should be for homeless families or individuals
Whether supportive services should be provided
Who should develop the housing- profit-motivated developers or community-based organizations
Whether the housing should be low density or high density (to economize on land)
Whether the housing should be funded from a dedicated source of revenue
Issue 2: Housing Preservation and Anti-Abandonment
THE PROBLEM
The quality of housing in New York City, on the whole, has steadily improved over the past several decades. According to the Housing and Vacancy Survey, only 4.4 percent of all housing units in the city have five or more maintenance deficiencies (e.g. holes in the wall or ceiling, rodent or insect infestation, etc.). In addition, the current economic boom as well as the city's policy of no longer taking ownership or possession of tax delinquent properties has made the problem of housing deterioration less visible. Nevertheless, New York City's housing stock is among the oldest in the nation. Many buildings in the city are tax delinquent and at risk of abandonment. These buildings typically have extremely high lien-to-value ratios (e.g. back taxes, mortgage loans). A substantial number require significant rehabilitation.
EXISTING PROGRAMS AND POLICIES
After several years of not vesting properties that were tax delinquent, the Giuliani Administration has implemented a three-pronged anti-abandonment strategy:
Tax liens for properties that are not "distressed"5 are sold in bulk to private investors. These investors can collect the amounts due, foreclose the liens or do nothing.
For buildings and lots that are "distressed," properties can be vested but not taken over by the city. Instead properties are transferred under the award-winning Third Party Transfer Program [ see description of program online6 in PDF format] temporarily to a nonprofit corporation called Neighborhood Restore which manages them until they can be transferred to third party owners. The third party owners are selected by the Department of Housing, Preservation and Development (HPD) and provided with capital subsidies to rehabilitate the housing7.
The development of an anti-abandonment strategy to identify which buildings are most at risk of abandonment.
To date, there has been very little analysis concerning whether the buildings whose tax liens were sold have been foreclosed upon by the purchasers or have become tax delinquent once again. With respect to the "distressed properties" excluded from tax lien sales, 30 properties were in the first completed round of the Third Party Transfer Program. Another round is in process with approximately 10 properties in the Bronx, 36 in Brooklyn and 53 in Manhattan. The definition of "distressed" has recently been changed to further limit the number of units held back from the tax lien sale. A prototype of an early warning system was developed by New York University and the University of Pennsylvania, but was not made operational by the city.
POLICY ISSUES AND OPTIONS
Code Enforcement. Code compliance presents a dilemma. The failure of landlords to maintain their buildings up to code may result in unsafe building conditions and lead to deterioration and neighborhood blight. On the other hand, if the Department of Housing, Preservation and Development were to enforce every requirement of the existing code, many owners would likely not be able to afford to bring their units into compliance. This might lead to abandonment and an increase in homelessness as tenants in illegal dwelling units were evicted. In addition, the current legal framework for enforcing the housing code is inadequate. Litigation, either by HPD or by tenants, is expensive and time-consuming, particularly in light of the huge docket of cases in Housing Court. The city can and does make emergency repairs on properties under its Emergency Repair Program (ERP), but the costs of the program come out of its budget8. Among the possible strategies for improving the code enforcement system are the following:
Reform the housing code to remove requirements that are not importantly related to health and safety.
Ensure that a sufficient number of housing code inspectors exist to investigate and document unsafe conditions.
Create an administrative tribunal to adjudicate housing code violations with streamlined procedures.
Expand existing programs that provide modest renovation loans (such as HPD's 8A loans) to owners who agree to do work to bring their buildings up to code.
The Third Party Transfer Program. The first round of the Third Party Transfer Program was extremely promising. The additional resources recently committed by the mayor to the second and future rounds suggest that preservation of housing will command an increasing share of the city capital budget allocated to housing. This makes sense for two reasons: (1) rehabilitation is cheaper than new construction on a per unit basis and (2) the incomes of households living in eligible units are typically quite low and therefore the tenants have particularly pressing housing needs. Nevertheless, certain issues remain to be resolved, including:
The appropriate balance between nonprofit and profit-motivated transferees.
The appropriate role of tenant cooperatives as potential transferees.
The choice of neighborhoods for future rounds9. In particular, should relatively stable neighborhoods with only a small number of distressed buildings be targeted so as to strengthen and preserve existing efforts, or should neighborhoods with large number of distressed properties be chosen?
Issue 3: The Disposition of In Rem Housing
THE PROBLEM
New York City took over approximately 100,000 units of housing as a result of in rem proceedings in the 1970s and 1980s. It was ill-equipped to manage the properties which were the worst-maintained in the city. The tenants have the lowest incomes of any group of tenants in the city.
EXISTING PROGRAMS AND POLICIES
Mayor Giuliani has accelerated the disposition of in rem housing since he took office in 1993. The number of city-owned units has been reduced to less than 13,000 in 2000 (7,500 of which are in occupied buildings). A substantial portion of the resources spent by the city as part of its 5 billion dollar capital plan for housing have been devoted to the disposition and rehabilitation of in rem properties. With respect to rental housing, there have been three categories of programs:
Nonprofit ownership (currently called Neighborhood Redevelopment Program, NRP)
Low income cooperative ownership (currently called Tenant Interim Lease, TIL)
Ownership by private entrepreneurs (currently called Neighborhood Entrepreneurs Program, NEP)
POLICY ISSUES AND OPTIONS
In his recent State of the City speech, the mayor announced that he would speed up the disposition of in rem housing. Relatively few people in New York City would support having the city remain the owner of a large number of units. Nevertheless, there is at times disagreement over the appropriate resource allocation among programs for nonprofit, for profit and tenant cooperatives.
Issue 4: Lead-based Paint Hazards in Housing
THE PROBLEM
Lead-based paint, which is present in many buildings in New York City, can cause developmental problems for children if ingested. Over the past several years, significant controversy has revolved around what should be done with respect to lead paint. Until the recent passage of Local Law 38, Local Law 1 required that lead-based paint be removed from dwellings inhabited by children under seven years of age. Since the time that Local Law 1 was enacted in the 1980s, many experts have concluded that removal of intact paint is often more harmful than leaving it alone.
EXISTING POLICIES
Local Law 38 (enacted in 1999) changed Local Law 1 by (1) removing protections for children six years of age and older, (2) limiting the landlord's duty to a visual inspection as well as "case-by-case" corrections, (3) shifting the burden of ascertaining whether a child lives in the apartment from the landlord to the tenant and (4) changing the definition of lead-based paint. Lead-based paint is considered immediately hazardous only if it is peeling or located on a deteriorated surface. Lastly, the landlord may receive an exception to the presumption that all peeling paint in pre-1960 buildings is lead-based.
On November 1, 2000, Justice York of the New York State Supreme Court, ruled in New York City Coalition to End Lead Poisoning v. Vallone that the City Council had violated the State Environmental Quality Review Act (SEQRA) by not giving environmental considerations the requisite "hard look" when Local Law 38 was enacted.
POLICY ISSUES AND OPTIONS
An effort needs to be made to balance the risk of harm to tenants against the expected cost of lead paint removal. As with many health and environmental issues, the debate has become quite polarized. Any solution must take into account the impact that remediation will have on the housing stock and its affordability. If the requirements are stiff, landlords will either (1) try to pass through the costs to tenants (to the extent permitted by rent regulation and economic conditions), (2) accept a lower rate of return where they cannot or (3) disinvest in their buildings.
Issue 5: The Expiration of Use Restrictions For Subsidized Housing
THE PROBLEM
The city has a significant number of privately owned, subsidized housing developments. These housing developments frequently were built under the Section 8 Program, the Mitchell-Lama Program and the Section 221(d)(3) or 236 Programs10. Typically, these programs allowed owners to prepay their mortgages or otherwise end participation in the programs after a given period of time (often 20 years). A number of developments are old enough so that owners can now exercise these rights if they wish. Tenants of developments built before rent stabilization was enacted in the early 1970s, are generally insulated from sudden rent increases. Because of market conditions, tenants living in developments located in Manhattan and built after 1973 are the most vulnerable. Indeed, a few owners of Mitchell-Lama projects in Manhattan already have made plans to leave the program.
EXISTING POLICIES
For the federal programs, HUD has put into place a series of protections for tenants of buildings whose owners terminate their participation in the Section 8 or Section 236 Program. These protections include housing vouchers. For Mitchell-Lama tenants whose buildings do not also have federally insured mortgage loans, Mayor Giuliani has committed to subsidize rents for tenants whose incomes are below 80 percent of the median. Bills have been introduced or passed the Assembly to establish a moratorium on prepayments with respect to Mitchell-Lama developments or to create notice periods before developers can leave the program. These bills have not made it through the Senate. Some tenants have filed lawsuits challenging the right of owners to prepay11.
POLICY ISSUES AND OPTIONS
Most tenants living in privately subsidized buildings have some level of protection either from rent regulation, vouchers or city subsidies. However, tenants whose incomes are above 80 percent of the area median income may be at risk. Within the current legal framework, there is not much the city can do to stop owners who qualify for prepayment from leaving the program other than offering financial incentives for them to remain. If owners are successful in leaving the program, the city might consider allocating some of the increased tax revenues that are likely to be generated by rising property values (and assessments) to assist in relocating these tenants.
Issue 6: Discrimination in the Housing Market
THE PROBLEM
New York City is a highly segregated city. All data from testing studies suggest that high levels of discrimination in the private housing market exist particularly with respect to black and Latino residents. This discrimination frequently takes the form of real estate brokers steering home buyers or renters who are members of racial or ethnic minority groups to particular neighborhoods.
EXISTING POLICIES
New York City's Human Rights Law was a model for the nation and is one of the most expansive in the country. Individuals may file complaints with the New York City Human Rights Commission, which will investigate and hold enforcement hearings. In addition, people who believe they have been discriminated against can file complaints with the New York State Department of Human Rights or with the United States Department of Housing and Urban Development (HUD) alleging a violation of the federal Fair Housing Act.
POLICY ISSUES AND OPTIONS
Recent efforts by the Human Rights Commission to automate the processing of complaints are already generating positive results. Additional resources would assist the Human Rights Commission to enforce existing anti-discrimination protections and to investigate patterns and practices of discrimination. One source of revenue would be the Fair Housing Assistance Program (FHAP) administered by the United States Department of Housing and Urban Development. However, before the city can receive FHAP funds, it must take steps to make its Human Rights Law substantially equivalent to the federal Fair Housing Act.
Issue 7: Predatory Lending
THE PROBLEM
Throughout the nation, including New York City, unscrupulous lenders are bilking predominantly minority homeowners out of their investments in their homes. These lenders typically convince owners to take out second mortgage loans at extremely high interest rates and pay high fees for the privilege. Some offer reverse mortgages that strip the equity from long time homeowners. Many of the borrowers are elderly and face the loss of their equity, foreclosure and, in some instances, bankruptcy.
EXISTING POLICIES
HUD has begun to investigate predatory lenders. In addition, the New York State Attorney General has sued a couple of lenders and reached settlement agreements.
POLICY ISSUES AND OPTIONS
The City Council might consider adopting legislation to outlaw certain types of abusive practices. In addition, the Human Rights Commission could focus more attention on investigating predatory lending practices in New York City and, if found to exist, bring enforcement actions to stop them. In addition, studies show that many people who obtain loans from predatory lenders could attain loans from prime lending institutions. The city could increase information and outreach to homeowners, particularly the elderly and those in minority communities, about their borrowing options and protections against lending abuses.
Issue 8: Public Housing
THE PROBLEM
The New York City Housing Authority (NYCHA) houses over 170,000 households in New York. It receives substantial capital and operating subsidies from the federal government and is a major source of permanent low-income housing. NYCHA has a reputation as one of the nation's leading housing authorities. During the late 1980s and early 1990s, the Authority's developments became increasingly composed of non-working, poor families. Crime rates within public housing developments rose in relation to the rest of the city (although in recent years these trends have been arrested). In addition to these demographic trends, the Housing Authority faces the challenge of maintaining its extraordinarily large inventory of housing in the face of uncertain federal funding.
EXISTING PROGRAMS AND POLICIES
In the past few years, efforts have been made to bring the New York City Housing Authority's administrative and management processes into the modern age. In addition, recent federal legislation has made it easier for the Housing Authority to maintain its historic tenant income mix, which had been threatened by federal preferences, targeting requirements and homeless placements. Federal programs have been created to fund the redevelopment and modernization of some public housing. However, the best known program (HOPE VI) requires the demolition of units. This is probably not desirable in New York because of the relatively good quality of the stock and the fact that high densities are acceptable in the city.
POLICY ISSUES AND OPTIONS
The New York City Housing Authority's "working family preference" has been challenged in court for its impact on efforts to desegregate public housing. In addition, some tenant advocates have argued that the benefits of increasing the income mix in public housing are not worth the hardships faced by families who are not offered housing. The appropriate balance between working and non-working families remains to be worked out. Additionally, controversy surrounds the issue of how energetically the city should enforce a recent federal requirement that tenants who are not working, elderly, disabled or responsible for caring for children must work for eight hours each month doing public service. Finally, the Housing Authority must continue to expect that federal funding for modernization will remain unreliable. Thus, the agency will increasingly need to leverage private capital into public housing.
Footnotes
A very low income household is one whose income is less than half the city median.
This change was designed to reduce concentrations of poverty in public housing.
According to a recent report by the Independent Budget Office (IBO), $688 million of public funds would be spent on the program. A substantial portion of these funds, however, would be devoted to rehabilitation initiatives rather than new construction. See IBO, Mayor's New Housing Plan:Following the Money, Detailing the Programs in Inside the Budget (Feb. 28, 2001).
The original legislation enacted by the City Council defined distressed properties as buildings with tax liens equal to 15 percent of the value of the property and that have (1) five or more serious repair problems or (2) liens securing emergency repairs made by the city in the amount of $1,000 or more.
In 2000, the Third Party Transfer Program won a Pioneer Institute Better Government award. A description of the program is available online
The Third Party Transfer Program (a.k.a. Local Law 37 Transfers) has recently engendered some controversy because of allegedly insufficient notice and consultation with tenants. Some city officials and tenant advocates have a strong preference for transferring the buildings to tenant cooperatives rather than private, profit-motivated owners.
ERP repairs become liens on the properties which are repaired. Many of these debts, however, are never repaid.
The choice of neighborhoods for future rounds is related to the issue of nonprofit versus for-profit. Although some neighborhoods may have large numbers of distressed properties, nonprofit capacity in those communities may be weak.
Two additional problems concern private, subsidized housing. Some developments, which were financed with FHA mortgage insurance, are in deplorable condition. In addition, the financial structure of a number of these developments is untenable. HUD is currently seeking to restructure the debt and the rental subsidies for these projects under its "Mark-to-Market" Program.
Among the grounds upon which these lawsuits have been based are that the owners are subject to deed restrictions to maintain affordable housing or that the buildings were placed in service before 1974 and are thereby subject to rent regulation
This paper is not intended to be a comprehensive discussion of the policy issues and options concerning housing, but merely an introduction to the subject for candidates running for election in 2001. The paper does not cover the related issues of homelessness and special needs/supportive housing.
Copyright 2001 by Michael H. Schill
Michael H. Schill is the director of the Center for Real Estate and Urban Policy at New York University, and a NYU professor at both the School of Law and the Wagner School of Public Service.