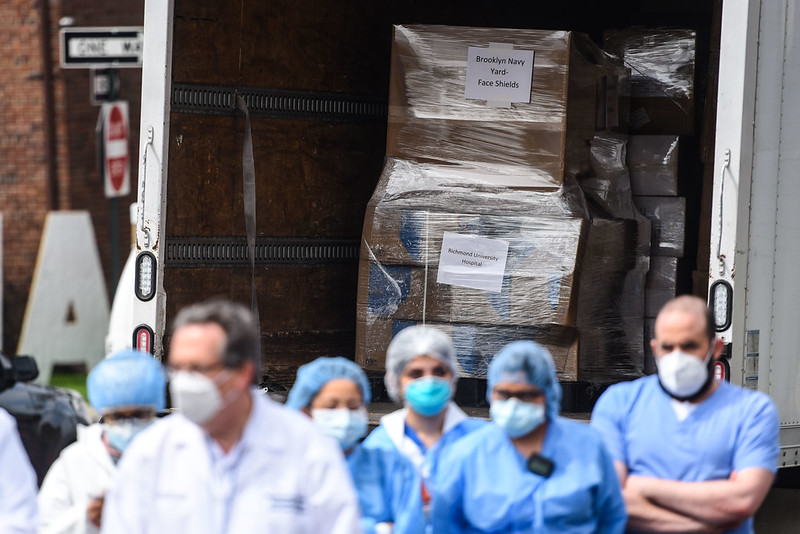 Supplies arrive in Brooklyn (photo: Michael Appleton/Mayor's Office)
---
Every neighborhood in New York City has been touched in some way by the COVID-19 pandemic. But due to longstanding disparities in our health-care system and structural economic inequality, communities of color have been more susceptible to the virus and more vulnerable to its consequences.
One of these consequences was the distant and dysfunctional health-care supply system, which left safety net hospitals like One Brooklyn Health, which serve and employ the city's most vulnerable, without the personal protective equipment and medical supplies necessary to keep both patients and staff safe. While President-elect Biden has made clear his team will take an aggressive stance to fighting the virus, the surge in cases in our city is proof that we must act now to prevent another massive calamity. That is why Brooklynites are coming together now to address the structural impediments to local, quality health care.
Building on years of partnership, a rich array of organizations have come together as Brooklyn Communities Collaborative (BCC), united under the common goal of improving health and wealth, and precisely addressing the conditions that have left too many Brooklynites at the mercy of the virus. BCC's founding anchor institutions include the One Brooklyn Health System, Maimonides Medical Center, the City University of New York (CUNY), and a new social enterprise entitled Citizen Share Brooklyn.
A key aspect of BCC's work is the anchor mission approach, which calls on institutions rooted in their local community, such as universities and hospitals, to fully harness their economic power through hiring, purchasing, and investing to inclusively and sustainably benefit the long-term health and wealth of their communities.
To leverage the economic power of these anchor health-care institutions, which spend billions of dollars annually on goods and services, BCC and strategic partner Citizen Share Brooklyn will be launching the Brooklyn Health Enterprise Hub — a borough-wide regional health-focused workforce development and enterprise ecosystem.
Comprised of key stakeholders in the health-care industry, including 1199SEIU, the New York State Nurses Association, and other labor unions, employers, academic institutions, as well as community-based organizations, the Hub will redirect the supply chain to benefit the local economy, particularly in neighborhoods most affected by structural racism and economic inequality.
Specifically, the Hub will help implement leading workforce engagement, recruitment, and development practices to identify, recruit, and retain top talent in Brooklyn, expand high-quality health services training programs to meet the needs of anchor health institutions, and establish an approach to securing working capital for business launches and business expansions. Taken together, these initiatives will significantly increase local spending by anchor health institutions, thereby creating more local jobs and local profits.
The Hub will also address the challenges exposed during the current crisis, with plans to create a local supply for essential items.
Ultimately, with leaders across various sectors, boroughs and regions, the Hub will advance a progressive reform of the dysfunctional supply chain – one that adheres to the principles of democratic accountability, equity, and community self-governance by investing in local enterprises that promote economic democracy. A reformed health care supply chain must support local workers not just by paying a living wage, but by investing in forms of citizen-based profit-sharing as well as enterprises that will directly address the depression of wealth – which has exacerbated structural economic inequality and contributed to poor health in communities of color.
To truly succeed, any progressive COVID-19 recovery effort must not only bring us back to where we were before this crisis, but also build a reformed infrastructure for health and shared wealth. The Health Enterprise Hub will serve as a national model in response to the racial, economic, and health-care challenges that are currently facing our nation. The next stage of the recovery effort will require us to be courageous and innovative like never before. Only then can we ensure all communities have the same opportunity to live longer and healthier lives.
***
George Gresham is President of 1199 Health Care Workers East. Representative Hakeem Jeffries represents parts of Brooklyn and Queens. LaRay Brown is CEO of One Brooklyn Health.
***
Have an op-ed idea or submission for Gotham Gazette? Email This email address is being protected from spambots. You need JavaScript enabled to view it.