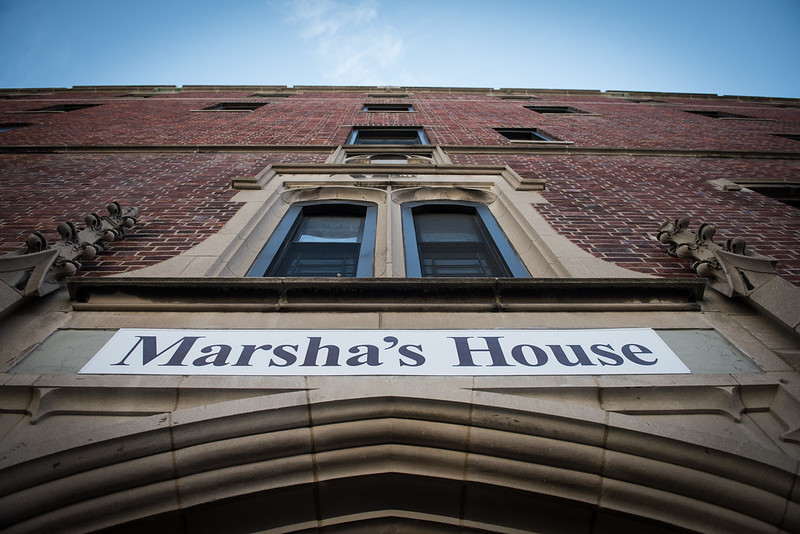 Housing is the focus (photo: Michael Appleton/Mayor's Office)
---
Over the next several months, New York City will continue deciding how to disperse roughly $34 million in federal Community Service Block Grants (CSBG) and related funds that are available for the current period. However, at this juncture, the magnitude and intensity of the COVID-19 pandemic's effects suggest strongly that going forward the money should go to community-based groups focused on meeting two urgent needs: relieving hunger and preventing homelessness.
CSBG funds are made available under a federal program that has existed nationwide since the 1960s War on Poverty. In New York City, determining how to spend them involves collaborative work between 41 Neighborhood Advisory Boards (NABs), designated as "representatives of the poor," and the Community Action Board (CAB) under the supervision of the City's Department of Youth and Community Development (DYCD). The work typically begins with a roughly four-month long triennial exercise known as a Community Needs Assessment, an information-gathering and analysis process by the NABs of their communities. Ultimately, requests for proposals (RFPs) to address those needs are issued by the DYCD to community-based service-providers, based on the findings of these assessments.
The most recent Community Needs Assessment wrapped up in the autumn of 2019, and the NABs had submitted their recommendations to DYCD shortly before the pandemic struck the city in March 2020. For the past eight months, the issuance of RFPs based on these recommendations has, like much of life in New York City, been in limbo. They're now expected to go out in the next couple of weeks; a realistic timeline for disbursing funds is perhaps the fall of 2021, or even later.
In preparing the RFPs and in evaluating the responses to them, DYCD should give added weight to meeting the city's hunger and homelessness emergencies over less-pressing demands.
First as to hunger: According to the nonprofit organization Feeding America (perhaps the nation's largest hunger relief organization), by the end of 2020 an estimated 19% of New York State residents will be struggling to put food on the table. That's up from 11% in 2018. Feeding America also expects a greater rate of food insecurity to persist well into the post-pandemic period. This worsening hunger scenario is also confirmed by the experiences of non-profit organizations such as Staten Island's Project Hospitality, which lately has reportedly been distributing about 2,000 meals a week across that borough, and Manhattan's Urban Outreach Center, which regularly feeds many hungry people from all across the city. Ominously, the ranks of the food-insecure include college students, single mothers, new immigrants, and homeless or displaced young people.
The immediate and long-term outlook on homelessness is also grim. At mid-November, New York City's daily headcount of people in homeless shelters hovered around the 54,000 mark. There is little doubt that number will rise dramatically if existing eviction and foreclosure moratoriums lapse at year's end. Even if extended, it's just a moratorium: tenants, many of them deprived of income during the pandemic, will still eventually owe all their back rent. Absent emergency federal help to tenants, the city will, in the recent words of New School housing policy expert Alex Schwartz, "experience a rise in homelessness the likes of which we've never seen before."
Making the specters of both hunger and homelessness even worse is the fact that there are many thousands of previously employed undocumented immigrant city dwellers who were unfortunately left out of the federal COVID-19 stimulus assistance payments who have now tumbled into poverty.
There is no need to start from scratch in addressing these problems. For instance, hunger alleviation services could be boosted in the various programs where they already exist, such as in family support programs touching on nutrition assistance or in runaway and homeless youth programs that furnish food, clothing, and even shelter assistance to its clients. The same goes for housing assistance programs focused on landlord neglect and foreclosure prevention. Such programs also have the ability to refer clients to city agencies in situations where the needs of clients fall outside their portfolios – for instance, cash assistance for renters, which can be available through the city's Human Resources Administration.
It's also essential that the program partners who are contracted to provide the services have solid on-the-ground experience with the tasks to be undertaken. This can no doubt be accomplished via appropriate qualifying specifications for prospective service-providers.
Let me end with two caveats. First, this is a prescription for fighting extraordinary conditions. After the worst effects of the pandemic dissipate, CSBG grants can be reallocated to address a wider range of needs. And second, we should all recognize that $34 million certainly isn't enough to slay the two-headed monster of hunger and homelessness in poor neighborhoods throughout the city. But by putting it in the right hands of community-based organizations with proven track records, it can make a real difference. In the current emergency, this is what we need to do.
***
Carl Unegbu is a lawyer and Vice Chair of the Neighborhood Advisory Board (NAB) 12 in Manhattan. The views expressed here are those of the author alone and do not in any way represent the opinions or position of any entity or agency, including the Neighborhood Advisory Board and the Department of Youth and Community Development (DYCD).
***
Have an op-ed idea or submission for Gotham Gazette? Email This email address is being protected from spambots. You need JavaScript enabled to view it.