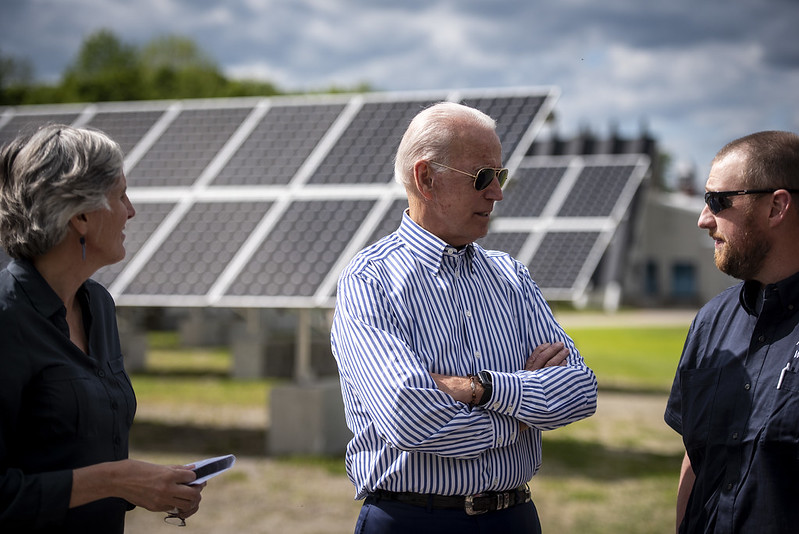 Joe Biden with solar panels (photo: Christopher Dilts/Biden for President)
---
Climate change poses an existential threat to humanity. Global warming and extreme weather are accelerating.
We need Joe Biden to be the Climate President, especially after the four lost years under climate-denier Donald Trump. This begins with Biden taking comprehensive executive action on climate change on day one.
A number of large coalitions (e.g., ClimatePresident.org) have outlined a comprehensive list of executive actions the president can take without the need for congressional approval. It includes setting a goal of moving to 100% clean electricity by 2030 (though that sector accounts for only a quarter of carbon emissions). It embraces a commitment to environmental justice and a just transition to ensure that all individuals benefit from the changes.
Most importantly, it calls to keep fossil fuels in the ground, including a halt to new fossil fuel infrastructure and a ban on fracking. Other countries have shown that a dramatic increase in renewables does not necessarily result in major cuts in greenhouse gas emission.
Biden's support for rejoining the Paris climate accords is a welcome common-sense step. The head of the United Nations has pleaded with countries to declare a climate emergency – and act accordingly. Just like America did after Pearl Harbor, we need a society-wide mobilization of all resources and brainpower to solve the climate crisis.
Many scientists sugarcoat the realities of climate change, worrying that the truth would lead to despair and a sense of hopelessness. Yet the present approach is falling far short of the needed climate action; saying climate change is real is not a solution. Young people have become our climate leaders, rejecting the timid, go-slow approach of our political leaders.
The IPCC (International Panel on Climate Change) has consistently underestimated the speed and severity of global warming. The warming that has already taken place in the Arctic has exceeded what scientists thought wouldn't happen until the end of the century. The IPCC's warning that we have 11 years left for unprecedented worldwide action on climate is overly optimistic; we must do everything we can immediately, not propose 30-year deadlines.
A decade ago I helped the Green Party initiate the first call in the United States for a Green New Deal. It combined a rapid ten-year transition to 100% renewables, zero-emissions with an Economic Bill of Rights (guaranteed living wage jobs, universal health care, housing, education) as FDR had called for in his last State of the Unions.
Congressional Rep. Alexandria Ocasio-Cortez and the Sunshine Movement two years ago elevated the Green New Deal to a new level of public awareness. Unfortunately, subsequent Green New Deal versions have weakened it, dropping the ban on new fossil fuel infrastructure. Democrats have pushed the deadline for "net-zero" emissions to 2050 and too often just use the term Green New Deal to highlight that investing in renewables is a job-creation strategy. They promote carbon capture, an expensive and speculative technology designed to allow the continued use of fossil fuels.
The response to COVID-19 showed that it is possible to rapidly change day-to-day existence. The Green New Deal should be the core of our covid economic relief package, as Europe and South Korea have done. Newly-elevated Senate Majority Leader Chuck Schumer of New York has highlighted that a green economic stimulus will be a major focus for him, along with 100% new renewable cars by 2035. He has formally co-sponsored the THRIVE agenda developed by Green New Deal organizers. Climate groups are looking for Senator Schumer to go bold and make 2021 a transformational moment. As usual, there will be fights over what fits into a sustainable green package.
The world has slowly begun the long-overdue pivot to develop renewable energy. But we will not avoid climate collapse if we believe we can merely unplug our industrial societies from fossil fuels and plug into renewables. The American lifestyle, with its wasteful consumption of energy and resources, is not sustainable.
Pope Francis in his Climate Encyclical pointed out that the capitalist system and its focus on profits has failed humanity. Climate change will be solved only if we make the common good our top priority. Solving climate change means embracing a world based on sustainability and equality. Ecosocialism would enable us to democratically plan the economy to meet everyone's basic needs within ecological limits. Having hedge funds get rich off of renewable energy won't solve the climate crisis.
Far more attention needs to be paid to transportation, the largest source of emissions, and buildings, the fourth largest. We have to reject the use of natural gas as a bridge fuel; rather it is a gangplank to climate disaster. We need to heat/cool buildings by using geothermal or air heat pumps. We need expanded mass transit, not hundreds of millions of electric cars.
Biden's call for climate action helped him win the election. His climate policies in the general election were significantly stronger than during the primary. The world needs him to continue his evolution to a climate champion.
***
Mark Dunlea is a leader of the Green Education and Legal Fund. On Twitter @DunleaMark.
***
Have an op-ed idea or submission for Gotham Gazette? Email This email address is being protected from spambots. You need JavaScript enabled to view it.