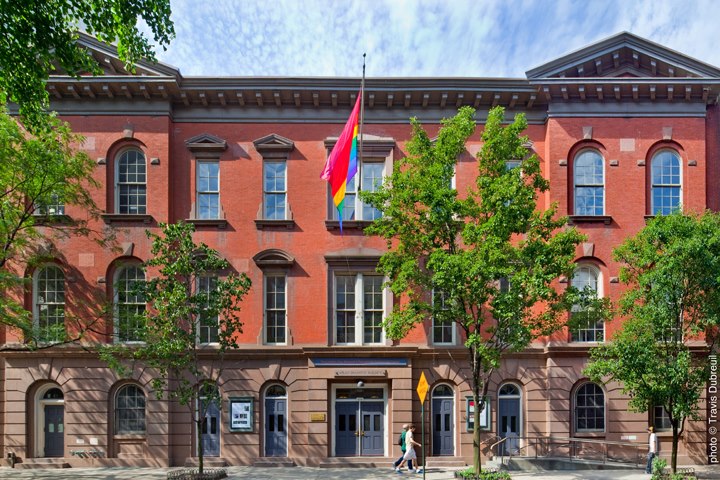 The NYC LGBT Community Center (photo: LGBT Community Center)
---
LGBTQ New Yorkers are facing a unique and urgent health care challenge. We already experience significant health disparities, and as a result of COVID-19, the organizations that exist to address those disparities statewide are hanging by a thread. Lawmakers have worked with the community for years to ensure these organizations can serve the nearly 1 million of us who call this state home, but without greater public awareness of the outsized challenges that LGBTQ people have suddenly come up against and a renewed commitment from New York state government, our community's safety net is at risk of disappearing.
LGBTQ people are especially vulnerable to COVID-19 because we are more likely to be immunocompromised, and encounter barriers to accessing medical care that the pandemic has only exacerbated. For example, we are at higher risk for heart disease and cancer, and use substances at higher rates. LGBTQ people also experience discrimination from providers and staff, including being refused care. These disparities are compounded for Black people, who are less likely to receive appropriate medical care across the board, from pain treatment to hospital admission. As a result, many LGBTQ people are reluctant to seek care, even in urgent situations.
These challenges are part of why our community relies so heavily on the 70 organizations across New York State that make up The LGBT Health & Human Services Network. Network member organizations provide free and low-cost, affirming health-care services such as primary care, STI and HIV testing, patient advocacy, medication delivery, health education, mental health counseling, and more, in direct response to the needs they see across the state.
The Network's most recent needs assessment, a survey of 3,800 LGBTQ New Yorkers, revealed that more than one in five have no primary care provider or have had to skip doctor visits due to cost. Nearly one-third cited a lack of LGBTQ-trained health professionals as a barrier to accessing care—and this shot up to 56% for transgender and gender-nonconforming respondents specifically.
In addition to these year-round services, The Network is also responding directly to COVID-19. Fifty-one organizations have begun providing emergency services, such as offering covid testing, providing PPE and food pantry services, and converting medical facilities to care for COVID-19 patients. Later this month, The Network is launching a search engine to help LGBTQ New Yorkers more easily find affirming, affordable, safe health care services, including telehealth.
However, without access to emergency funding, these services cannot exist. Network organizations currently have a collective deficit of $12.6 million due to the financial strain the pandemic has caused. They face further losses in the hundreds of millions of dollars due to looming policy changes like the Medicaid Carve-Out Plan. The current deficit alone is enough to already do serious damage: Out Alliance, the only LGBTQ community center in Rochester, was forced to let go of all staff and temporarily discontinue operations for the duration of 2020. Eight more members have significant concerns about their organizations' sustainability. Layoffs and furloughs caused by financial strain are rapidly shrinking the remaining organizations' capacity to meet a growing need for services.
Since the HIV epidemic, no other event has had such a profound, overarching impact upon our communities. Not only are individuals particularly vulnerable to illness and isolation; they are also increasingly less able to access affordable, affirming health care. Where are we supposed to turn in the midst of a pandemic if our safety net can't catch us?
We need lawmakers to understand the crisis we are facing and to take action, by providing emergency funding to ensure sustainable access to life-saving and life-affirming services for our community. LGBTQ New Yorkers can't do this alone.
***
State Senator Brad Hoylman represents parts of Manhattan. Glennda Testone is Executive Director of NYC's LGBT Community Center. On Twitter @BradHoylman, @Glennda_Testone & @LGBTCenterNYC.
***
Have an op-ed idea or submission for Gotham Gazette? Email This email address is being protected from spambots. You need JavaScript enabled to view it.