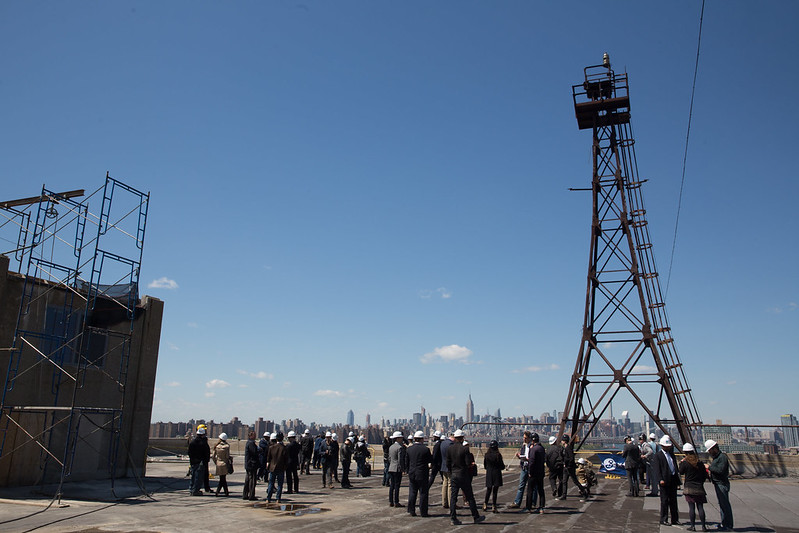 (photo: Michael Appleton/Mayoral Photography Office)
---
We've all been watching events in Washington, D.C. with horrified amazement and trepidation.
Regardless of Washington, New Yorkers have work to do at home. We've been living through a pandemic for just about a year. Everyone in New York is aware we face major budget crises at the state and city levels. Resolution of our fiscal problems is one of the biggest challenges of 2021 and will influence New York City's choice of candidates for top elected positions, including mayor and comptroller.
This is not a normal election. As we begin to vet candidates in this year's elections, it is critical that New Yorkers take extra care to research policy proposals beyond the slogans to assess how the next generation of political leaders can strengthen our economy while addressing long-standing systemic inequities. With the advent of ranked-choice voting beginning this year in special and primary elections, an understanding of the issues will be even more crucial because voters need to differentiate candidates so they can list their preferences.
The details of the current budget deficits may seem obscure to most New Yorkers – we look at empty offices, closed stores, and not-so-packed subways and sense the consequences are coming. But we haven't seen big cuts that are aligned with the projected size of the deficits—now more than $60 billion over five years. That's because the state's political leadership, which has responsibility for much of the city's budget, has been waiting for a partial bailout from the federal government. Moreover, over the past year, the state hasn't been transparent with the public. Among many behind-the-scenes gimmicks, it is withholding payment of bills due to non-profit groups and others, for example. A reckoning has to come.
Although the chances of federal help look better with a slim Democratic majority in both houses of Congress, whatever comes is unlikely to be enough—Governor Cuomo said as much in his recent series of State of the State speeches.
Regardless of how much of a bailout Washington provides to the states, New York has a once-in-a-lifetime opportunity to correct long-standing, glaring inequities in our tax system. For progressives, a key to the solution is raising revenue by taxing the rich. A lobbying campaign they launched as a coalition on January 5, at the start of the state's annual budget planning process, is called "Invest in Our New York" and pushes for a package of tax increases aimed at wealthy individuals and corporations. Advocates have been fighting for many of these proposals for ages, but this year they are hopeful, in part because of the size of the deficits created by COVID-19 and in part because of the shifting political landscape.
The key proposals for the state include a more progressive tax system (we currently have an almost flat tax system for people who make between $20,000 and $1 million a year), and additional taxes on billionaires, capital gains, Wall Street taxes (updated from the well-publicized Stock Transfer Tax previously proposed), corporate taxes, and meaningful inheritance taxes. More on these measures can be found from the Invest In Our NY campaign. The debate over these proposals is an important one – New York State has been on an austerity diet that kept taxes down while under-investing in crucial infrastructure long before the pandemic hit. While critics argue that such targeted initiatives will push the rich to flee New York, advocates say the benefits outweigh the risks of losing some wealthy New Yorkers. Moreover, they point to research indicating that the majority of wealthy people in New York and elsewhere do not make residency decisions based on state and local income tax rates.
While the coalition's work is impressive, and many of the proposals it backs are valid and understandable, any solution to New York's financial woes must be considered in the context of a broader vision that addresses the critical challenges facing the foundations of New York's economic success. Progressives too often fail to acknowledge that there is a real, measurable net decline in New York population and special, pandemic-related concerns about losing residents and business to other localities.
Job-creation policies that promote a healthy economic environment for workers and small business entrepreneurs while also addressing vulnerabilities that might entice corporations to leave are critical. The alternative is erosion of New York's economic power, which will undermine its ability to recover from the pandemic, making it impossible to stave off cuts to services and implement progressive tax reforms.
An economic recovery strategy needs to address a real concern about losing business and residents and other issues beyond taxation. An analysis published in Trade & Industry Investment magazine in 2016 on why corporations relocate their headquarters found complex sets of conditions behind decisions. Studies show that availability and caliber of talent seem to be higher priorities than taxes. While the talent pool is a long-standing strength for New York, trends toward long-term and near-term population decline coupled with likely changes in work patterns following the pandemic call this strength into question. U.S. Census Bureau data over years shows more Americans leaving New York in recent years than coming into it, although immigration helped keep population status quo. And New York is almost sure to lose at least one Congressional seat following the 2020 Census due to this population reduction.
These topics are complex and need to be examined and discussed. The state controls much of New York City's taxation policy, with the exception of property taxes, so reforms at the state level need to be evaluated too. By the time legislative proposals reach public attention a lot of behind-the-scenes work has gone into them. The quality of the evidence behind some arguments is not always apparent, however, and, compounded by the government's lack of transparency, there's a real gap in local news coverage and analysis that would help us evaluate many policy proposals intelligently.
So, here's what we should all ask each and every candidate running in the 2021 New York City elections:
Given the city's limited ability to raise taxes beyond property taxes and central role of the state in determining the city's financial situation, how can the next mayor work better with the governor and state legislators to create a healthy New York recovery that balances business demands with social needs?
How can the government work with the private sector to retain business and stimulate job growth in ways that promote equality and do not rely on ineffective corporate tax breaks yet satisfy real corporate needs? Is there a role for a New Deal WPA-like program?
What revenue raising proposals will you fight hard for, including those proposed in the Invest In Our New York campaign?
How wasteful is the New York City budget and how can it be made more efficient and effective?
Are you willing to fight for meaningful property tax reforms that take income into account when setting rates?
Given the importance of real estate in New York City on many fronts, what are the key real estate challenges in the city, and how can they be addressed? A moratorium on residential evictions is a must but it also wreaks havoc on small landlords – on big ones too, although they can better withstand a temporary dip. And of course, how can we address vacant storefronts and get them back in action?
Especially from mayoral and comptroller candidates, New Yorker City voters deserve to hear a coherent account of candidates' visions for achieving fiscal health and, in particular, what plans they have for job creation, bolstering the small business recovery, and balancing the demands of large corporations that provide so many jobs. A nuanced discussion of what the city can do realistically on its own and how it should approach the state and federal governments, as well solutions to vulnerabilities such as reverse economic migration are musts as we enter the recovery phase of this pandemic with a new generation of city leaders.
***
Wendy Diller is on the board of Three Parks Democrats, an independent Democratic club on the Upper West Side, and a journalist focused on the intersection of business and science.
***
Have an op-ed idea or submission for Gotham Gazette? Email This email address is being protected from spambots. You need JavaScript enabled to view it.