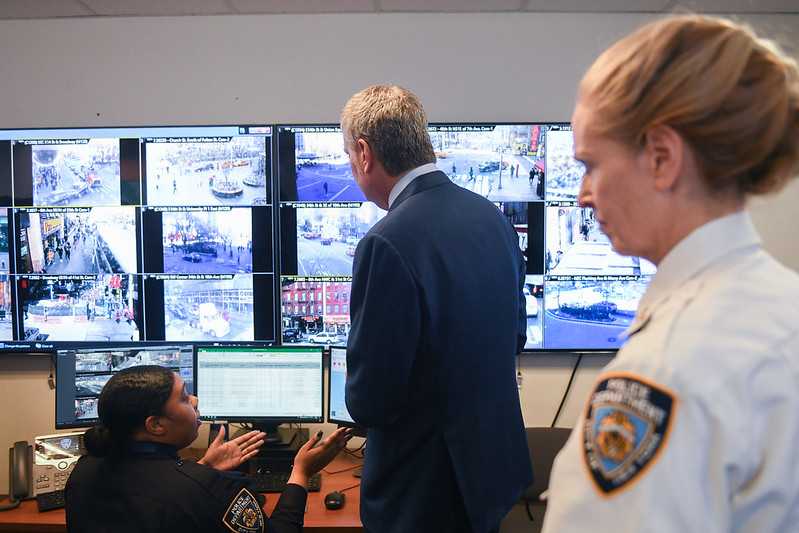 An NYPD command center (photo: Michael Appleton/Mayor's Office)
---
Schools are safe, but the rest of New York is at risk. This is the reality of facial recognition in the Empire State, where facial recognition is now illegal in schools, but remains all too present in other aspects of life.
The landmark law was lost in the 2020 chaos, signed by Governor Cuomo without any public statement on Christmas Eve. Still, even without the fanfare, it remains the law, and a long overdue law at that. New York may be the first state in the country to ban school facial recognition, but that's partly because we were set to become the first state to actually use it. Not the whole state of course, just the town of Lockport, New York, which earned the dubious surveillance distinction as the first public school to install the biased biometric tracking system.
Now, it's time to go further, enacting a comprehensive ban on governmental facial recognition. And we're not alone in calling for this.
Today, our organization, the Surveillance Technology Oversight Project, is partnering with Amnesty International and the Privacy NY Coalition to launch Ban the Scan. This global campaign will bring international pressure to bear on passing a facial recognition ban here in New York, New Delhi, Ulaanbaatar, Mongolia, and other cities around the world.
Despite the new ban on school surveillance, we still need to do more. Sadly, the children whose privacy is protected in the classroom are still subject to endless facial recognition scanning as soon as they walk out the schoolhouse door. This is because police officers remain free to use facial recognition technology nearly anywhere else in the state, even to track children. And here in New York City, we're tracking the public more than ever.
According to a recent NYPD filing in a public records lawsuit I brought against the department, the NYPD has run more than 22,000 facial recognition searches in just the past three years. And as the numbers skyrocket, facial recognition increasingly becomes the tool of choice for low-level offenses like graffiti, shoplifting, and trespass.
Perhaps the most infuriating part of facial recognition is that it simply doesn't work, at least not as well as advertised. Facial recognition has already led to the false arrests of numerous Black men. And these men aren't outliers. According to a federal review of facial recognition algorithms, the software is more error-prone for Native American, Black, and Asian faces. At times, the technology can be ludicrously off-base, as when Amazon's facial recognition technology misidentified Oprah Winfrey as male and misidentified 28 members of Congress as known criminals.
And New York's facial recognition is particularly problematic. NYPD officers have used celebrity lookalikes for facial recognition searches, a practice that has absolutely no scientific support. In one case, officers failed to get a match for a blurry image of a man stealing beer from CVS, so they searched an image of Woody Harrelson instead. Officers have also repeatedly photoshopped crime scene photos before running facial recognition searches, opening a suspect's eyes, closing their mouth, or even pasting on the entire jawline.
Even when facial recognition does work, even when it's not biased, it still remains a potent threat to civil rights and democracy as we know it. With facial recognition, a single photo can capture the identities of everyone taking part at a political protest or attending prayer at a house of worship. Using facial recognition, officers can track New Yorkers across the city, following their every movement for days, and never once getting a warrant.
But even if a warrant were needed, that still wouldn't be enough. The solution to facial recognition isn't a check and balance, it isn't a matter of requiring more procedures. No, the only answer to a technology as dangerous as facial recognition is a complete and categorical ban.
***
Albert Fox Cahn is the founder and executive director of the Surveillance Technology Oversight Project (S.T.O.P.) at the Urban Justice Center, a New York-based civil rights and privacy group and a fellow at the Engelberg Center for Innovation Law & Policy at N.Y.U. School of Law. Caroline Magee is a Civil Rights Intern at the Surveillance Technology Oversight Project and a third-year student at Emory Law School. On Twitter @FoxCahn and @cbam0912.
***
Have an op-ed idea or submission for Gotham Gazette? Email This email address is being protected from spambots. You need JavaScript enabled to view it.