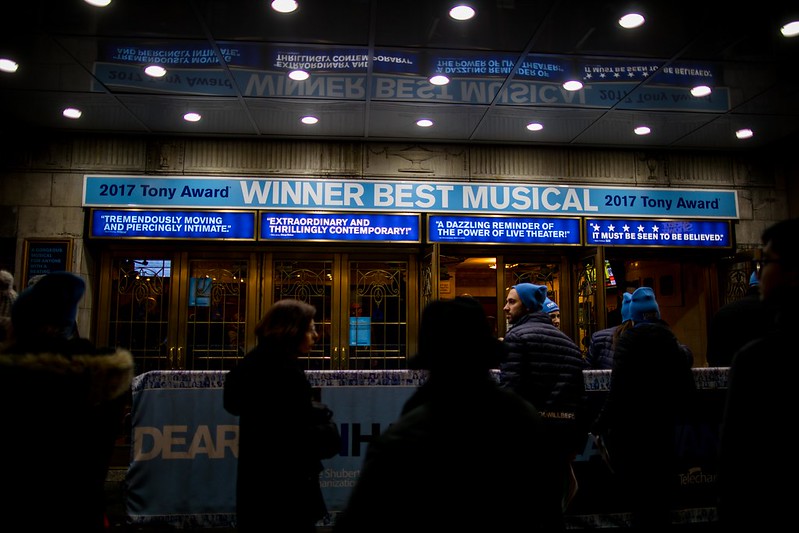 A darkened theatre (photo: Benjamin Kanter/Mayoral Photo Office)
---
The COVID-19 pandemic has been detrimental to New York's economy, with people losing jobs, businesses shuttering, and our city government accumulating astronomical deficits.
While city and state governments continue to roll out recovery plans, industries that keep getting overlooked, like the arts and dining, have been the backbone of neighborhoods on the West Side of Manhattan.
Since the start of the pandemic, more than 1,000 New York City restaurants have been forced to shut their doors—and that number is climbing. The theater industry has experienced similar woes, with over 40 theaters closing and over 51,000 employees losing their jobs.
Restaurants and the arts aren't just staples of our neighborhoods, including the communities encompassed in the 3rd City Council District; they're the cultural and economic lifeblood of our city. We need a comprehensive plan to revitalize these industries—one that allows them to thrive despite our current reality. Because let's face it: these industries go hand-in-hand in our West Side neighborhoods, as people usually go out to eat and drink before or after seeing a show. If either one of them fails, they both fail.
Growing up in Hell's Kitchen, I witnessed firsthand a cultural shift from a time when the streets were lined with pimps, peep shows, and drug dealers. An evolution began when artists came together and helped create a renaissance and true rebirth of the former red-light district, creating a place where people of all walks of life would be welcome and could come to raise families, create businesses and fulfill their dreams. Their careers in the arts embody the heart and soul of our city.
Anyone who has lived here for more than 30 years has seen the landscape change, but if we don't act quickly and effectively enough these industries could become perpetually debilitated.
This is why we must denounce any notion of the arts as a luxury. The full diversity of the arts are a major tourist attraction and fundamental to our economic, psychological, and spiritual health. The essential revenue they accrue from both visitors and New Yorkers serve to replenish our city's coffers over and over, helping the city to provide essential services.
This is why in a time when our budget deficits run deep we need this crucial economic driver to rise from the ashes with fervor.
We must swiftly organize a series of forums where constituents, independent theater groups, and local leaders in the restaurant and bar industry work to identify district priorities related to the arts. When I take office as the local City Council representative at the start of next year, I will organize such discussions and we will then formulate and execute a plan in conjunction with our mayor, borough president, and state representatives. By spring 2022, a pilot program will be implemented.
We will work in conjunction with restaurants, bars, and other local businesses, utilizing every opportunity and resource available to revitalize our theater industry. This initiative will include regularly holding socially distanced and outdoor performances, as well as fundraisers in parks and open spaces.
Once we are able to safely congregate again, we will bring this effort indoors and witness our theaters, cafes, restaurants, and bars resurrect themselves from the wreckage of the pandemic. We must give life back to these industries and preserve the vibrancy of our community—one that artists don't just work in, but live in as well.
While in the midst of a second wave of the pandemic, we can no longer rely on tourist dollars to fuel these industries. In 2019, New York City tourism reached a record high—66.6 million individual trips with about $47.4 billion generated in direct spending for the city, according to a 2019 NYC & Company report. However, tourism dropped more than 60% in 2020.
That is why we need a proactive approach.
Governor Cuomo recently announced a plan that would provide performance venues, as well as restaurants and other indoor spaces, a clear path to reopen. It will utilize mass-scale rapid testing, social distancing, and mask-wearing. It also includes 150 pop-up concerts and performances throughout the state, featuring stars like Chris Rock and Renée Fleming. In addition, the state has partnered with the Mellon Foundation to put 1,000 artists back to work through grants.
However, these efforts cannot stop there. Our city cannot shy away from forging public-private partnerships. A significant list of large companies and corporations within New York City will be more than willing to help if only asked, knowing the positive publicity and advertising their efforts will generate. According to Forbes, 73 Fortune 500 companies are located here, and we must take full advantage of their resources.
When people come to the West Side we want them immersed in talent, art, culture, and cuisine. That's why my plan includes creating affordable art spaces in empty storefronts through a program that establishes a "Mom and Pop Way," because we must never forget our small businesses.
We will also implement a temporary Universal Basic Income (UBI) for small businesses and independent contractors, with the ultimate goal of instituting a permanent, universal UBI for city residents in the future. Federal PPP loans may cover payrolls for many business enterprises, but in a modern economy where so many of our artists and restaurant and bar workers are independents, it falls far too short of our workers' economic needs.
We will additionally push to implement rent stabilization for mom and pop commercial spaces and small businesses, and to establish a moratorium on big box stores so they cannot take advantage of the pandemic's impact and snatch up these locations. Strictly enforcing the law written by Manhattan Borough President Brewer limiting storefront square footage must be a top priority now, and I will focus on its enforcement as a Council member.
While I don't take the seriousness of coronavirus lightly, it is still imperative that we allow our restaurants to remain open using strict social distancing guidelines and other safety precautions to protect our health. The data clearly shows that an extremely small number of COVID-19 contractions occur in restaurants, a testament to the responsible behavior of these small business owners, most of whom have complied with regulations despite enduring such trying social and economic times, and the many thousands of New Yorkers who work in these establishments, as well as patrons.
Since theaters first opened in New York the arts and culture have been a driving force of our economy and the soul of our way of life, surviving even the darkest of times. This cannot stop now.
As they say, the show must go on.
***
Aleta LaFargue is a candidate for New York City Council in the 3rd District, which includes parts of Manhattan's West Side. On Twitter @Aletafor3.
***
Have an op-ed idea or submission for Gotham Gazette? Email This email address is being protected from spambots. You need JavaScript enabled to view it.