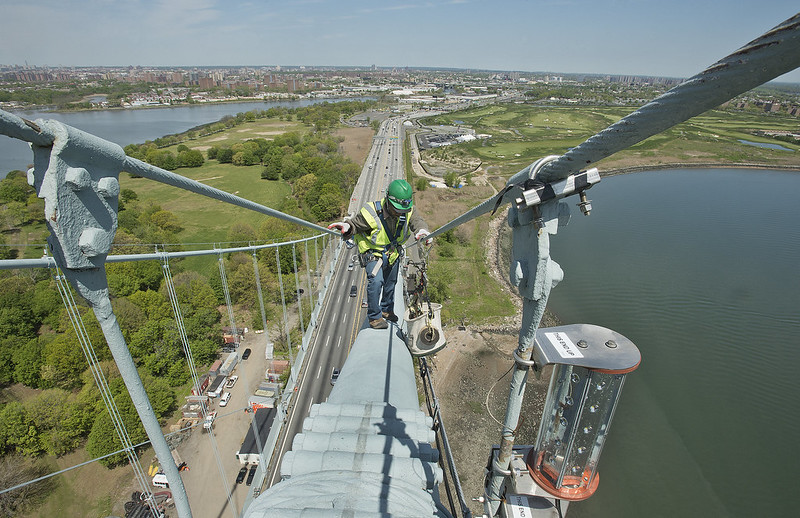 Green investments are the future (photo: MTA/Patrick Cashin)
---
2021 has the potential to be a pivotal year for New Yorkers. Vaccine distribution is underway, and plans are being drafted to rebuild New York's economy. As state leaders consider how to address the state's deficit and create a sustainable future, investing in environmental programs is the answer.
Environmental programs, such as the Environmental Protection Fund, are proven to aid in state economic recovery, create good-paying jobs, and strengthen local economies while protecting our environment and mitigating the effects of climate change. This is what New Yorkers need and Governor Cuomo is already leading the charge.
In his 2021 executive budget proposal, the governor continued his commitment to conservation by including funding for critical environmental programs, despite the deficit caused by the pandemic. The Nature Conservancy of New York, along with over 175 organizations in the New Yorkers for Clean Water & Jobs Coalition, were thrilled that Governor Cuomo is maintaining record funding levels for environmental programs.
The governor announced a continued commitment of $300 million for the Environmental Protection Fund (EPF), which supports 350,000 jobs across several industries, including construction, agriculture, recreation, tourism, forestry, recycling, and recreational fishing. EPF-supported industries add $40 billion to the state's economy every year. By making this continued investment, we're protecting local jobs, while also preventing pollution, improving public health, and ensuring clean air and water.
The governor's budget also devotes $440 million for State Parks capital projects over the next four years. Every dollar invested in state parks generates $5 of economic activity. Aside from the economic lifeline this funding brings to local communities, we have seen the importance of parks and outdoor spaces in the past year. Public parks experienced the highest ever visitation in 2020, with a record 78 million visitors. This comes as the state continues to open new parks and trails, like the Empire State Trail, that keep us connected to nature when we need it most.
We're also excited to see a $550 million commitment for water infrastructure projects. We need to update our water and wastewater systems now to provide clean, safe water for communities across the state and protect our beloved lakes, rivers, bays, and harbors. For every $1 million in state investment, we're able to create 17 local jobs.
As we continue to navigate our way out of this budget crisis and face down the threats of climate change, we look forward to working with the State Legislature to reinstate the $3 billion Environmental Bond Act to build a more sustainable future for New York. A recent report showed that the Bond Act has the potential to support 65,000 jobs in the state, resulting in an estimated $6.7 billion in project spending. We cannot pass on this opportunity to put people back to work.
Labor, business, and environmental leaders all agree that the Environmental Bond Act will help build a sustainable future for New Yorkers. It will modernize the state's water infrastructure, improve public health, reduce flood risks, and enhance the quality of life for millions of people.
It's clear that we need these critical environmental programs not just to protect and preserve our beautiful state, but also to kickstart our economy and rebuild New York. These investments will lead to a sustainable and prosperous future for all New Yorkers.
***
Jessica Ottney Mahar is New York Policy and Strategy Director at The Nature Conservancy. On Twitter @jessicaottney & @nature_ny.
***
Have an op-ed idea or submission for Gotham Gazette? Email This email address is being protected from spambots. You need JavaScript enabled to view it.