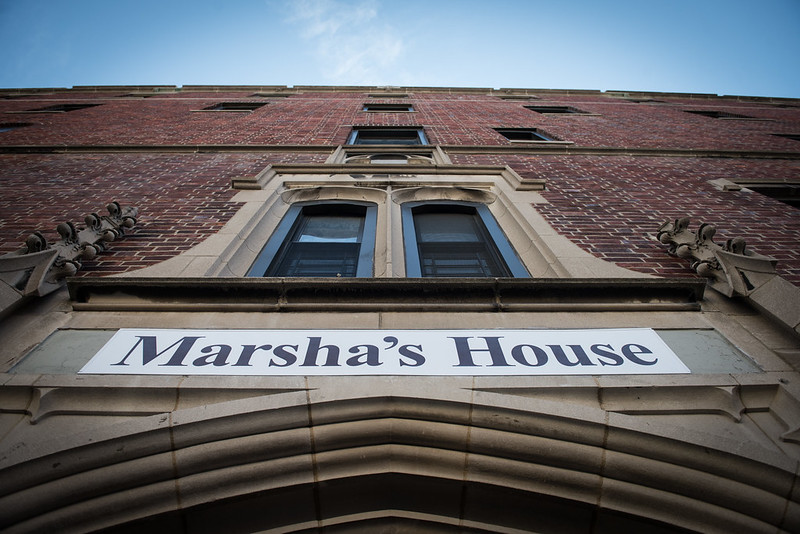 Supportive Housing (photo: Michael Appleton/Mayoral Photography Office)
---
For several years, perhaps the foremost issue in New York City politics was homelessness. But for all the talk, not much has been done. In fact, things have in some significant ways only been getting worse.
Housing is a human right. It is a physiological need and we cannot have a functioning society without it. Yet our city has made this most basic need one of the hardest to achieve.
Housing First – prioritizing permanent housing for all – must be at the center of any proposed approach. It's the right thing to do, it's the most effective thing to do, and it's the most cost-efficient thing to do.
Unfortunately, New York City couldn't be further away from Housing First. We can describe our framework as Housing Last.
This urgently needs to be addressed: Over 80,000 New Yorkers are experiencing homelessness – 20,000 of them children. People experiencing homelessness are deemed not "housing ready," even though most just need safe, affordable housing. For example, about 40% of families enter the city's Department of Homeless Services (DHS) shelters due to domestic violence, and another 30% due to evictions.
Instead of prioritizing housing, though, city government explicitly states that shelter clients are required to "gain employment, connect to work supports and other public benefits, save their income, and search for housing to better prepare for independent living," per DHS.
This perpetuates homelessness instead of preventing it. The average stay in the shelter system has been increasing over the past five years. In the city's 2020 fiscal year, single adults spent an average of 431 days in the shelter system before achieving independent housing. For families with children, it's even worse at 443 days, while adult families spent on average 630 days.
Our system forces prolonged homelessness with little hope for stability. I recently spoke to a senior citizen who spent years living doubled up with friends because she could not find an affordable apartment. She had no recent rental history and her income was too low to qualify for available "affordable" housing units. Her only option was to enter a shelter, and become officially homeless, before she could get help finding permanent housing.
This creates an endless cycle. Being homeless makes it harder to find employment, make it to job interviews, and get to work on time. This traumatic experience often leads to substance abuse and mental health issues. In other cases, shelters can be so unsafe that people prefer living on the streets. Children in shelters have a harder time in school, have to constantly change schools, or travel long distances.
Stable housing is also a public health issue. A systematic review of 22 studies found that people experiencing homelessness frequently prioritize shelter and food over seeking health and social care. In a study of nearly 80 health professionals, "facilitated access to housing" was ranked the number one priority for homeless patients, above care for mental health, addiction, and other medical issues. Unsurprisingly, housing stability is associated with reducing preventable visits to the emergency room.
Beyond improving people's quality of life, permanent housing is also more cost effective. According to the Mayor's Management Report, the cost for temporarily housing a single adult averages $130 per day. For families with children, this number is $202 per day. In contrast, when money is spent directly for permanent supportive housing, people are healthier, and the system is burdened with less medical costs, with an estimated net savings of $10,100 per person. These values don't include the long-term benefits of increased access to jobs, support services, and stable education.
Many elected leaders have endorsed Housing First...in theory. Last year, the City Council released a 202-page report on the homelessness crisis. The report recommended dozens of policy proposals, the first being to prevent homelessness, the second to Increase Pathways to Permanent, Affordable Housing. But, reports are only as good as the actions taken.
Without enough housing, these goals are a pipe dream. To dig ourselves out of this hole, we need to shift investment from shelters to building affordable and supportive housing in every neighborhood — especially high opportunity neighborhoods.
We know this can work because the city has had success with Housing First-like approaches for military veterans. The New York City Department of Veterans' Services (DVS) made permanent housing for homeless veterans a topmost priority. The city employs a peer coordinator program, provides incentives to landlords and brokers to ensure availability, and invests in after-care services to help maintain stable housing. Since 2015, New York City has maintained homelessness levels among veterans at "functionally zero" by securing permanent housing within 90 days of entering the shelter system.
Another success was the New York/New York III program, a city-state pact that has provided supportive housing for homeless individuals with serious mental illness, substance abuse, and disabling medical conditions, resulting in fewer days in jails, shelters, and medical and psychiatric facilities.
These programs provide a model for making an immediate impact. The first is setting a time limit from shelter entry to permanent housing. Second is to eliminate barriers for people to receive rental assistance and be able to "graduate" out of the shelter system. Finally, we should spend more on rental assistance and less on shelters.
Ultimately, we should prevent people from entering the shelter system in the first place. Making this a reality requires the city to integrate homelessness and affordable housing policies. These are not separate issues, but rather a cause and effect that are tightly connected.
It's time for Housing First on a meaningful scale. Housing is the foundation for a better life, and a better city. As we reset New York in the 2021 election cycle – it all begins with a commitment to fully realize Housing First.
***
Sara Lind is an attorney, community activist, and mother of two running for City Council in District 6 on the Upper West Side of Manhattan. On Twitter @saraklind.
Research and Contributions by Tiara R. Ahmad, PhD of Science for New York (Sci4NY), an organization that helps connect local scientists and decision makers through project-based interaction.
***
Have an op-ed idea or submission for Gotham Gazette? Email This email address is being protected from spambots. You need JavaScript enabled to view it.