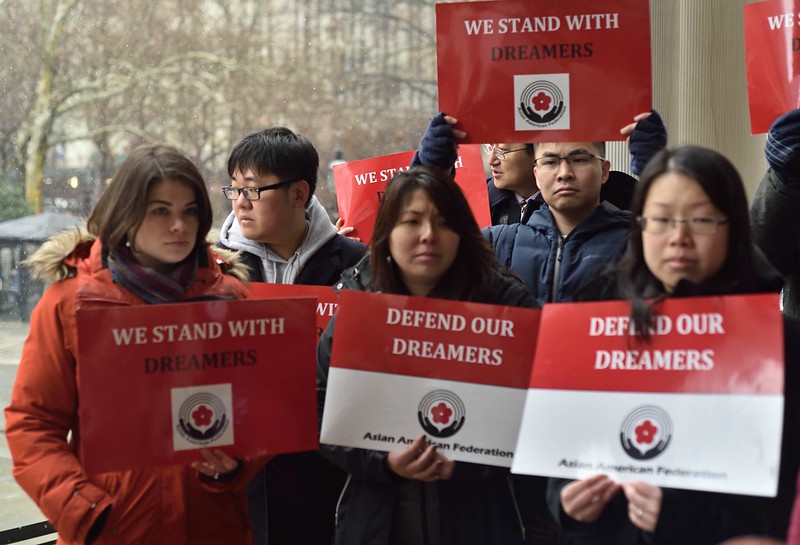 DACA supporters (photo: John McCarten/City Council)
---
President Biden has taken steps to make the lives of Deferred Action for Childhood Arrivals (DACA) recipients better by introducing a bill that has expedited a pathway to citizenship for them. While preserving and even fortifying DACA is a necessary immediate step, merely restoring the program's initial provisions is no longer enough. What we owe DACA recipients is what we owe all immigrants who have contributed to our country: a pathway to permanent residency or citizenship so they can plan a future without fear. Their security and well-being are essential to that of all of us. That is why New York City and cities all across the country are excited to support the Biden-Harris Administration's Dream Act and U.S. Citizenship Act, which will create such a pathway to citizenship for all of our immigrant communities.
Throughout the Trump administration, the repeated assaults on the DACA program took a significant toll on 700,000 DACA recipients, or "Dreamers," and their families. Now, despite President Biden's Executive Order to strengthen the program and a federal court overturning the Trump administration's bad faith effort to stop the program entirely, DACA still remains in legal limbo. On December 22, U.S. District Judge Andrew Hanen in Houston held a hearing in which Texas and eight other states sought to end DACA, and the case is ongoing. Advocates have warned that Judge Hanen's future decision may be "the worst court decision since the program was created."
Dreamers play a key part in this pandemic workforce. Over half-a-million DACA-eligible individuals across the country are currently classified as essential workers, with 62,000 working in healthcare alone. If you get sick with COVID-19, there is a chance your nurse or medical assistant could be a Dreamer. Moreover, through their earnings Dreamers power our metro areas, growth that will be much needed to combat the economic impact of COVID-19. Each year DACA and DACA-eligible recipients contribute $4 billion to federal, state, and local taxes, however, they are unfairly excluded from federal benefits like financial aid, social security, or Medicaid.
Thankfully, though, it is not just the Biden administration that supports DACA, but a large political cross-section of the American public. Seventy-three percent of voters want legislation that protects Dreamers from deportation, and 72 percent support a pathway to citizenship. We are encouraged that Senators Dick Durbin and Lindsey Graham reintroduced the Dream Act in the Senate. Yet Dreamers are still made to live on borrowed time, and as such, Dreamers are not able to fully achieve their fullest potential despite their great contributions to the only country they call home.
Consider the difference in establishing a secure life would make for Escarleth Fernandez, who has lived in New York City since kindergarten. Escarleth's Bolivian parents brought her to the U.S. at age four in search of a better life for their daughter, like the countless immigrants before them. Last year Escarleth graduated from Hunter College, where she majored in media studies. She is passionate about medical technology and currently works as a research assistant in hematology and oncology at Weill Cornell Medicine, supporting patients who are starting cancer drug trials. Successful as Escarleth is, she nonetheless rightly balks at the notion that Dreamers' worth is defined by their elite career paths. "People want to homogenize us, saying that we're all going to be doctors, lawyers, or engineers," she said, "but that's not a fair expectation."
What hinders Escarleth from pursuing a master's degree in public health, however, is her ever-tenuous DACA status. And that makes it harder for her to invest in her future, especially if it requires careful planning and considerable amounts of money to pay for grad school. Even taking out an education loan is tricky; DACA recipients are prevented from applying for much of the traditional federal aid necessary for someone like Escarleth, who is a first-generation college student and whose family's income cannot afford the hefty grad school price tag. With private student loans, her interest repayment rates would be prohibitively high, given that DACA students are considered "high-risk borrowers" as a result of their impermanent immigration status.
Experts predict it may take New York City a decade to emerge from the pandemic-induced recession. Imagine how much better our communities and economy would be if we helped Dreamers like Escarleth to pursue their dreams. Equipped with her master's, she would be ready to serve when we face our next public health crisis.
Dreams are not restricted to those with citizenship. With legislative reform like the Dream Act and U.S. Citizenship Act, the 117th Congress has the opportunity and responsibility to provide permanent protections to those in our immigrant communities that are long overdue. The health of our city's future depends on it.
***
Bitta Mostofi is Commissioner of New York City's Mayor's Office of Immigrant Affairs. On Twitter @bittamostofi of @NYCImmigrants.
***
Have an op-ed idea or submission for Gotham Gazette? Email This email address is being protected from spambots. You need JavaScript enabled to view it.