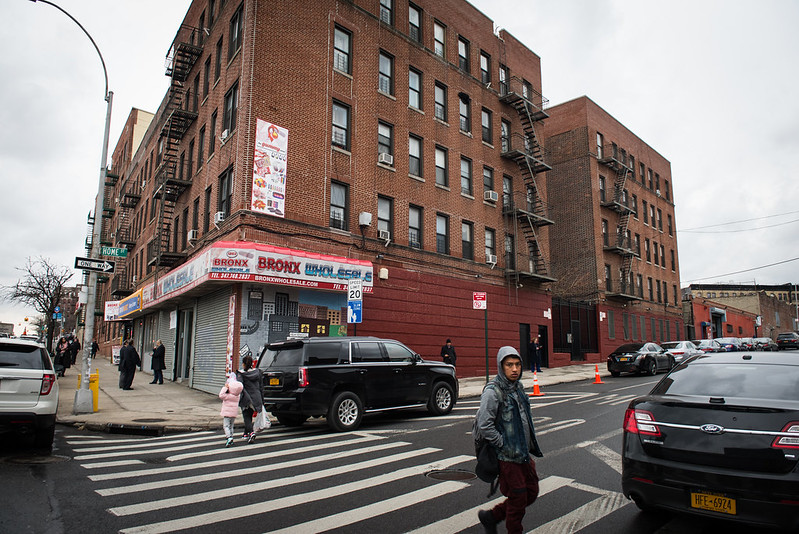 A scene from the Bronx (photo: Edwin J. Torres/Mayoral Photography Office)
---
The number of military veterans experiencing homelessness in the United States was cut nearly in half between 2010 and 2016, the result of a focus on veterans' homelessness by the Obama administration.
This focus included: a strategic plan with a clear goal, focused and mandated partnership between government agencies, and the success of the HUD-VA Supportive Housing program, which combines housing support through rental assistance (provided by HUD) with case management and clinical services (provided by the Veterans Administration).
There was also a political dimension. As a member of that administration, I know there was a calculation that veterans were the group of homeless people we thought we could most likely get Republican support for helping. And some Republicans, especially those at the state and local levels, actively engaged. Indeed Utah was one of the states that got veteran homelessness to functionally zero.
Of course, the intent and hope by the Obama administration was to prove what was possible with veterans and then be able to use those methods with other groups of homeless people. No one who has served our country should be on the streets, or in a shelter. Indeed no one at all should be living on the streets, or in a shelter.
That expansion of proven models from veterans to other homeless populations certainly didn't happen under the Trump administration and now COVID-19 has had a devastating impact on housing security and care for the homeless. The true extent may not be known for a while. The annual point in time count of the number of homeless people nationwide takes place every January and with social distancing it's hard to know how accurate the 2021 count can be.
As we look to recover from covid, with a new administration in Washington and a new mayor to be elected in New York City this year, it is time to think differently and holistically. While different homeless populations have different needs, we cannot afford to move incrementally population by population. It's time to disrupt the hierarchy of homelessness. We must redouble our efforts to house veterans and we must not leave any homeless person behind, whether the formerly incarcerated, or the often hidden family homeless population.
And we can do that because much of what was done right with reducing veteran homelessness can be applied more broadly. We already know what works.
As mentioned, it started with a strategic plan with a clear goal: Opening Doors: The Federal Strategic Plan to Prevent and End Homelessness. In New York City we now have a blueprint: the United For Housing report From The Ground Up, with recommendations for the next mayor. This report was put together by a coalition of more than 80 organizations across a broad political spectrum, including my Trinity Church Wall Street colleague Bea de la Torre, who leads our work to end mass homelessness. From the Ground Up anchors combatting homelessness in a broader strategy to fund and build racial equity and more affordable housing, as well as identifying specific approaches for reducing – and in particular preventing - homelessness.
Second, the work to reduce veteran homelessness required active partnership between government agencies. The United States Interagency Council on Homelessness (USICH) coordinated the Opening Doors plan. The Council brought together 19 Cabinet Secretaries and agency heads to coordinate the federal response to homelessness. And indeed, at the city level, the first recommendation on combating homelessness from United for Housing is to empower a single Deputy Mayor for Housing Opportunity & Economic Development "in order to link historically distinct City departments under singular leadership for greater accountability and consistency." Those agencies will all require clear – and connected – goals to play their part.
The third component of addressing homelessness among veterans was the success of the HUD-VA Supportive Housing program. Supportive housing combines affordable housing with wrap-around services. We know it works and the next mayor must commit to an ambitious target of at least 2,000 new supportive housing units per year as part of a much larger target of more affordable housing. We must also think creatively about how to realize the goals. For example, how can near-empty hotels be repurposed for supportive housing units?
Finally, to connect together all the proven models and good ideas the next mayor should commit to a right to housing. The current right to shelter, while an important safety net, is more band-aid than solution. President Biden has committed to a national strategy to make housing a right for all and New York City should be a leader in that strategy. The need for a safe and secure place to spend the night and base our lives is universal. There should be no hierarchy in helping the homeless.
***
Neill Coleman is the Chief Philanthropy Officer at Trinity Church Wall Street and was the Chief External Affairs Officer at HUD during the Obama administration. On Twitter @neillcoleman & @TrinityWallSt.
***
Have an op-ed idea or submission for Gotham Gazette? Email This email address is being protected from spambots. You need JavaScript enabled to view it.