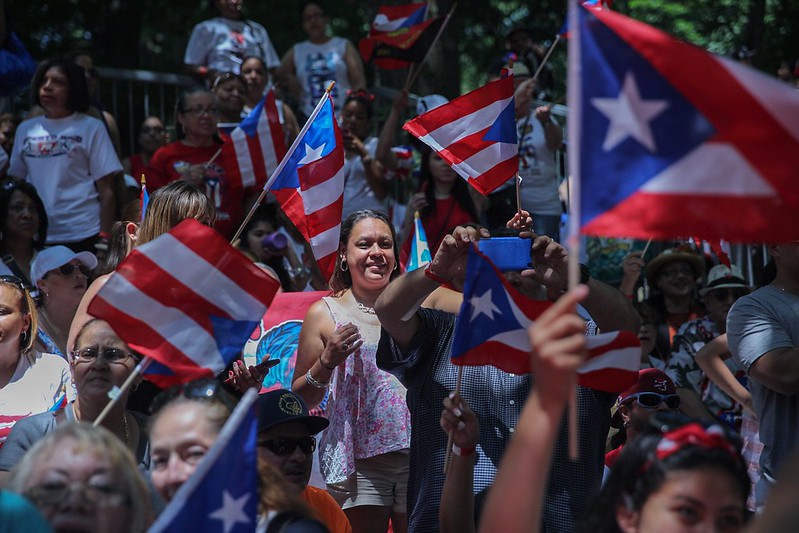 At the Puerto Rican Day Parade (photo: William Alatriste/City Council)
---
Will Latinos finally help elect the first Latino mayor in New York City history? With a term-limited Bill de Blasio, and with Latinos a growing political force in Gotham, two Latino candidates on the Democratic side are vying to replace him in Gracie Mansion and Fernando Mateo has just announced his candidacy to gain the Republican nomination.
Brooklyn City Council Member Carlos Menchaca and long-time nonprofit executive Dianne Morales have positioned themselves within the progressive wing of the Democratic Party as they seek the city's top job. Both come to this mayoral race with considerably less name recognition than two previous top-tier Latino candidates that sought the mayoralty, Herman Badillo and Fernando Ferrer.
Badillo, the first Latino to run competitively for mayor, initiated his quest for the seat in 1969, having served as Bronx Borough President for the previous three years. Badillo also gained some notoriety as a commissioner in the John Lindsey mayoral administration.
Ferrer, who also served as Bronx Borough President and as a City Council member before that, sought the mayoralty in 2001 and again in 2005. Badillo never did secure the Democratic nomination (nor the Republican one in 2001). Ferrer did—but subsequently lost to then-Mayor Michael Bloomberg in the 2005 general election.
The context in which Menchaca and Morales find themselves is vastly different from that of Badillo and Ferrer. For one, the Latino base is much more diverse in its ethnic and cultural makeup. For another, the internal dynamics of the Democratic Party seem to be shifting from racial and ethnic identity politics to ideological positioning.
Regarding the diversity found in Latino communities in New York, we see that Puerto Ricans, historically the largest Latino group in New York, are no longer the only ones representing Latinos. Today, New York City has a large number of Dominican, Colombian, Ecuadorian, and Peruvian elected officials. The Bronx, once a hub of Puerto Rican presence, now has the largest Dominican community in the city, and Queens is a hub for Ecuadorians and Colombians. Brooklyn also exemplifies the diversity of the Latino community, including the presence of a significant cluster of Mexican hermanos and hermanas in Sunset Park, for instance, which is part of the district represented by Menchaca, who is Mexican-American. Morales is of Puerto Rican descent.
The diversity among Latinos in New York is worth celebrating. But will this diverse Latino community vote as a bloc and become the power base that it can be? Will New York City elect its first Latino mayor?
Comprising a quarter of the Democratic primary electorate, Latinos are a force to be reckoned with. But by itself the Latino vote is insufficient to elect a candidate, even if the candidate is a Latino. To win, the candidate will need to build coalitions across ideological, geographical, and ethnic differences. The one Latino candidate that was seen as having a viable path from Grand Concourse to Gracie Mansion was Ruben Diaz, Jr. With a sizable campaign warchest and some name recognition as Bronx Borough President, Diaz Jr. would have surely positioned himself among the top-tier candidates on the Democratic side, but he decided not to run.
For the two Democratic Latino contenders this year, forming such a coalition will be difficult, even with the new ranked-choice voting system. Morales and Menchaca remain largely unknown entities at a citywide level. And both candidates, especially Menchaca, lag behind in fundraising and have not received the public matching funds that could give their campaigns new life (Morales says she will hit the requisite threshold at the next filing in March).
Largely because Republicans are vastly outnumbered in New York City, Mateo would have practically no chance of winning the mayoralty, even if he were to win the Republican primary.
Despite challenges, Morales has proven to be a formidable candidate, developing fascinating policy proposals that will appeal to many primary voters. Unfortunately, this may not be enough. But if that's the case, Morales' efforts will nonetheless likely help forge a path for her to run for elected office again in the future.
Based on the current crop of Latino candidates and the current dynamics in the mayoral race, Latinos will likely have to wait longer for one of their own to finally become mayor of Gotham City. But with a sufficiently strong voting electoral presence in June, Latinos can again demonstrate that they are a force to be taken seriously and a growing base upon which to win a mayoral race.
***
Eli Valentin is a political analyst and author of the forthcoming book, Reinhold Niebur: A Political Life. On Twitter @EliValentinNYPA.
***
Have an op-ed idea or submission for Gotham Gazette? Email This email address is being protected from spambots. You need JavaScript enabled to view it.