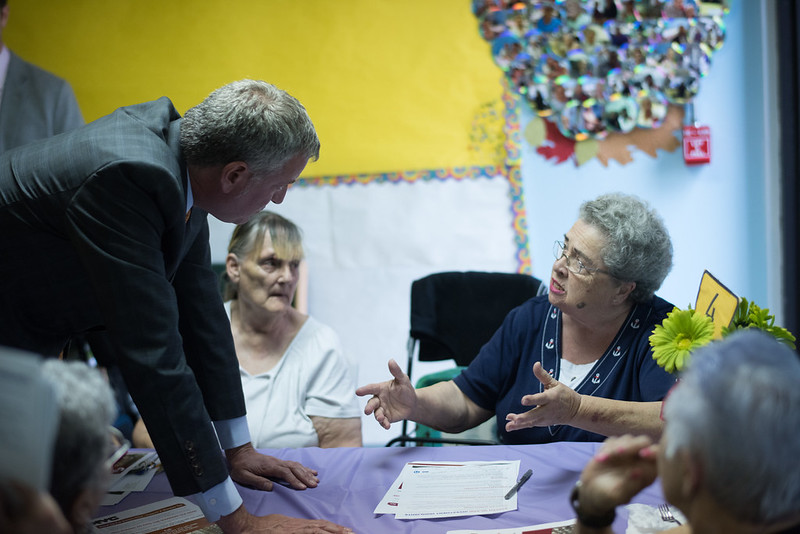 Mayor de Blasio at a senior center (photo: Michael Appleton/Mayoral Photography Office)
---
Vaccines are the lifeline that will get us out of this crisis. But since vaccine distribution haltingly began two months ago, New York City's estimated 136,000 homebound seniors had been left isolated with the knowledge that while they are the most at-risk of dying from COVID-19 (eight out of 10 covid deaths nationwide have been over age 65), they have no way to obtain a lifesaving vaccine.
Their more mobile friends and neighbors — first those over age 75, then over 65, and now over 60 — can visit a vaccine site and get inoculated (assuming, of course, they are able to navigate a truly convoluted online appointment system), while many of the homebound can only watch vaccinations on TV, even as they worry that the health aides they rely on may bring covid into their homes.
The city has now announced its program to vaccinate homebound seniors with the new Johnson & Johnson one-shot vaccine, launching in Co-op City and Brighton Beach. But there's real concern that those good intentions haven't resulted in a real plan beyond pop-ups, and could lead to a replay of the senior food distribution debacle during last spring's shutdown.
Back then, the city's senior centers — themselves a lifeline serving daily meals to tens of thousands of seniors — were left in the dark as the city closed their doors and programs had to improvise to provide home-delivered meals to thousands of newly-isolated older New Yorkers. The city's Department for the Aging didn't have the capacity to handle the list-making, meal-sourcing, and delivery logistics for thousands of households, but that work is already done at the community level by senior centers, meal centers, and case management agencies. The mayor had to appoint a food czar to straighten out the problems in getting life-sustaining daily nutrition to those who needed it.
The city's vaccine honchos should learn from that experience. They should recognize that the mayoral administration can't go it alone — and doesn't need to.
The city can and should start with the 20,000 homebound seniors enrolled in the Department for the Aging's Home Delivered Meals program executed by 23 community-based organizations, and leverage their logistics experience, infrastructure (refrigerated trucks!), and trusted relationships to make appointments for seniors and collect crucial advance information for the vaccinator — medical conditions (including possible dementia), language assistance, and the presence of a home health aide who might also want a vaccine. It's one thing to have a city-paid stranger or an automated system call a 75-year-old homebound elder -- and quite another for a staffer from a senior center reaching out to her. Staff at these community-based organizations can do the hand-holding because they already know how.
And the city can enlist hundreds of staff at senior centers, naturally occurring retirement communities, settlement houses, and organizations like Citymeals on Wheels and DOROT (that sponsor programs to help reduce seniors' isolation).
Yet so far, nothing seems to have been planned with any of the obvious and logical senior-facing service delivery operations.
That's got to change if we're going to get every homebound senior vaccinated quickly and efficiently — and in a way that doesn't create new problems. We're ready to help.
***
Gale A. Brewer is Manhattan Borough President and Beth Shapiro is Executive Director of Citymeals on Wheels.
***
Have an op-ed idea or submission for Gotham Gazette? Email This email address is being protected from spambots. You need JavaScript enabled to view it.