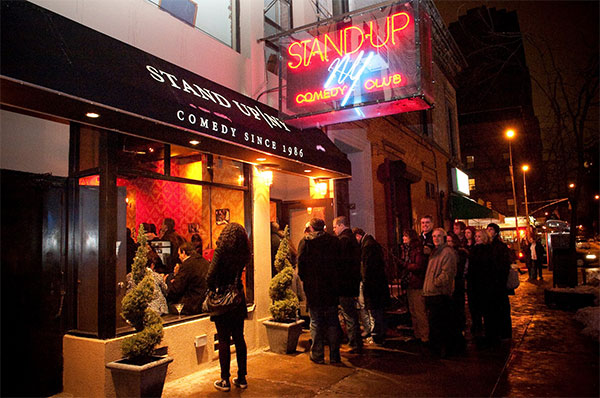 Stand Up NY
---
Laughter brings people joy, something that we've been missing for so long in New York thanks to the shutdowns by Governor Andrew Cuomo. We need New York to heal. That's why I convinced my friend Dani Zoldan, the owner of Stand Up NY, to sue the governor.
Prior to this lawsuit, Dani was putting on shows in parks and subway cars. He was working around the mandates imposed on small businesses by the governor and other elected representatives. Dani skirted the law and put on comedy shows without a license, because the law was unjust. It was this injustice that left no choice but to take legal action. Dani said, "The comedy scene in New York City is the best in the world. The overall consensus is that comics want to perform again, New Yorkers want to laugh and venues want to receive guidelines so they can safely reopen."
He's right.
Getting this right required conversations with numerous lawyers, including Democrats, Republicans, and Libertarians, among others, and they had different approaches to this case. Some were too expensive. Others didn't have the right experience. Some had positive results in bringing suit, but didn't come across as compelling litigators. After numerous consultations, we felt good about hiring James Mermigis, the "Anti-Shutdown Lawyer." But, there was a problem.
Imagine being a comedy club owner on the Upper West Side like Dani—who considers himself an independent with progressive values, teaming up with Mermigis, who voted for Trump. Dani depends on the local community to put food on the table, and this might feel like doom for a small business. But that's not the case.
Part of the healing process is bringing people together. After four years of heated debates and a year of social isolation forced upon us by the governor, it's time to bridge the divide. Dani and James were a great match because they think differently, yet want the same outcomes.
Dani and James may not agree on everything, but they agree on enough. This team championed the arts, culture, and small businesses that are dear to our hearts. We announced the lawsuit on The Sharpe Way, and raised awareness with LegalizeComedy.NYC. The lawsuit was filed on March 1, and Dani went on a media blitz the next day. By March 3, Governor Cuomo announced that he would permit entertainment venues to open on April 2. Pushing him into a corner to make the right decision was a huge win for our wonderful city. With comedy and other entertainment come laughter and joy.
Dani was not just representing his club. He was representing the community of local comics and other artists in New York who could not work, because of these suffocating mandates. We went to battle with the governor, head on. We won. We're bringing back comedy clubs, laughter, and joy. We have a chance to heal.
***
Larry Sharpe is host of The Sharpe Way and was the Libertarian Party nominee for governor of New York in 2018. On Twitter @LarrySharpe.
***
Have an op-ed idea or submission for Gotham Gazette? Email This email address is being protected from spambots. You need JavaScript enabled to view it.