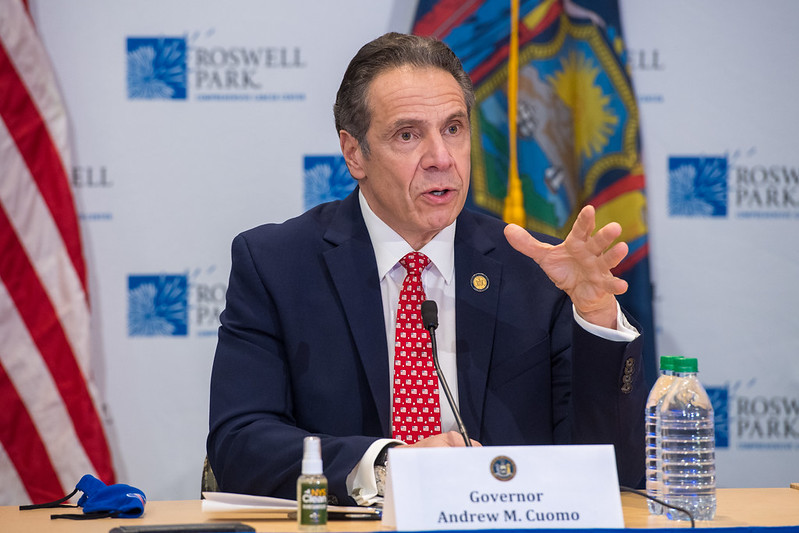 Gov. Cuomo (photo: Darren McGee/Office of Governor Andrew M. Cuomo)
---
It can be painful to look back, but perhaps never more than as we approach the one-year anniversary of the pandemic. COVID-19 started long before March 13 2020, but that was the day everything changed in New York City. That was the day leaders declared a state of emergency and began the most dramatic shutdown in the city's history. And that was also the same day I decried what I called "Cuomo's Coronavirus Coup."
I'm hesitant to revisit last year's column, but I think it's important to look back at these moments, both at the things we got right and the ways we were horribly wrong. Rereading my own words, it's jarring how wrong I was at times. I truly could not imagine the scale of what we were about to endure, or just how incompetently we would respond.
I wrote about emergency funding requests in the "millions," when our state would soon spend many billions. I talked about the need to hold legislative hearings without realizing that in-person gatherings would soon be impossible. And I also naively assumed that our nation would come together in this crisis. It's excruciating to read myself say that there "should be few things less divisive than how we respond to a public health crisis."
And there's the title itself, flippantly using the word "coup." Back then it seemed like harmless hyperbole, but that was before armed right-wing extremists stormed our Capitol and made "coup" a lethally serious word in the present.
But there were parts that stood the test of time, most presciently the warnings that Cuomo's powers pose a threat to democracy itself.
The change that originally prompted my column was a (at the time) little noted amendment to state law that fundamentally rewrote our constitution. A last-minute item, passed without debate or hearing, let the Governor "issue any directive during a state disaster emergency…necessary to cope with the disaster..."
In other words, for over a year, we haven't had three branches of government in New York State, we've just had Andrew Cuomo. Certainly, the Legislature could have tried to reassert power, especially after those first frenzied months, but its majorities largely gave deference and control to Cuomo. And power predictably did what it does so often, it corrupts…it corrupted absolutely.
Prior to the pandemic, the New York governor already had the power to suspend any law he wanted. If there was red tape that was getting in the way, he could have cut it. But this emergency bill was something new, something unlike what exists in any other state. Here, Cuomo was given the power to make new laws, any law, so long as he said it was necessary for the pandemic.
Some of those emergency measures were helpful, but some were misguided, or even deadly. When the governor ordered hospitals to discharge patients more quickly. It became the law. When he told nursing homes that they couldn't turn away COVID-19 positive residents, they had no choice but to comply. And when a once-co-equal branch of government started asking questions, he lied, he stalled, and he threatened.
Bullying tactics were nothing new to Cuomo, but the power of being a COVID Caesar left him untouchable as long as lawmakers refused to act, especially when bathed in the light of the national media. But as I write this column, it's unclear if Cuomo's governorship will outlast the Ides of March, or if his rule will come to a swift end.
Whether or not Cuomo resigns, whether or not he is impeached, the Governor's powers will remain. In recent weeks, Cuomo signed a "repeal" of the emergency rules, but that measure is a repeal in name only. Under the new standard, the Governor can extend his prior decrees indefinitely so long as he gives advance notice to the Legislature. The 96 executive orders already on the books remain the law of the land. And the Governor also retains pre-pandemic powers to suspend any law at any time.
This is simply too much power for any one person, but especially for Andrew Cuomo. What I knew a year ago was that Governor Cuomo was a bully, eager to strike out against anyone who spoke against him. In the days following my first column, more than one person told me that my "career was cooked." But what I didn't know then, and nearly every New Yorker knows now, is that he's also a serial harasser, accused by a growing list of former staff members.
Any one of these abuses: the sexual harassment, the nursing home deaths, the cover-ups, and the subjugation of democracy, would be enough to call for an end to this troubled term. But taken together, they are far more, not just an indictment of one man, but of all those who let him amass and abuse so much power. Removing Cuomo from office is important, but that is just the beginning of restoring democracy to New York.
***
Albert Fox Cahn (@FoxCahn) is the founder and executive director of the Surveillance Technology Oversight Project (S.T.O.P.) at the Urban Justice Center and a fellow at the Engelberg Center for Innovation Law & Policy at N.Y.U. School of Law.
***
Have an op-ed idea or submission for Gotham Gazette? Email This email address is being protected from spambots. You need JavaScript enabled to view it.