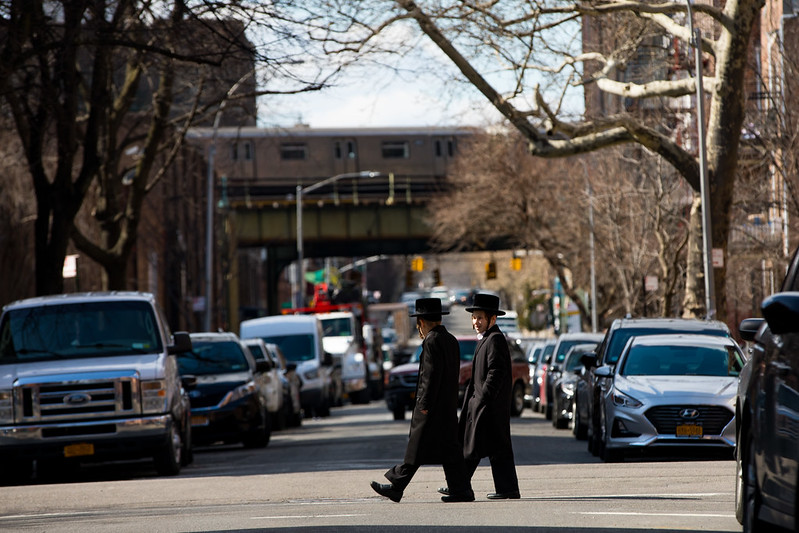 A Brooklyn scene (photo: Benjamin Kanter/Mayoral Photo Office)
---
In his new book Think Again, psychologist Adam Grant discusses the art of rethinking our ideas and beliefs and how vital this is towards progress. He explains how politicians are particularly prone to falling into a Politician Mode. It's where one seeks approval and support from an audience with the goal of winning them over.
Grant's theory was top of mind as I have watched several of the New York City mayoral candidates go into full-blown Politici an Mode in their effort to win over the highly sought-after Hasidic bloc vote. One issue, in particular, stands out: secular education.
As a graduate of Hasidic yeshiva that did not provide me with a proper secular education, it's astonishing to see how ill-informed two of the mayoral candidates are on the issue of yeshiva education.
This week, Eric Adams posted a video of himself on Twitter filmed during a brief visit to a Hasidic elementary school. Adams makes a series of inaccurate statements. He labels critics of Hasidic yeshiva education as "outsiders" when, in fact, the complaints against yeshivas were made by a group of parents and former yeshiva students, such as myself. While attending a Hasidic high school we never received any secular education (i.e. basic writing and reading of English, science, history, etc.), and in elementary school, we received just under 90 minutes of secular studies per day.
Adams also makes strange comparisons between the effort to improve secular curriculum in Hasidic yeshivas and the problems African-American and Hispanic students face due to a lack of culturally-competent education in their schools. We never devalued or attacked cultural or religious education—we merely proposed having a robust dual curriculum as they have in the majority of non-Hasidic Jewish schools.
At a mayoral forum on February 18, Andrew Yang also stated that he wouldn't "interfere" with "faith-based learning"—essentially offering assurance to the Hasidic community that their schools will be allowed to continue breaking state law and not properly educating students. In a bizarre anecdote, he mentioned how he valued his one month of bible education back in high school, where he said he studied it as "literature," proving that he was misinformed on this issue.
In reality, over 50,000 children within the New York Hasidic (a.k.a ultra-Orthodox) school system were found being not educated as required by state law. In December of 2019, the New York City Department of Education released a long-awaited and much-delayed report on some of the problematic Hasidic yeshivas. Of 28 yeshivas reviewed by investigators, only two were found to be providing students with an adequate education in accordance with state law—confirming years of allegations against these problematic yeshivas.
Although this impacts the curriculum at a very specific group of Jewish schools, this issue is of true concern to all New Yorkers. According to the 2020 Census, the towns of Kiryas Joel and New Square in upstate New York are listed as having the highest population growth rates within the state. They are also the poorest towns in the country. Both towns are almost exclusively Hasidic. Growth rates within the Hasidic community of New York City have also been astounding. Data suggests that by 2030, up to one-eighth of New York City's schoolchildren will be Hasidic, including up to 30% of Brooklyn's schoolchildren. Unfortunately, the lack of secular education dooms most young Hasidic graduates to lives of poverty and dependence on government aid. It's not hard to imagine the economic stress the State and City may face if this isn't acted upon soon.
We aren't expecting a new mayor to come in at the beginning of next year and overhaul the Hasidic yeshiva curriculum overnight. But we do need a mayor who understands and acknowledges an issue of this magnitude and prioritizes the education of these children. We need a mayor who will create change for the betterment of all children, not only try to appeal to adult voters.
Grant discusses another mode of thinking, the Scientific Mode, in which one is aware of the limits of their own understanding, remains curious, and updates their views based on new information.
We need a mayor who will adopt a scientific frame of mind to solve this issue—a mayor who is only focused on being a politician won't do.
***
Shlomo Noskow attended Hasidic yeshivas in Brooklyn. He is a member of the board at Yaffed, an organization advocating for improved education in Hasidic yeshivas. On Twitter @yaffedorg.
***
Have an op-ed idea or submission for Gotham Gazette? Email This email address is being protected from spambots. You need JavaScript enabled to view it.