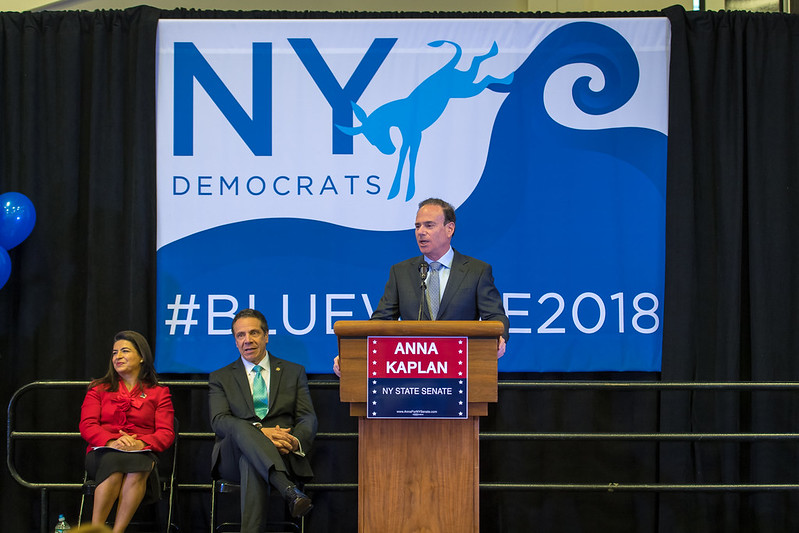 Jay Jacobs, Andrew Cuomo, Anna Kaplan (photo: Cuomo campaign)
---
The recent sexual harassment accusations against Governor Andrew Cuomo underscore the pervasiveness of a toxic work environment, especially for women. Lindsey Boylan, Charlotte Bennett, and Anna Ruch all came with receipts – contemporaneous emails, text messages, and photos – to corroborate their allegations against the governor. It took an immense amount of courage for them and other accusers to come forward. But simply applauding them for their courage does not do their bravery justice, nor does it change the environment that gives rise to these situations. We must act.
The #MeToo movement has succeded in centering a public discussion about sexual harassment and assault, especially their relation to power dynamics. Cuomo's pattern of alleged behavior and overall scandal make it clear that more must be done to prevent sexual harassment and create a safe, independent space for people to come forward without fear of retaliation. We can start by creating that space in our own Democratic Party.
In 2019, several members of the New York State Democratic Committee and several County Committees reviewed the ethics process at both the State and County levels. What we found was a badly-flawed process that lacked the necessary independence required for such work. For example, in the current rules of the Democratic State Committee and Manhattan County Committee, the Chair directly nominates the panel that adjudicates ethics complaints and can remove any member for undefined reasons. Furthermore, the current ethics rules have no procedures for, or language about, sexual misconduct or discrimination and no ethics rules binding on all elected members of the State Committee.
With the help of sexual harassment experts, reform of New York Democratic Party ethics rules was proposed with five key objectives:
Creation of an ethics process independent of the Chair and other political actors.

Inclusion of specific language regarding sexual harassment, misconduct and discrimation.

The application of ethics rules to all State Committee and Executive Board members.

A centering on restorative justice and accountability in response to violations.

And, requiring an independent expert review of our ethics rules and policies, with a $10,000 budget.
These changes to the ethics rules were introduced in July 2020, but were not adopted. Instead, the State Committee tabled the discussion of ethics reform until the next meeting, which was held last October. At that meeting, the State Committee voted to establish a committee that would review the party's ethics rules in depth, with the current proposal as a starting point. As of Monday, this Committee has been formed with a mandate to make our New York State Democratic Party a safer and more inclusive institution.
It is important to highlight that the proposed reform is not limited to sexual harassment, but gives all its members a way to report discrimination and/or ethic violations of any kind. It gives members of our party a way to have their grievances heard and adjudicated in a fair and impartial setting. It provides transparency and accountability and furthers our goals of making ours a more equitable party.
In the wake of the initial allegations against Governor Cuomo, New York State Democratic Party Chair Jay S. Jacobs released the following statement:
"I consider the Governor a friend. He has done and continues to do a lot of good for the people of our State. Nonetheless, these are serious allegations that require a fair, thorough and independent investigation. An independent investigation will best serve those making the allegations, the Governor and the people of the State of New York."
This is exactly why we need to establish independent investigations for sexual harassment and misconduct all egations. We cannot allow bad behavior to be swept under the rug, but without a safe, transparent process victims will fear retaliation and resolution will be dictated by political maneuvering. If a person can exercise their power to influence outcomes, no victim will feel safe enough to come forward. Perpetrators of harassment or assault - even powerful leaders - need to know that they can't use their power to avoid justice.
Now is the moment for our New York Democratic Party to change so it can better reflect our ideals. In this Ethics Reform Committee, Chair Jacobs has the opportunity to back an open, transparent, and safe process within one of the key institutions for promoting people to power in New York State. We urge him to do just that.
***
Ben Yee is the Democratic State Committeeman for New York's 66th Assembly District and former Secretary of the Manhattan Democratic Party. Vittoria Fariello is a district leader from Lower Manhattan and a partner at Balestriere Fariello, a trials and investigations law firm that has prosecuted claims for sexual harassment, human trafficking, and other complex claims. On Twitter at @yben & @VittoriaNYC.
***
Have an op-ed idea or submission for Gotham Gazette? Email This email address is being protected from spambots. You need JavaScript enabled to view it.