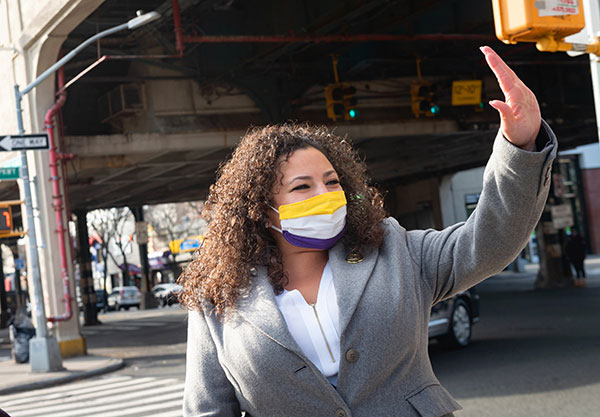 Nathalia Fernández (photo: Fernández campaign)
---
New York City is the greatest city in the world, but we have let others surpass us in protecting vulnerable populations from the most significant threat facing our planet: climate change.
In the South Bronx, reducing air pollution rates is a matter of life or death. With 15,000 trucks commuting through the area daily, the borough has become an island of pollution, and communities of color are disproportionately suffering.
Last week, I introduced my plan for a greener Bronx to achieve the true environmental justice Bronxites desperately need. With it, we will uplift and empower our communities while making The Bronx the greenest borough in New York City.
It is time to take concrete steps to address environmental racism in our borough. We must invest in renewable energies, upgrade our infrastructure, create good-paying green jobs, and improve both our air and water quality. We cannot meet this need by relying on traditional, incremental programs. We must meet the magnitude of this moment by implementing new policies and funding investments that not only revitalize but transform The Bronx.
South Bronx neighborhoods are tucked between three major highways — the Major Deegan, the Bruckner, and the Cross Bronx expressways — and the asthma rate is eight to twelve times higher than the national average. According to New York City's community health profiles, Mott Haven and Melrose had three times as many hospitalizations for asthma as the rest of the city, and 1.5 as many as the rest of The Bronx. In Hunts Point and Longwood, the rate of asthma emergency room visits among children ages 5 to 17 is nearly double the citywide rate.
As borough president, I will prioritize reducing the borough's carbon footprint by advocating for our fair share of funding to implement new greenhouse gas emission limits. For too long, we have been overlooked when it comes to transportation investments, leaving thousands of Bronxites in transit deser ts without access to affordable and reliable public transportation. I will focus on creating sustainable transportation options, like expanding bike-sharing borough-wide and building miles of bus lanes in underserved communities.
Almost one-third of New York City's trash is handled at waste transfer stations in the South Bronx and then sent to landfills across the region. On a typical day, nearly 6,000 tons of trash is hauled in and out of the South Bronx, requiring about 1,400 diesel truck trips. Nine waste transfer stations operate in the area along with other waste-related facilities, including a scrap metal recycling plant and sites that collect fill. Perhaps this is why seven of the city's superfund sites are located in The Bronx.
As part of my plan for a greener Bronx, I will modernize waste removal. The city's 2018 waste equity law was a significant step in reducing waste processing in the South Bronx, but there is still more we can do. My plan includes zero-emission garbage trucks and increases reliance on waste barges, which can carry 28 times more trash.
Bronxites can trust that I will accomplish these goals because of my record of fighting climate change. I have supported the "Restore Mother Nature" Environmental Bond Act in the State Assembly, an effort to leverage $3 billion to increase resiliency, protect wildlife habitats, and create 65,000 jobs throughout New York State. The urgency of this moment and the recent funding made available by President Biden's American Rescue Plan Act make this one of my top priorities as borough president.
I also co-sponsored the Climate Leadership and Community Protection Act in the State Assembly, now law requiring New York to reduce economy-wide greenhouse gas emissions significantly. Locally, I supported City Council Member Costa Constantinides' Renewable Rikers Act, which creates countless opportunities to turn the island into something that enhances our communities like a hub of renewable energies, such as solar and battery, and a state-of-the-art green energy research, educational, and workforce development center.
I will continue to advocate for common-sense policies that will turn The Bronx into the city's greenest borough while also providing our residents with green jobs and economic growth. Fighting climate change is not only about protecting our planet; it's about achieving true environmental justice by empowering our communities that have endured the burden of climate change for too long.
The climate crisis is upon us, and we must stop relying on past strategies to protect us. I will work with communities to bring fresh thinking and new approaches to develop a sustainable, empowered Bronx that works for everyone. Together, we will establish The Bronx as a place the world can look to as an example of a safe, equitable community designed so current and future generations can thrive.
***
Assemblywoman Nathalia Fernández represents The Bronx's 80th District and is a candidate for Bronx Borough President. On Twitter @Fernandez4NY.
***
Have an op-ed idea or submission for Gotham Gazette? Email This email address is being protected from spambots. You need JavaScript enabled to view it.