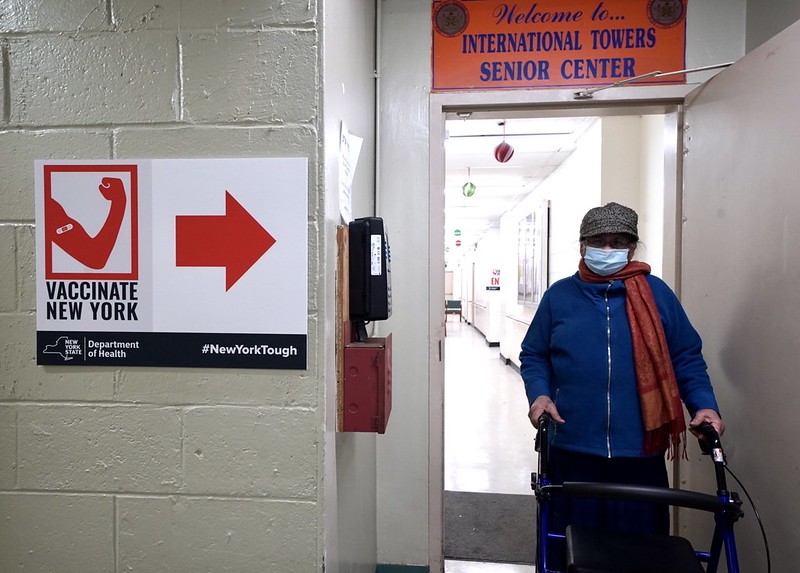 Vulnerable New Yorkers need help (photo: governor's office)
---
As we reached the first year anniversary of the pandemic earlier this month, there's no disputing that overcrowded nursing homes were not the safest way to care for New York's most vulnerable. Over 15,000 New Yorkers who died of COVID-19 contracted the virus in nursing homes and while we know that home care workers were a safer alternative for our seniors and people with disabilities, this option of care was not available to most given New York State's current underinvestment in the home care industry.
The Legislature has been working to address the shortfalls in our long-term care system that were brought to the forefront by this pandemic. While warranted, much of that attention has been focused on nursing home reforms. But we can't stop there. There are serious gaps in our home care industry that are just as critical. Home care workers are drastically underpaid, which has led to a shortage in care.
The Fair Pay for Home Care Act, which I co-sponsor in the New York State Senate, would enable more New Yorkers to get the care they need at home by lifting workers, who are predominantly women of color, out of poverty and creating more jobs during a time of widespread unemployment.
Two-thirds of New York's nursing homes are for-profit, which inevitably prioritizes profit over caregiving. The Cuomo administration's March 25 2020 covid re-admittance order only supercharged the shortcomings at many of these nursing homes, spreading the virus, in the governor's own words, like "fire through dry grass." Twelve months later, between 40% and 50% of COVID-19 deaths in New York state can be traced back to nursing homes.
This agonizing scale of loss was preventable by properly investing in safe alternatives to congregate settings. Home care allows people to stay in the comfort of their own home, connected to existing networks of friends and family, without sacrificing the care they need.
Seniors who remained in their communities with the help of home care were ten times less likely to contract the virus than those in nursing homes. COVID-19 patients who struggled with long-lasting symptoms frequently recovered quicker when they received home health care after discharge.
Unfortunately, our state currently pays tireless home care workers just $22,000 a year, well below the cost of living across the state. These workers do the backbreaking, 24/7 job of providing individualized care for New Yorkers who can no longer care for themselves. They keep our loved ones safe. This is essential work, yet the entire workforce is characteristically underpaid and overworked.
Home care is also an industry long dominated by women of color. In New York, 91% of home care workers are women, 77% are people of color, and 60% are immigrants. New York's economic development strategy largely relies on Regional Economic Development Councils that bypass job-starved communities of color. Investing in home care is an opportunity to create jobs in a sector that cares for the communities that need them most.
The solution is simple: By passing the Fair Pay for Home Care Act, we will mandate a $35,000 salary for home care workers, lifting thousands of home care workers out of poverty and bringing thousands more into the home care sector to end the workforce shortage. This raise will save the state money — generating $5.3 billion for the New York State economy by saving public benefits spending while generating increased tax revenues and boosting individual spending power.
As New Yorkers seek reliable choices for long-term care and as our population ages, we need to retain current home care workers and address the state's widening home care workforce shortage. Investing in home care during this year's state budget is critical to ensure we keep vulnerable New Yorkers safe while responsibly uplifting our workforce and stimulating our economy.
***
State Senator Gustavo Rivera represents parts of the Bronx and chairs the Senate's health committee. On Twitter @NYSenatorRivera.
***
Have an op-ed idea or submission for Gotham Gazette? Email This email address is being protected from spambots. You need JavaScript enabled to view it.