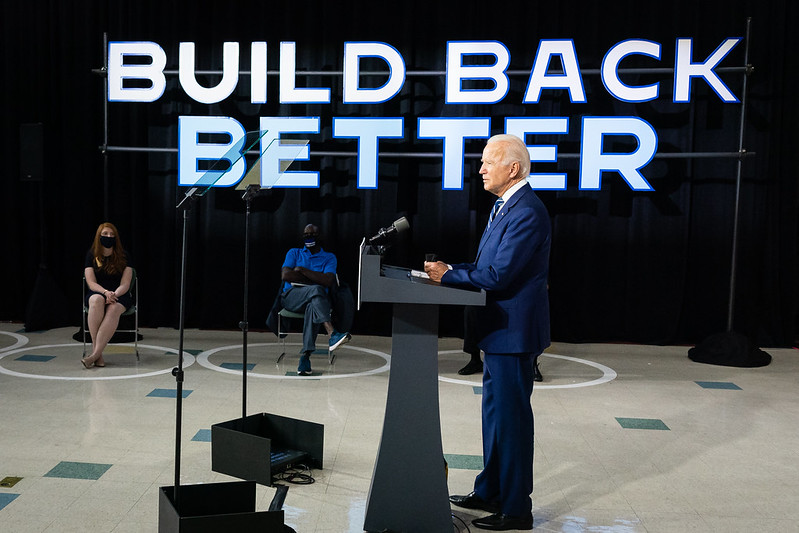 Joe Biden on the trail (photo: Adam Schultz/Biden for President)
---
For most wealthy families, the pandemic was a minor economic hiccup. Millionaires and billionaires profited, especially in New York. But for most poor families, COVID-19 was an unprecedented financial blow with impacts that could last for generations. Thankfully, help is on the way with the American Rescue Plan (ARP). Beyond immediate relief, the ARP indicates more systemic economic policy changes for low-income people and children could be coming.
Beyond the $1,400 stimulus and $300 unemployment checks hitting bank accounts, President Biden's $1.9 trillion ARP delivers almost two-thirds of its total financial benefit to low- and middle- income households. What makes the package a sizable economic boost is the temporarily expanded Earned Income Tax Credit (EITC) and Child Tax Credit (CTC). The EITC triples the maximum amount of the credit for childless working adults and raises the income limit to receive it. Childless adults — many who are low-wage earners, essential workers, and people of color — have historically been left out of most government aid and, as a result, are taxed deeper into poverty.
But the cherry on the ARP is the CTC, which is the closest the United States has ever come to guaranteeing a basic income for children.
Families with children under six years old will get up to a $3,600 benefit per child, while those with school-aged children can receive up to $3,000 per child, all of which will be fully tax refundable. This is a huge bump – at least 50% depending on income and family size – compared to the $2,000 credit families received last year, which was not fully refundable and did not include 17-year-olds. In all, the new law will provide cash assistance to over 90% of children – at least 66 million – for tax year 2021. This will help move 4 million of them out of poverty, 230,000 of whom are living in New York. The impact is expected to cut the poverty rates of Black and Latino children by half, a monumental feat.
Beyond size, the ARP reflects a systemic rethinking of social policy. It recognizes that children merit investment, regardless of the work status of their parents, a historic shift from the 'welfare to work' policies of the Clinton administration. Several legislators, from Rep. Ritchie Torres in the South Bronx to Sen. Mitt Romney of Utah, want to make a version of the expanded CTC permanent. Such a move could be as instrumental in cutting child poverty as Social Security Income was for cutting elderly poverty in half in the 1990s.
The ARP is also a revolutionary act of economic justice for those in deep poverty long before the pandemic, but whose plight was neglected over time. It is through this equity lens that the government should tackle the next frontier – infrastructure.
While the ARP might keep low-income people and children afloat today, future infrastructure investments will determine the built environment our children will grow up, work, and live in for years to come. The ARP already provides seed funding for this in New York through $12 billion for schools, $6 billion to New York City directly, and $6 billion for the MTA. State and local officials would be wise to use some of this funding as a catalyst now – notably for sorely needed NYCHA capital improvements and the city's massive public transit deficiencies.
While President Biden's ARP aimed to put out the economic fire raging across low- and middle-income households, his $2 trillion infrastructure proposal unveiled Wednesday -- the "American Jobs Plan" -- seeks to rebuild the house by investing in major infrastructure and workforce projects, from modernizing highways, roads, and public transportation, bridging the digital divide, and making critical investments in job training, among other projects. Of note, the plan includes several pots of money aimed at "underserved communities," and includes language that reflects a commitment to advancing racial equity, including a $20 billion program for redressing discriminatory transportation policy and "reconnecting neighborhoods cut off by historic investments."
While the proposal is said to be a work in progress and will be negotiated with Congress, Biden should take additional inspiration from infrastructure bills already circulating. Rep. Nydia Velazquez's Public Housing Emergency Response Act would infuse $70 billion in funds for public housing, $30 billion of which would go directly to NYCHA, and Rep. Alexandria Ocasio-Cortez's Green New Deal for Public Housing would invest $180 million over 10 years to train and mobilize the workforce to decarbonize the public housing stock, while creating an estimated 250,000 jobs. Both bills aim for infrastructure equity and address the climate crisis head on.
New York leadership should also take the lessons of the COVID-19 pandemic coupled with the damned legacy of Robert Moses to reorient itself to the infrastructure needs of low-income people of color, many of whom reside in the boroughs outside Manhattan. It is high time for a multi-polar public works program with a five-borough focus, centered on equity and redressing the harmful infrastructure projects of the past that divided neighborhoods and displaced communities based on race and wealth, from the Cross Bronx and Brooklyn-Queens expressways to the development of Lincoln Center. Investing in dilapidated schools, roads, bridges, bike lanes, and more in all the boroughs, rehabbing our decrepit public housing, and re-skilling our workforce to meet the needs of the 21st century economy, as automation and remote work will dominate the labor market in the years to come, would be a crucial jump-start.
***
Emerita Torres is Vice President of Policy, Research, and Advocacy at Community Service Society of New York. On Twitter @EmeritaTorresNY.
***
Have an op-ed idea or submission for Gotham Gazette? Email This email address is being protected from spambots. You need JavaScript enabled to view it.