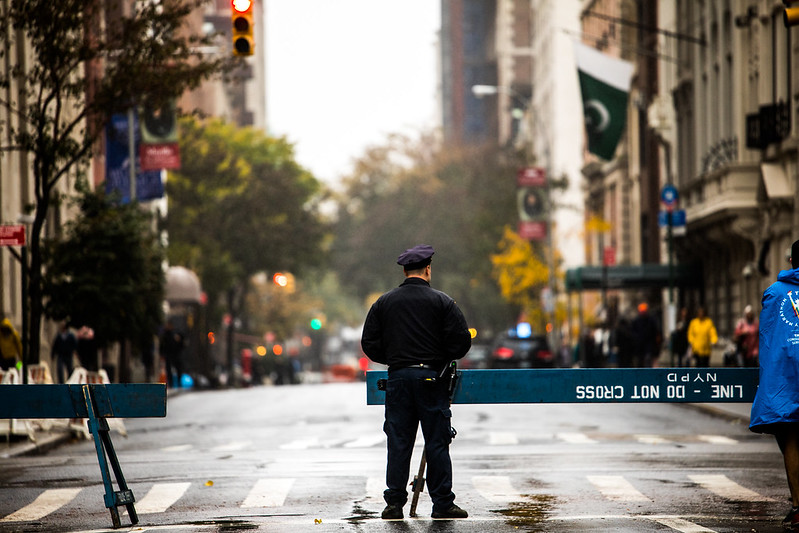 NYPD on the street (photo: Benjamin Kanter/Mayoral Photo Office)
---
In an era of excitement about criminal justice reform in the United States, few places have engendered higher hopes than Los Angeles and Minneapolis.
Minneapolis was, of course, the site of the tragedy that sparked a season of protest: the brutal killing of George Floyd. In the aftermath of Floyd's death, the Minneapolis City Council did something extraordinary: it voted to disband the Minneapolis Police Department. "Our efforts at incremental reform have failed. Period," Lisa Bender, the City Council president, announced in June 2020. Instead of incremental change, the politicians in Minneapolis sought something more dramatic: "to end policing as we know it."
Meanwhile, in Los Angeles, District Attorney George Gascón won office last fall promising sweeping changes, including ending the use of the death penalty, reducing incarceration, and eliminating cash bail. Taken together, Gascón's proposed reforms amounted to a dramatic rethinking of the role of prosecutors. "Our efforts to transform the dated approach that creates more crime, more victims and inequities are just beginning," Gascón declared.
A new era of public safety appeared to be dawning in Los Angeles and Minneapolis.
Fast forward to today. The heady excitement of 2020 has given way to something more sobering in 2021. Today, an organized recall movement is attempting to remove Gascón from office. And in Minneapolis, the effort to dismantle the police department has hit a number of roadblocks, including soaring crime rates. At the end of the day, instead of abolishing the police, Minneapolis ended up shifting $8 million from the $179 million police budget to support mental health programs and violence prevention efforts.
What's gone wrong here? The simplest answer is that reformers in Minneapolis and Los Angeles have run up against reality. There's an old Yiddish proverb to explain this phenomenon: Man plans, God laughs.
In Los Angeles, Gascón's reforms have been met with resistance from numerous quarters, including his own prosecutors, some of whom have complained that their office has effectively been subject to a "hostile takeover" by the defense bar. The prosecutors union is even suing Gascón, arguing that some of his changes are unconstitutional. In Minneapolis, police officers are leaving the force in droves. Sasha Cotton, who heads the local Office of Violence Prevention, has tried her best to temper expectations of a new approach to public safety, warning against rushing out new programs to meet the demands of those seeking a "quick solution."
Los Angeles and Minneapolis are powerful reminders that "policy implementation in the end comes down to the people who actually implement it," as Michael Lipsky observed in his seminal book Street Level Bureaucracy.
Politics and policy matter. But so does practice on the ground. Even the best-intentioned, most well-written laws will only get us so far, because the people charged with implementing those laws have minds of their own.
Frontline practitioners have repeatedly shown that they are capable of undermining, and sometimes rejecting, policies that they do not support. Lasting change within the American criminal justice system cannot happen overnight. And it can't happen without significant support from the people who actually operate the criminal justice system.
Is there a better approach to reforming the criminal justice system than what is being attempted in Los Angeles and Minneapolis? New York City offers a compelling counter-example.
Since the early 1990s, the city has become demonstrably safer. At the same time, there have been massive shifts in the operation of the criminal justice system. Many of the practices that activists loathe most — including the imposition of cash bail, the use of pretrial detention, and sentences of incarceration — have been reduced dramatically. Indeed, these successes helped set the stage for the bail reforms enacted by the New York State Legislature in 2020 that largely eliminated cash bail.
The vast majority of these and other wins were accomplished not by decisive policy overhauls or by legislative fiat. Instead, they were the product of incremental changes initiated by reformers both inside and outside the system. Over time, these changes added up to something significant. And significantly, these reforms did not engender rebellion by frontline practitioners.
The New York City criminal justice system is far from perfect. There is still a need to address racial disparities, improve conditions of confinement, and bolster public trust in justice. But New York does offer vivid testimony that it is possible to win the hearts and minds of judges, cops, and other officials and avoid the practitioner veto that has complicated reform efforts in Los Angeles and Minneapolis.
***
Greg Berman is the distinguished fellow of practice at the Harry Frank Guggenheim Foundation. Aubrey Fox is the executive director of the New York City Criminal Justice Agency. They are the authors of Trial & Error in Criminal Justice Reform: Learn ing from Failure (Rowman & Littlefield). On Twitter @GregBerman50 & @aubreyfox1.
***
Have an op-ed idea or submission for Gotham Gazette? Email This email address is being protected from spambots. You need JavaScript enabled to view it.