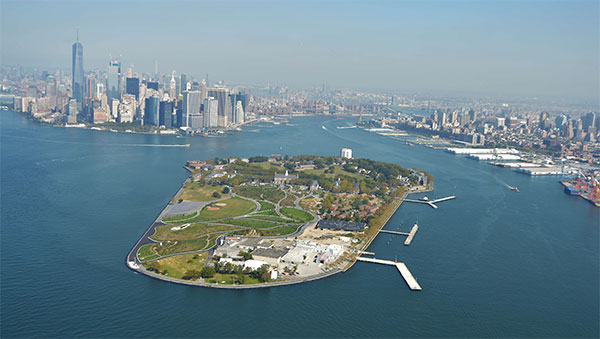 Governors Island (photo: Carlo Buscemi)
---
Governors Island is a 172-acre oasis that's just a stone's throw from the Statue of Liberty. But despite its position at the very heart of the five boroughs, most New Yorkers can't locate it on a map. Closed off from the public for centuries, the island boasts a rich and little-known history. Thanks to two decades of progress, it's found new life as a summer escape for city dwellers, but its future has remained a question mark – until now.
The City Council is considering a plan by the Trust for Governors Island to rezone the southern half of the island. The proposal recognizes the existing parkland and makes possible new, year-round uses for an island that is currently accessible to the public only six months of the year. Enlivening these plans is a bold vision to create a Center for Climate Solutions, an ambitious plan to help our city emerge as a leader in solving the biggest existential crisis of our time.
It's a long time coming, and builds on years of collaborative, community-based planning. In the mid-1990s, our predecessor organization, the Governors Island Alliance (now the Friends of Governors Island) came together as a group of more than 45 organizations to build consensus around a vision for Governors Island's future. From our first meetings, which brought together hundreds of conservationists, urban planners, park managers, and community members, the shared vision for the island focused on turning a once off-limits federal facility into a place dedicated to public use and public benefit.
All along, any conversation about Governors Island's future elicited a series of challenging questions. How to preserve and maximize this incredible resource for the public good? How to ensure a sustainable revenue stream that can support more public access along with the island's massive infrastructure and transportation needs? How to attract new non-residential ways of utilizing a collection of aging former houses and barracks without turning them into private housing? After years of working to answer these questions, the Trust's proposal represents a promising culmination.
Even in the early days, our planning and financial projections showed that new development was not only desirable but necessary to support year-round public visitation and generate a dedicated revenue stream to enhance public uses. To realize this goal, our first public workshop proposed that Governors Island become "a new kind of park containing a wide variety of attractions including hotels, educational facilities, museums, and arts and cultural centers."
A few years later, the Trust's predecessor organization was founded in 2004 with a mandate to create "an educational, recreational and cultural center that will offer a broad range of public uses." Now, much of that initial vision has come to life: artists, thinkers, and urban farmers use the island as a creative workspace, 500 students attend a public high school there, and nearly a million New Yorkers enjoy the landmarked historic district and spectacular new 43-acre park each year.
Despite this progress, Governors Island remains a seasonal destination, inaccessible to the public from November through April. The two parcels contemplated by the proposed rezoning are fenced off from public use and filled with crumbling warehouses – a visible eyesore that detracts from the visitor experience of the park. Critics of the Trust's plan have cynically argued that the zoning proposal paves the way for privatization. On the contrary, to deliver on the promise of creating a year-round public resource, investment and expanded partnerships are needed. The proposed educational, cultural and commercial uses – uses clearly defined by the federal deed restrictions as being in the public spirit – reflect two decades of planning studies and will be critical to animating the island year-round, as well as ensuring its long-term financial stability.
Of course, there should be guardrails in place, and the zoning should pay special attention to design guidelines, view and pedestrian corridors, and park-to-esplanade connection points. Public investments in the island's parkland and historic district must be protected.
Those of us who love Governors Island know the magic of its hammocks, its scenic bike rides, its waterside cafés and its quirky cultural programming. The things that make this place so beloved are not going anywhere. Not a single acre of existing parkland will be touched under this plan – which will, in fact, add at least seven acres of public open space.
Anyone who visited Governors Island last summer felt the immediate benefit of this urban escape — like all of our parks, the island served as an extra lung for our city, giving us space to breathe and recharge. Now is the time to realize the full promise of this unique place and ensure that New Yorkers can enjoy the island's magic 365 days a year. The proposed rezoning makes this possible. After two decades of planning, the future so many of us long envisioned for Governors Island has arrived.
***
Merritt Birnbaum is Executive Director of the Friends of Governors Island (former ly the Governors Island Alliance). Robert Pirani is a Board member of the Friends of Governors Island and was the Founding Executive Director of its predecessor organization, the Governors Island Alliance.
***
Have an op-ed idea or submission for Gotham Gazette? Email This email address is being protected from spambots. You need JavaScript enabled to view it.