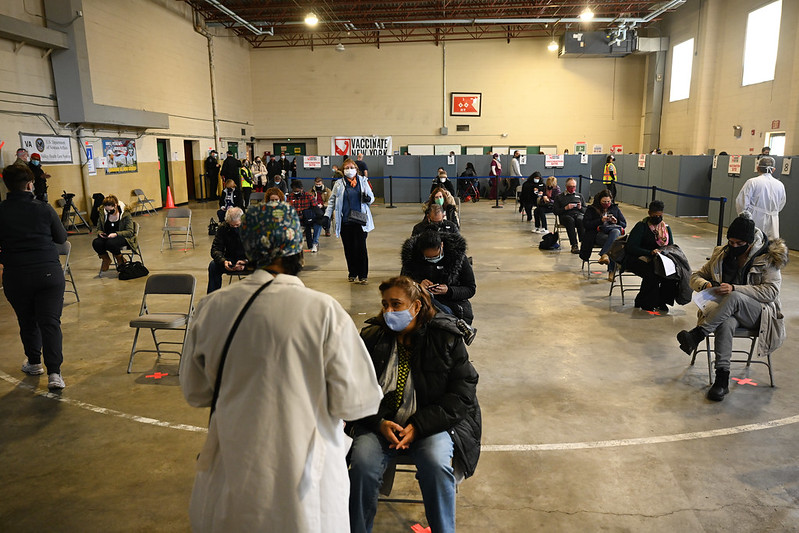 New Yorkers (photo: Kevin P. Coughlin/Governor's Office)
---
As lawmakers in Albany enter the final days of negotiations on the state budget amidst controversy surrounding the Governor, they must not lose sight of the fact that millions of New Yorkers have been left out of any government aid since the onset of the COVID-19 pandemic a year ago – a situation so dire that workers across New York excluded from federal and state aid are partaking in a hunger strike to get the relief they deserve.
For millions of our neighbors there is no rescue plan on the horizon. President Biden's "American Rescue Plan" will bring much-needed relief to families and unemployed workers across the state struggling to put food on the table, pay rent, and chip away at mounting debt. However, beltway politics mean that the most vulnerable New Yorkers – millions of immigrant workers and children – will again be excluded.
A year after the onset of the pandemic, state leaders have a responsibility to finally step up for households that have been ravaged by the health, economic, and social consequences of COVID-19. Private philanthropy is not large enough to fill the gap of government aid.
By standing up a fund to aid workers excluded from federal assistance and by backing reforms to the state's child tax credit—the Empire State Child Credit—Governor Cuomo, Assembly Speaker Carl Heastie, Senate Majority Leader Andrea Stewart-Cousins, and the Legislature can support those that have suffered the most during this crisis, while investing in our future.
Data from my organization's Poverty Tracker, a longitudinal study of hardship and poverty among New Yorkers, finds that nearly half of all New York City workers, and more than half of low-wage workers and Black and Latino workers, lost employment income during the height of the outbreak.
According to a report by the New School's Center for New York City Affairs, since the crisis, more than half of lost jobs were held by foreign-born workers and one in six lost jobs was held by an undocumented worker. Those working in frontline industries are underpaid, with limited ability to social distance, and often lack employer-based health insurance, putting them at greater risk of contracting and dying from COVID-19.
Despite their disproportionate exposure and vulnerability, many immigrant households were excluded from our country's most powerful COVID-19 relief measure: expanded unemployment insurance benefits in the CARES Act. These benefits, which have kept Americans afloat for the past year, exclude millions of immigrant New Yorkers.
Households with undocumented workers and non-citizens without work authorization were ineligible for expanded unemployment benefits, and households with people who use individual tax identification numbers, or ITINs, were excluded from the stimulus payments that were a centerpiece of the CARES Act.
By excluding the lowest-income and immigrant New Yorkers from these federal policies, millions of New Yorkers are at risk of falling deeper into poverty as the pandemic and economic crisis continue.
Besides immigrant workers, the state's children have felt profound impacts from the pandemic. Roughly 325,000 children were pushed into poverty since the pandemic began and now over 24% of New York's children live in poverty.
Lawmakers have the chance to help turn the tide for immigrant workers and their children left out of federal relief, and I commend the Assembly and Senate for proposing $2.1 billion for a fund for excluded workers. Yet these people need more support – lawmakers must establish a $4.6 billion excluded workers' fund through a bill championed by Senator Jessica Ramos and Assemblymember Carmen De La Rosa to provide financial assistance to workers who have lost income and are ineligible for unemployment insurance. This New York fund would provide unemployment assistance payments to previously excluded New Yorkers: undocumented workers and formerly incarcerated individuals, retroactive to April 1, 2020 through the end of 2021.
The second action would be reforming New York's Empire State Child Tax Credit along the lines of legislation proposed by Assemblymember Andrew Hevesi. The bill would expand the credit to children living in deep poverty by providing an enhanced maximum credit of $1,000 for children under age 4, and would increase the maximum available credit to $500 for children ages 4 to 16. Congress is on the cusp on enacting a one-year expansion to the federal child tax credit, but many children would still be excluded from its impact.
The Hevesi bill would provide immediate relief to at least 70,000 excluded children and would benefit 2.1 million New York families once fully phased in. Estimates show it would reduce child poverty by nearly 8%, deep child poverty by 9%, and under-4 child poverty by 12%. This would amount to the most significant reductions in the state's child poverty rate in decades.
Columbia University researchers have estimated that child poverty costs New York over $60 billion a year. Cost-benefit analyses of expanding child tax credits to the poorest and youngest children have shown societal returns of up to $8 for every $1 spent on these programs.
Child poverty and the continued exploitation of immigrant workers is a stain on the state's progressive credentials. Our leaders in Albany can end the pattern of neglect and issue a long-overdue dividend for children in poverty and excluded workers instead of continuing to mortgage our future.
***
Wes Moore is the Chief Executive Officer of the Robin Hood foundation, which has granted more than $71 million since the onset of the pandemic to organizations assisting New Yorkers. On Twitter @iamwesmoore & @RobinHoodNYC.
***
Have an op-ed idea or submission for Gotham Gazette? Email This email address is being protected from spambots. You need JavaScript enabled to view it.