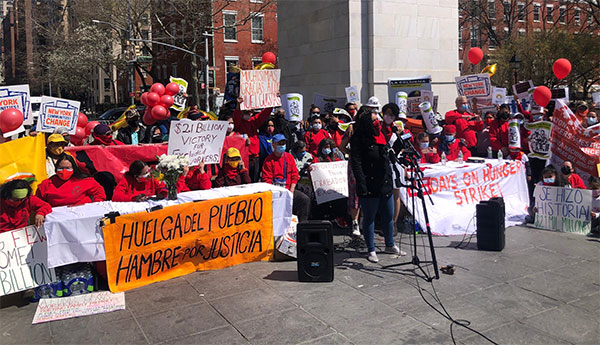 Assemblymember De La Rosa, the author, speaking at a rally for 'excluded workers'
---
The approval this week of the nation's first-ever Excluded Workers Fund is a bold statement that New York recognizes the humanity in everyone, and that we must secure the basic necessities of all people during a global pandemic. It also acknowledges that immigrants contribute greatly to our tax-base and the backbone of our community.
No one deserves to go hungry or die, or to not have money to bury their loved ones, pay for housing, health care, and other fundamental needs while a pandemic wreaks havoc across the world. It is a matter of compassion, empathy, solidarity, and core human decency.
Since the pandemic first hit in March 2020, thousands of undocumented and nontraditional workers across the state have suffered the injustice of being excluded from every government relief program. Over 192,000 undocumented workers (who records show pay $1.4 billion in yearly taxes) lost their jobs, none of whom were eligible for Pandemic Unemployment Assistance (PUA), according to a report by the Center for NYC Affairs at the New School. The Center also reported that 68% of jobs lost in New York City were among people of color.
In May 2020 I partnered with New York State Senator Jessica Ramos to introduce a bill for the first-in-the-nation Excluded Workers Fund before the New York State Legislature. It was a long road before the Fund's approval, including hearings, a rally that shut down Brooklyn Bridge, and a 22-day hunger strike led by excluded workers.
The $2.1 billion fund, part of the new state budget, will provide retroactive benefits to workers who have been unable to access a single penny in government aid up to this point. This funding will be crucial to closing the economic disparities of the pandemic, which has disproportionately affected Black and brown communities such as Washington Heights and Inwood, the communities of Assembly District 72, which I represent.
As we move towards implementation, I thank Assembly Speaker Carl Heastie and my colleagues in the Assembly, Senator Ramos and colleagues in the Senate, Make The Road New York, New York Communities for Change, New York Immigration Coalition, and the members of the FEW Coalition, who joined us in the quest for budget equity and justice for excluded workers. We will now provide oversight over the state Department of Labor to ensure that a fair process is built to apply for and receive benefits from the Excluded Workers Fund.
While working class New Yorkers reeled from the virus and struggled to pay rent, the wealth of New York's 120 billionaires grew by $87.7 billion. It is about time that New Yorkers finally demand that the ultrarich pay their fair share and that all New Yorkers are taken care of. New York's new budget serves as a model for how governments can pursue progressive revenue streams to redistribute wealth, move toward budget equity, and better serve the people. The revenue raised will transform the live s of millions of New Yorkers as we fund excluded workers, expand affordable housing, and invest in our schools.
***
Carmen De La Rosa is the State Assembly Member for the 72nd District in Upper Manhattan. On Twitter @CnDelarosa.
***
Have an op-ed idea or submission for Gotham Gazette? Email This email address is being protected from spambots. You need JavaScript enabled to view it.