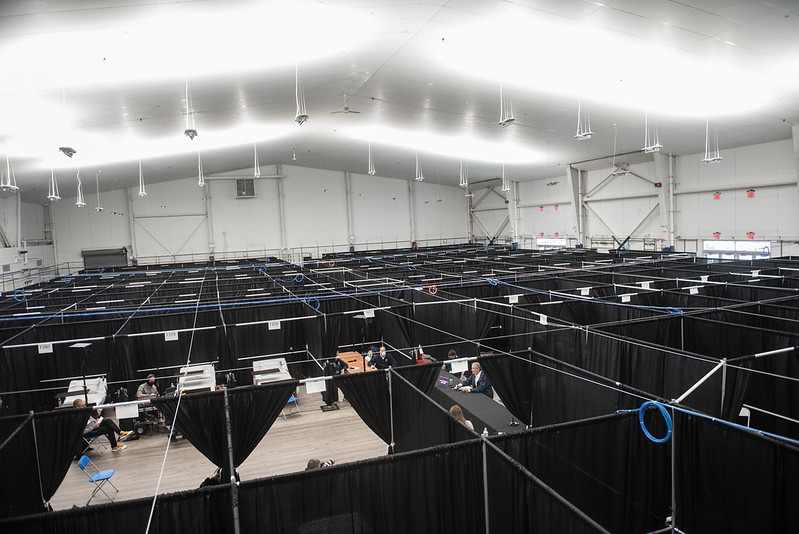 Taking on covid (photo: Michael Appleton/Mayoral Photography Office)
---
By now, every New Yorker knows someone who has been infected with COVID-19 or has had it themselves. Since the start of this pandemic, over 800,000 New York City residents have had a positive test. And a year into the fight against this disease, we know that the battle is far from over, as New Yorkers grapple with the effects of long -haul COVID: respiratory issues, brain fog, heart palpitations, and depression. We need more research and more data to learn more about the long-term impacts of COVID-19 and its impact on New Yorkers. That's why we are pledging our support for this research when we are elected Manhattan Borough President and to the City Council, and fighting to advance it now.
In the aftermath of the 9/11 attacks, we all saw how first responders and the people living and working in the vicinity of the World Trade Center developed health issues ranging from COPD to depression to cancer. That's why New York created a voluntary registry for survivors to help track and research long-term health conditions arising from the attacks. Working off that model, Senator Hoylman has already proposed legislation to create a voluntary registry run by the New York State Department of Health to track the long-term physical and mental health impacts of the disease — but more can be done.
New York City was the epicenter of this disease, but is also home to world-class hospitals and universities that are already engaged in groundbreaking research on COVID-19. When elected, we will work to provide additional funds for research into long-haul COVID, partner with public hospitals, and cut intergovernmental red tape. We are seeing that New York innovation now in our public university system: SUNY Downstate Medical Center in Brooklyn was converted into a COVID-only hospital and The City College of New York's work to create a new vaccine.
In our respective prospective roles as Borough President and City Council member, we want to be champions of STEM education and the best way to do that is by supporting research. For all of the tragedies we encountered over the last year, we also have seen breakthroughs in scientific research. Within 10 days of the virus being first detected, its DNA sequence was made available online. Because of the groundwork research being laid for mRNA vaccines in the preceding years, we had vaccine trials beginning just months after the virus arrived.
Our city must do whatever it can to combat the long-term effects of coronavirus. We know it has disproportionately hurt our most vulnerable communities: those that are low-income, those in communities of color, those with underlying conditions. As public servants, we want to do our part to make our society more equitable so the next time a deadly virus emerges, we will be ready. Once elected to these new roles, we are committed to investing in the research and partnerships needed to fight the long term effects of this pandemic — and any future pandemics — for years to come.
***
State Senator Brad Hoylman is a candidate for Manhattan Borough President and Briget Rein is a candidate for City Council in Brooklyn's 39th District. On Twitter @BradHoylman & @briget4brooklyn.
***
Have an op-ed idea or submission for Gotham Gazette? Email This email address is being protected from spambots. You need JavaScript enabled to view it.