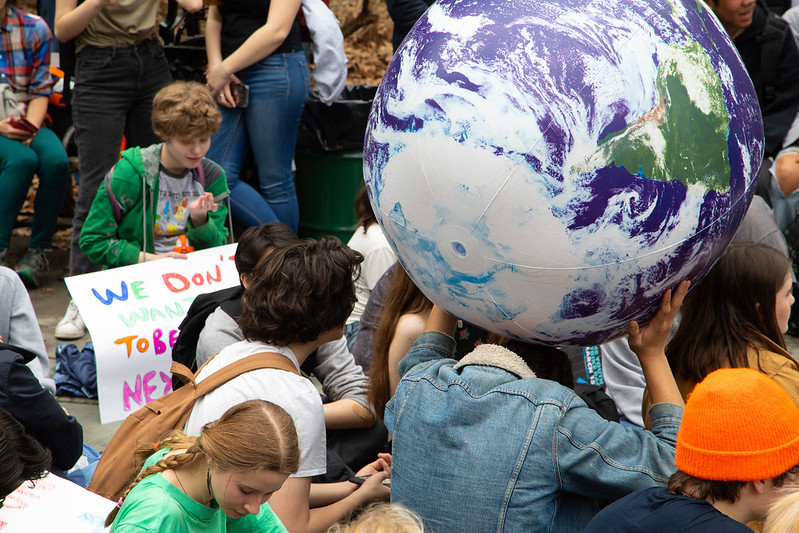 Climate March (photo: Paige Polk/Mayoral Photography Office)
---
Over the last year, New York has moved heaven and earth to combat the pandemic ravaging our nation. Despite the heroic efforts of so many New Yorkers, years of apathy and systemic injustice left communities of color and low-income families vulnerable. But this experience is simply a preview of the wide-scale devastation that will be caused by our greatest challenge yet, climate change –– and the environmental injustice currently faced by those same communities across our state.
Fighting the climate crisis requires New Yorkers to mobilize on an even greater scale –– COVID-19 has been a disaster in our state, but climate change threatens the survival of humanity. To overcome these challenges, our society cannot continue to ignore the pleas and warnings from the communities on the front line of this struggle. Now that a new New York state budget has passed, we must turn our attention to urgent legislative priorities –– and climate justice must be at the top of the list.
The South Bronx, like many communities of color in the United States, has battled injustice after injustice for much of its existence, from decades of redlining to the incessant exercise of police brutality to chronically poor air quality. For years, the South Bronx has been sucked dry of its resources and has served as a dumping ground for New York City's waste.
Hunts Point is home to the world's second largest food center yet the families who live on the surrounding blocks of this neighborhood face some of the worst food insecurity in the entire state of New York. Almost one third of New York City's trash is processed in the South Bronx, while Manhattan processes virtually none. Industrial plants and corporations pour tons of air contaminants into our neighborhoods, leaving the Bronx with some of the highest asthma and covid death rates.
As Victor describes it, living in the South Bronx means that every time you step outside, you are reminded that New York government doesn't care about you. This abuse has left communities with generational scars and persistent economic inequality, environmental injustice, and crumbling infrastructure. Organizers in the Bronx have been fighting for justice for their communities for decades, but their proposals have long been ignored. Never has there been a more urgent time for the leaders in our state – both legislative and executive – to listen and decisively act.
We have an opportunity to do what is right for the future of these communities and all New Yorkers – and make amends for the damage that has been done. Now is our chance to transform our city and state and safeguard our environment, by passing the Climate and Community Investment Act (CCIA).
The CCIA would generate upwards of $15 billion in annual revenue by putting a fee on corporate polluters who emit carbon dioxide and other greenhouse gases. Those funds would be invested into renewable energy production, manufacturing and energy efficiency, while prioritizing the communities most impacted by pollution and climate change. The legislation builds on the landmark Climate Leadership and Community Protection Act (CLCPA) of 2019, which put New York on a path to reaching net zero greenhouse gas (GHG) emissions, while centering environmental justice. The CCIA will help New York meet the crucial goals laid out in the CLCPA and further ensure a just transition to sustainable energy sources.
Through the CCIA, we will fund ethical development that creates green jobs for communities in urban and rural settings. We will have growth and development without the sacrifice of communities and ecosystems. We will fund mental health infrastructure, create community land trusts, and build better schools with more engaged students. This is a future that benefits all New Yorkers.
2021 is calling on us to act. Facing COVID-19 and climate change, our solutions must be equitable and empathetic. Enacting the CCIA is our opportunity to steer away from climate disaster while giving back the future that was stolen from so many. This is the State Legislature's chance to make sure that no New Yorker wakes up feeling disregarded or dispensable; a feeling that residents of the South Bronx have lived with for so many years. That is why we support the passage of the CCIA in New York, and it is why we urge all New Yorkers to join us. We need only to act, and a bold future will follow.
***
State Senator Alessandra Biaggi represents parts of the Bronx and Westchester in District 34. Victor Davila is Action Program Manager/Community Organizer with The Point CDC. On Twitter @Biaggi4NY & @THEPOINTCDC.
***
Have an op-ed idea or submission for Gotham Gazette? Email This email address is being protected from spambots. You need JavaScript enabled to view it.