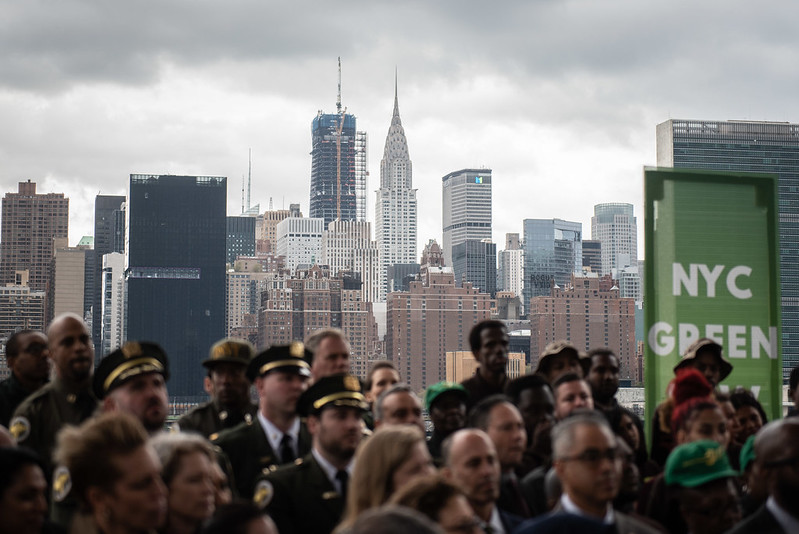 Greening buildings (photo: Michael Appleton/Mayoral Photography)
---
In 2019, the City Council and Mayor de Blasio passed into law one of the most ambitious pieces of climate change legislation in the country. Local Law 97 will impact 57,000 buildings across the city, with the goal of reducing citywide emissions by 40% by 2030. This is great news for the environment -- commercial and institutional building emissions are the second largest source of carbon emissions in the city, equal to the entire transportation sector. However, if you're a commercial real estate owner looking at the need to retrofit your entire building, you're looking at a pretty hefty bill to comply.
At the moment, real estate owners will need to put up about $20 billion for Local Law 97 to be successful. For context, last year they spent about a quarter of a million dollars on these types of projects. And, while there are some financing programs available to help with energy efficiency upgrades, the city needs to provide significantly more upfront funding for the law to succeed. If elected the next City Comptroller, I'll work to fix that -- and improve the city's ability to deliver more services to its residents -- by instructing the Bureau of Public Finance to issue at least $10 billion in new financing and bring the city that much closer to reaching its carbon emission reduction goals.
Social Impact Bonds are bonds that pay out interest and principal based on savings accrued through measures that have social benefit. Basically, they pay for success. In the case of Local Law 97, the Bureau would issue bonds, with proceeds of those sales directed to local green banks, like the NYC Energy Efficiency Corporation, or other nonprofit entities tasked with providing Property Assessed Clean Energy ("PACE") financing to building owners to retrofit their buildings. One of the best case studies for investing in energy efficiency is the Empire State Building, which spent $30 million on energy efficiencies retrofits. It's saved the building $4.5 million a year and will pay for itself within 10 years. Over 30 years, this $30 million investment will have saved over $135 million. But $30 million is a lot of money, and few will have that sort of up-front capital.
Making social impact bonds available for these activities could significantly improve how many owners comply with Local Law 97, ultimately helping to create more union retrofitting jobs for New Yorkers, pump demand for related work, and put us on track to meet our environmental goals. That's a big win-win-win. With the right outreach, issuing these bonds could also help address a major deficit of the law -- it does little to promote financing of energy efficiency retrofits in buildings below 50,000 square feet. How many jobs could this create in total? Urban Green Council estimates that retrofits for commercial and residential buildings would create 141,000 jobs by 2030. I would work hard to ensure as many of these as possible are at minority- or women-owned businesses.
Energy efficiency isn't the only place these bonds could be used. Social impact bonds can be used to reduce recidivism, address homelessness, even help create workforce programs. They help combat perverse incentive structures by ensuring that we pay for results.
This all might sound wonky, but the impact on people's lives is real. Cleaner air, more good quality jobs for residents, more homeless people helped into homes. COVID-19 devastated the city's budget and caused the largest economic downturn in living memory. The moment demands more from the city's elected leaders. It demands we think creatively about how to provide better services while spending less money. As your next Comptroller, I'll be looking for every way I can use the office to lead the city's recovery from COVID and make sure that our city residents, not special interests, get the services they need. Social Impact Bonds are a big way we can do that.
***
Zach Iscol is a Democratic candidate for New York City Comptroller. On Twitter @zachiscol.
***
Have an op-ed idea or submission for Gotham Gazette? Email This email address is being protected from spambots. You need JavaScript enabled to view it.