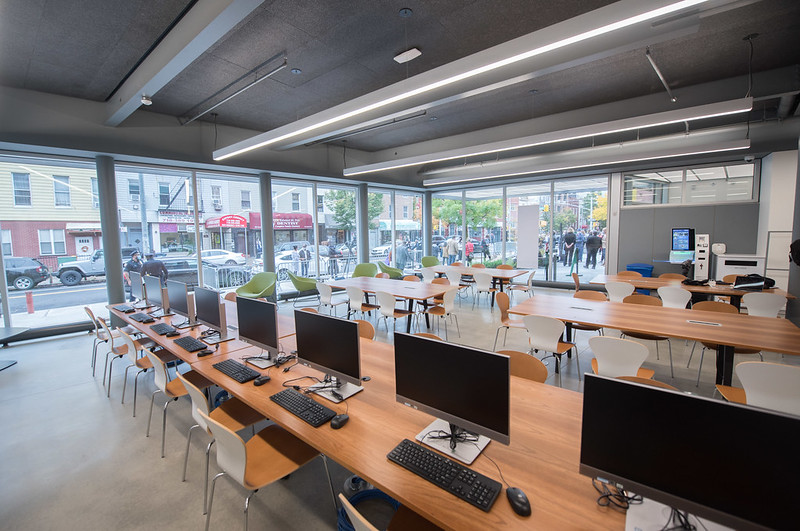 An empty library (photo: Michael Appleton/Mayoral Photography Office)
---
Too many New Yorkers are feeling the effects of being disconnected. The digital divide — a persistent gap in access to low-cost, high-speed internet and devices — is affecting their educational plans and, potentially, their livelihoods. The solution is multi-pronged, and will require those in positions of influence, from policymakers and funders to private-industry leaders.
When New York City announced its Internet Master Plan in January 2020, it estimated that 40% of households — 3.4 million residents — were partially disconnected from the internet, having either home or mobile service, but not both. Worse, 1.5 million residents were totally disconnected with no access to service.
According to the city's study, 46% of households living in poverty lacked broadband access at home, and lower-income households that were connected spent up to 10% of their monthly budgets on high-speed internet.
That was before COVID-19. Since then, the five boroughs lost 560,100 private-sector jobs, and connectivity access points, such as libraries and community centers, were forced to limit public access due to the pandemic.
The economic and educational impacts of the pandemic have increased the urgency and raised the stakes in an already dire situation. For K-12 learners, for adults whose dreams include a postsecondary degree, and for those who need reskilling to increase their chances of finding employment, access to education is vital. Of particular importance during the pandemic is access to online education, which is one of the fastest growing segments of higher education in the United States.
Mayor de Blasio's administration should be praised for its ongoing efforts to bridge the digital divide. As part of the city's ambitious $2.1 billion Internet Master Plan, the mayor announced plans in March to award telecommunications companies more than $150 million in contracts for projects that would bring affordable broadband to 600,000 city residents. The city also recently upgraded internet service at 50 of its public-housing community centers and buildings.
Recognizing the gravity of the opportunity gap amid the pandemic, city agencies deployed hundreds of thousands of internet-ready devices to K-12 learners and additional thousands to the elderly.
But what about those in between?
Out-of-work or underemployed adults need access to devices and low-cost broadband now, to apply for jobs and pursue online educational programs. As the city rightly focuses on connecting children and older adults, it cannot forget the needs of New York City's vital workforce.
I urge policymakers to recognize high-speed broadband access as a fundamental need, such as water and utilities. Federal, state and city efforts to expand broadband access will help, but a comprehensive solution can best be found by combining efforts from both private and public sectors.
In August, Western Governors University launched a $1 million scholarship program to grant high-speed internet access and devices to students who lack these resources. The Online Access Scholarship program is part of a broader WGU initiative aimed at working with policymakers, funders, and private industry to close the digital divide. This will allow prospective students in New York City's five boroughs to begin a degree program that will make a difference in their lives while strengthening the city's economy.
New York City should be commended for seeing the value in public-private solutions. Its pact with AT&T has brought free Wi-Fi to more than 20 city parks for the past decade. Recently, the de Blasio administration issued a request for proposals, asking telecommunications companies to step up with "any and all ideas" to establish the rapid and equitable deployment of low-cost broadband in 33 neighborhoods.
Some smaller locales have successfully deployed public-private partnerships at scale. Take the Virginia counties of Accomack and Northampton, which created the independent, not-for-profit Eastern Shore of Virginia Broadband Authority, an all-fiber network, powered by private inter net providers, that has installed hundreds of miles of cable and services around 350 buildings, including schools and businesses.
Chattanooga, Tenn., is another example. The city already has its own municipally-owned and operated internet service. But gaps remain for economically disadvantaged families. In 2020, Chattanooga launched a public-private partnership that connects 28,000 eligible students — those who meet the criteria for federal free and reduced-price school meals — with a high-speed internet connection and a Wi-Fi router at no cost.
The State of New York's recently-passed fiscal year 2021-2022 budget includes legislation requiring internet service providers to offer — and advertise — $15-per-month plans for low-income households. Also in the budget is a partnership with Schmidt Futures and the Ford Foundation to launch ConnectED NY, an initiative to connect 50,000 students in economically-disadvantaged school districts to free internet through the end of the 2022 academic year.
All the city's residents need equitable access to high-speed broadband as we head into a post-covid recovery period. It is an investment in our neighbors, families, and neighborhoods. It is an investment in the labor force and the talent pipelines that support businesses and local economies.
We cannot afford to let lack of broadband access serve as a barrier between individuals and learning opportunities, or between our businesses and the talent pool our city needs to thrive and grow. Moving forward in a landscape dramatically changed by COVID-19 will require all of us working together to raise the bar academically and economically in every borough.
***
Rebecca L. Watts, Ph.D., serves as a regional vice president for Western Governors University (WGU), a non-profit, accredited university focused on competency-based learning that serves more than 130,000 students, including 2,900 in New York and nearly 1,000 in the greater New York City area. She holds a doctorate in higher education leadership from Ohio University. On Twitter @WGUnortheast & @WGU.
***
Have an op-ed idea or submission for Gotham Gazette? Email This email address is being protected from spambots. You need JavaScript enabled to view it.