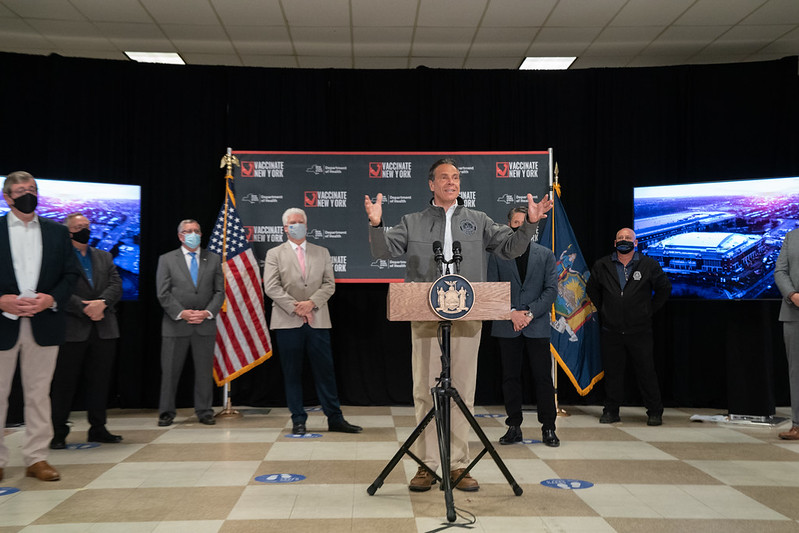 Gov. Cuomo (photo: Don Pollard / Office of Governor Andrew M. Cuomo)
---
The balance of power and attention is weighed heavily in favor of public official s accused of sexual harassment and assault, rather than those coming forward with accusations. This dynamic is misaligned and should shift toward legitimizing victims.
Governor Cuomo is accused of bad behavior by eight women in the form of sexual harassment and assault in various contexts ranging from the workplace to private gatherings: Lindsey Boylan, Charlotte Bennett, Anna Ruch, Karen Hinton, Ana Liss, Jessica Bakeman, Alyssa McGrath, and one anonymous woman. A significant amount of media attention is devoted to what Cuomo is thinking, feeling, doing, and what his next steps may be, especially whether or not he will resign.
Looking at punishment basics, we can learn from how we typically handle bad behavior from children. Less attention, no reward, and a time out are conventional approaches. With Cuomo, we are doing the opposite — he enjoys an extreme amount of local and national media attention and there is no limit to his executive power as investigations and possible impeachment proceedings unfold. In light of this dynamic, what is lost is the focus on and legitimacy of the alleged victims. In some ways, this is not surprising because Cuomo is a well-liked, charismatic bully. The question becomes, how does this imbalance influence the investigative process and larger quest for justice?
As the top government official in New York State, Cuomo is negatively impacting the legitimacy of the investigative process. A large number of prominent lawmakers are calling for Governor Cuomo's resignation and impeachment. Yet, Cuomo adamantly refuses to step down, arguing that due process is necessary. By remaining in office, Cuomo authorized the Attorney General's investigation of accusations against him, provided an attorney to staffers who will be interviewed by the Attorney General's Office, and launched his own parallel investigation.
Some pockets of Cuomo supporters caution not to make Cuomo the next Al Franken, the former Minnesota senator who resigned amidst sexual harassment and groping accusations. And they are right, but not for the reason they propose. The travesty of the Franken situation is not in the outcome for Franken, himself, who still engages in political commentary and hosts his own podcast. Instead, it is Franken's accusers who did not receive an opportunity for justice, because his resignation halted any future investigation.
Cuomo's position of power affords him a bully pulpit to delegitimize alleged victims. He continues to make public appearances and has made many statements about the women coming forward with allegations against him. He claims these accusations are either misunderstandings of his playful actions by unassuming women or politically motivated attacks on him by power-hungry women. What is more dangerous, Cuomo has attempted to reframe the scandal from sexual harassment and assault to one of political opposition, with himself being the true victim of cancel culture.
An important focus of the MeToo movement is to create community and legitimacy around those coming forward with sexual harassment and assault claims. The organization issued an official statement on Governor Cuomo, emphasizing MeToo's commitment to advocating for an honest process that prioritizes impartiality, systems change, and accountability for victims of sexual harassment and assault.
The fact that we are talking about this at all is a sign that we are moving away from business as usual, and it is not lost on us that this shift coincides with the rise of prominent women elected officials in New York City and State. Representative Alexandria Ocasio-Cortez and Senator Kirstin Gillibrand, who have called for Cuomo to resign, along with Attorney General Letitia James, who is leading one Cuomo investigation, show us that gender balance in positions of power will likely cotinue to improve the culture surrounding sexual harassment and assault, and help give accusers legitimacy.
However, by allowing the Governor to influence the messaging surrounding the accusations and to let him attempt to muster public support we are rebuffing that attempt and delegitimizing the victims.
To refocus this lopsided attention away from Cuomo, he should be placed on leave and Lieutenant Governor Kathy Hochul should assume the governorship until all investigations conclude.
It is unnecessary to reinvent the wheel each time a public official is accused of behaving badly. The mishandling of Cuomo as these scandals unfold highlight the need for procedural norms to become commonplace. Limiting Cuomo's power while he is under investigation would ensure a more transparent and fair process that ultimately ensures justice for both the accusers and the accused.
***
Maria J. D'Agostino is a Professor in the Department of Public Management, Founding Co-Director of Women in the Public Sector at John Jay College of Criminal Justice, CUNY and co-author of Governing in a Global World: Women in Public Service.
Nicole M. Elias is an Associate Professor in the Department of Public Management, Founding Co-Director of Women in the Public Sector at John Jay College of Criminal Justice, CUNY and co-editor of Ethics for Contemporary Bureaucrats: Navigating Constitutional Crossroads.
***
Have an op-ed idea or submission for Gotham Gazette? Email This email address is being protected from spambots. You need JavaScript enabled to view it.