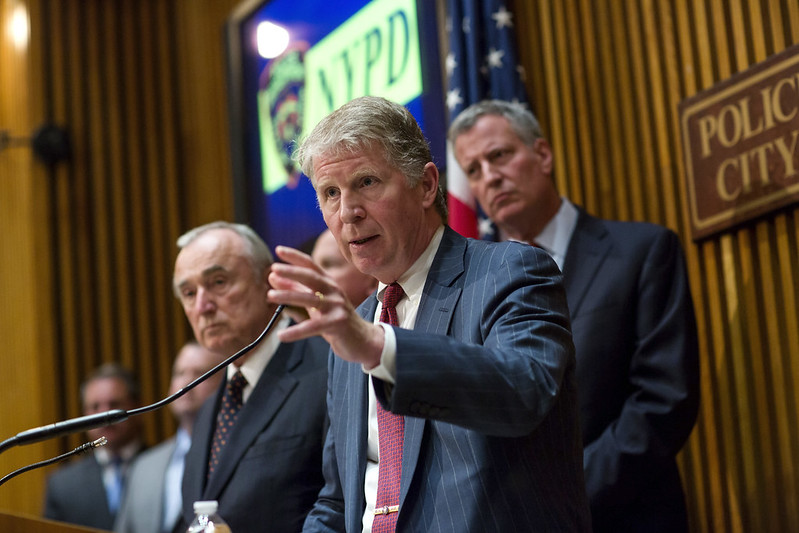 Manhattan DA Cy Vance (photo: Ed Reed/Mayor's Office)
---
As I write this many are breathing a sigh of relief for the guilty verdict returned in the trial of Derek Chauvin. However, we must not forget that prosecution is an intrinsic part of the racist law enforcement regime that resulted in the death of George Floyd, Breonna Taylor, Daunte Wright, Adam Toledo, Ma'Khia Bryant, and hundreds of others killed by police officers in the last year.
In June, Manhattanites, myself included, will vote in the primary for the top cop in Manhattan—the District Attorney—and it's long past time we examined how this office perpetuates violence through mass criminalization and incarceration right here at home.
New York City invests millions of dollars into prosecution, yet district attorney offices are purposefully opaque about their decision-making and the scope of harm they inflict on communities of color. Through my work at the Brooklyn Community Bail Fund and our court watching program, Court Watch NYC, I have become intimately familiar with the trauma, abuse, and torture carried out by district attorney offices.
In Manhattan District Attorney Cy Vance's courtroom, I've seen families torn apart by pretrial detention, people shackled and held to ransom for bail, and parents waiting in fear, hoping their children can come home. Yet, this only scratches the surface of the harm that prosecutors cause Black and brown communities.
Last month, District Attorney Vance released data on Manhattan prosecutions dating back to 2013. Vance's data dump provides evidence of racism inherent to a system over which the Manhattan DA holds considerable power. An analysis of data from Vance's own dashboard shows that in 2020 his office was 43% more likely to request bail and 25% less likely to decline prosecution if the person accused was Black or Latino. Black and Latino people are also more likely to be jailed pretrial in Manhattan and incarcerated if convicted. This, along with data from the New York City Department of Correction that show one-third of the current daily population in New York City jails come from the borough of Manhattan, further demonstrates that the Manhattan DA's office is a driving force of mass incarceration in New York City, funneling mostly Black and brown people through a system that destabilizes communities, separates families, and upends—or takes—lives.
Despite Manhattan experiencing a 50% reduction in case intake between 2013 and 2019—largely due to the organizing efforts of directly impacted New Yorkers to limit Vance's discretion to lock people up—the office's budget and staffing have actually grown. The Manhattan DA's budget now stands at a whopping $147 million, not including over $700 million the office holds in forfeiture funds, which it uses to target poor and working class communities of color.
While the data dashboard shows the harmful impact of the district attorney's office on Black and brown communities and the need to significantly reduce the office's size, scope, and resources, it is a far cry from what Vance claims is a "groundbreaking move toward transparency." As with any packaged data, its authors curate what they choose to show and what information they keep to themselves. Without unfiltered case-level data, Vance's dashboard is only the tip of the iceberg. What's below the waterline?
Recognizing that prosecutors can never deliver the justice Black and brown communities need, at the very least, every district attorney in New York City should be required to produce anonymized case-level data. Only then would the public begin to glean the full scope of prosecutors' impact on communities of color. Each candidate for Manhattan District Attorney should commit to continuing what Vance has started here, go further by including the underlying anonymized case-level data, and ensure that all of their office policies and practices are aimed at shrinking the size of a violent carceral system, including the office itself.
In the meantime, DA Vance should use the remainder of his tenure as Manhattan District Attorney to address the violence his office has caused individuals, families, and communities for over a decade and reduce prosecutions moving forward.
***
Zoë Adel is the criminal legal advocacy manager at the Brooklyn Community Bail Fund.
***
Have an op-ed idea or submission for Gotham Gazette? Email This email address is being protected from spambots. You need JavaScript enabled to view it.