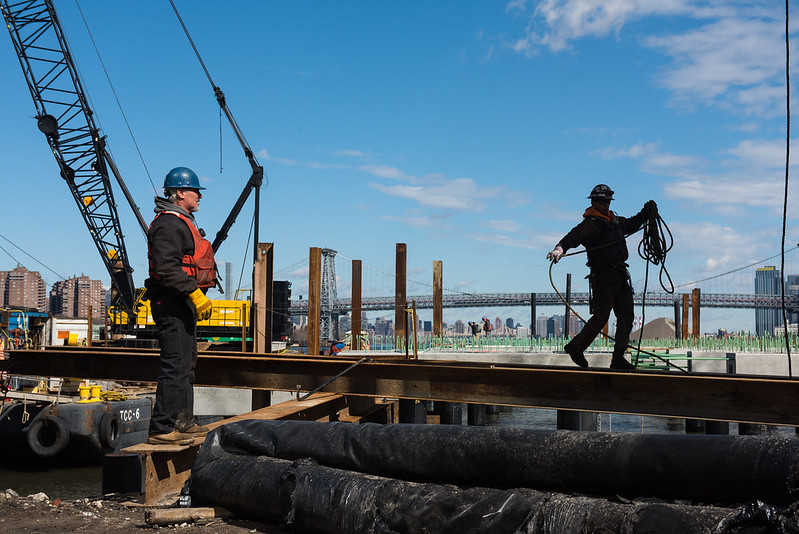 Construction workers (photo: Edwin J. Torres/Mayoral Photo Office)
---
The construction industry workforce all across this state is keeping New York's economic engine revving, building new homes, businesses, hospitality and retail venues in communities from Buffalo to the Bronx.
Yet for all their hard work, many are still being ripped off, or getting paid far less than what they were promised, and what they are legally entitled to be compensated.
Whether they are being knowingly underpaid by contractors for overtime hours or the contractor who hired them pays their wages but neglects to fund their taxes and benefits, wage theft comes in many forms and yes, it runs rampant.
It especially hurts those who are most vulnerable, people of color and new immigrants, as well as those who don't have a union to stand behind and protect them from unscrupulous subcontractors and the general contractors willing to hire them just to cut costs.
Under a new bill (S2766/A3350) currently making its way through the New York State Senate labor committee, aggrieved workers would be able to turn to the general contractor on a job if the subcontractor commits wage theft.
General contractors would no longer be able to look the other way when shady characters try to make their profits on the backs of workers.
These bad actors often like to pay cash under the table, while pocketing millions of dollars a year in what should be workers' wages and benefits. The pain they inflict goes beyond the workers; it also affects all New Yorkers given that important tax revenue is withheld from the State Department of Taxation.
The subcontractors who cheat their workers are also often the worst offenders when it comes to running dangerous job sites that threaten the safety of workers and the public.
Luckily, this bill aimed at cracking down on wage theft has passed the New York State Assembly and if the State Senate follows suit, the legislation will help to hold these contractors to account and protect workers, especially those in the construction sector, from being victimized.
There are some general contractors who are notorious for going with the lowest bid no matter what. Even when a bid comes in that is unrealistically low—at a price for which most legitimate contractors wouldn't even be able to afford the equipment, let alone pay their workers fairly—they will accept it because, frankly, they don't care what happens, as long as the job gets done and they make a profit.
When shameless subcontractors come in to take over a project and outbid their honest and reputable competitors, it's the workers who are threatened most.
Their M.O.: Once their predatory behavior is uncovered, these subcontractors can often simply go out of business, change their company names, and hide behind other maneuvers that make them hard to track down. When their workers try to go after them and get justice, along with thousands of dollars in lost wages, they are met with endless hurdles and bureaucracy that make getting paid for the work you already provided like being dropped in the middle of a maze.
Further, many of these workers, whether because of immigration status or a lack of resources, feel like they don't have the time and knowledge to pursue justice for themselves.
General contractors are already similarly liable when there is a public construction project that is subject to a prevailing wage. In those cases, they are required to be bonded, and that personal indemnity discourages them from taking on any subcontractors who are going to be a risk to them by cheating workers or otherwise bending the rules.
This important legislation would also ensure that a general contractor on a private construction project is bound to make sure subcontractors are paying proper wages, incentivizing them to keep the bad actors out.
Different iterations of this bill have come and gone in previous legislative sessions but the political climate in New York right now is ripe for reform, without further foot-dragging.
At all levels of government, a renewed respect for labor and the value of an honest day's work is in the air. New York needs to take the opportunity to protect workers by eliminating wage theft once and for all.
***
Kevin Barry is director of the construction division of the United Service Workers Union (USWU-IUJAT).
***
Have an op-ed idea or submission for Gotham Gazette? Email This email address is being protected from spambots. You need JavaScript enabled to view it.