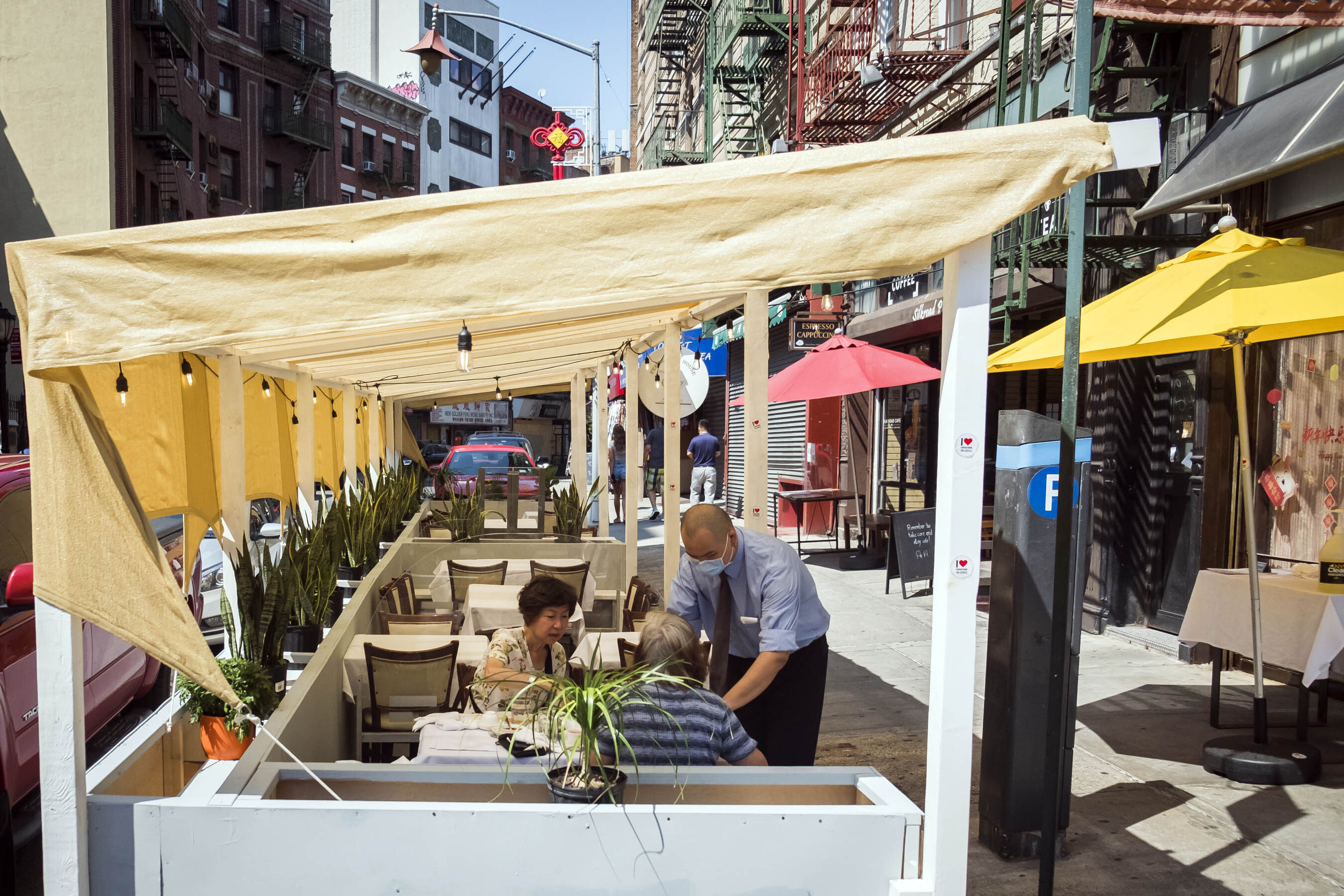 Ourdoor dining (photo: @nycgov)
---
In March of 2020, COVID-19 brought the pulse of our vibrant city to a devastating halt. New Yorkers were directed to stay in their homes, subways shut down and buses cleared out, offices closed, small businesses shuttered, and the vibrant action stopped in the restaurants that are so essential to our culture and quality of life.
Now, I may be biased, but I believe that Brooklyn has some of the best food options the city has to offer -- and some of the hardest working service workers, too! So when businesses in our communities reached out for urgent relief while the pandemic raged, I sponsored and passed legislation for outdoor dining to be allowed all across New York City.
It worked. Restaurants expanded onto our sidewalks and into our streets. Relieved owners received a newfound ability to serve customers in a safe manner after months of lost revenue. Residents were delighted to leave their homes and apartments, helping to relieve cabin fever and offering a glimmer of "normalcy." Kitchen and wait staff had work. We also found an amazing opportunity to reimagine our streetscape, reclaiming precious sidewalk and street space for New Yorkers — building community and providing an economic lifeline.
The outdoor dining program saved countless restaurants from bankruptcy while creating more space for residents to enjoy our street life, lifting the spirit of our city in an otherwise dark period. As we emerge from this pandemic, outdoor dining is a successful program we should keep, not just for our neighborhoods, but for all the small businesses still fighting to survive. With the obvious benefits for employers, employees, and our city as a whole, it deserves to keep going, especially if we learn from past lessons and make key improvements.
We must make the program more accessible to small businesses in every corner of our city by increasing educational outreach, providing technical assistance so businesses are set up for success, and streamlining the cure process for infractions.
From the taquerias and dim sum restaurants of Sunset Park to the roti shops in Flatbush, what makes New York City's restaurant scene so tantalizing is its diversity. We need to ensure that restaurant owners in outer-borough communities of color -- those neighborhoods hit hardest by the pandemic -- have the tools necessary to successfully utilize the outdoor dining program. We can do this by increasing targeted, multilingual, educational outreach about the program and how to use it. Encouraging more restaurants to participate not only helps the individual businesses, but will also uplift communities that have suffered the most during this pandemic. Increased outdoor dining will attract more customers to locally owned businesses and create more vibrant outdoor spaces, powering neighborhood recoveries.
Getting an outdoor dining program up and running at a restaurant is just one piece of the puzzle. We also need to make it easier for restaurants to successfully use the program. This means ensuring that technical assistance and support is readily available. Let's set businesses up for success by equipping restaurant owners and workers with knowledge about how to set up a safe and compliant outdoor dining space and avoid fines. While several agencies are able to levy fines, information about how to avoid and cure violations should be easily accessible from one central source and available in all languages. Restaurant owners and workers need to spend this time making their businesses successful, not navigating a needlessly complex bureaucracy of city government in order to avoid being fined.
As we begin to emerge from pandemic restrictions, we have to look back and assess our government's response to the challenges we faced. We can be proud of what we did with outdoor dining, creating a policy that extended a critical lifeline to our residents, reimagined how our streets and sidewalks could be used, and provided our neighbors with a safe and much-needed escape in a time of great isolation.
Moving forward, we need to make sure that the program becomes permanent and harness its benefits while improving access and usability so that all small business owners can take advantage of this opportunity as we recover. Our restaurants have intersectional relationships with our communities, creating jobs, particularly for immigrant communities, serving as local gathering spaces, and giving hard-working New Yorkers a place to blow off steam. I want to build on this creativity and excitement, and if elected Brooklyn Borough President I will continue to explore innovative solutions that open up our public spaces in ways that benefit all Brooklynites.
***
City Council Member Antonio Reynoso represents parts of Brooklyn and Queens. On Twitter @CMReynoso34.
***
Have an op-ed idea or submission for Gotham Gazette? Email This email address is being protected from spambots. You need JavaScript enabled to view it.