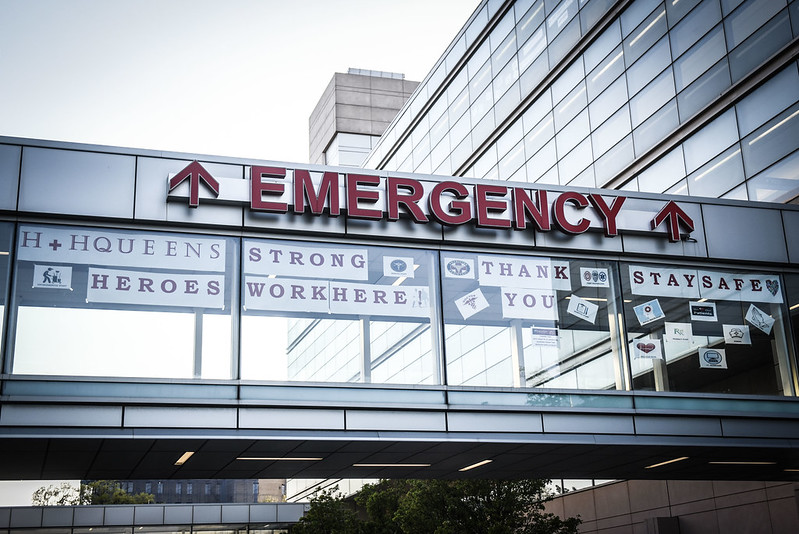 Emergency department (photo: Michael Appleton/Mayoral Photography Office )
---
As New York finally begins to lift health restrictions related to the novel coronavirus, the next generation of leaders need to take the necessary steps to ensure that when, not if, another pandemic comes to our communities we are better prepared. Unfortunately, this time around too many communities of color, like in Southeast Queens, lacked the necessary resources and infrastructure to effectively handle this crisis; we cannot let that happen again.
Fortunately there are already several policies within the city's toolbox that would not only put the right resources where they are needed, but also make sure communities have a say in how residents are able to access the health care they need. With a new class of City Council members coming into office next year, there will be an opportunity to put forth new ideas, with new energy, to address the city's health needs.
Southeast Queens, where I have lived for over 20 years, was one of the hardest hit communities by COVID-19. In March of 2020, when the first wave of the virus hit, our communities quickly had some of the largest percentages of people who were testing positive, and both Jamaica Hospital Center and Queens Hospital Center were overwhelmed with patients diagnosed with the coronavirus, and death rates surpassed the awful citywide average.
This was a disaster that was years in the making. Between 2008 and 2012 four hospitals in Queens closed: Mary Immaculate in Jamaica, Parkway in Forest Hills, St. John's in Elmhurst, and Peninsula Parkway in Far Rockaway. It was also incredible to hear about cuts proposed by the state this year, during the middle of the pandemic, to Elmhurst Hospital and St. John's Episcopal Hospital.
The closures and funding cuts were put forth as necessary cost-saving initiatives; but clearly communities lose when health care facilities close. Anyone who lives in Southeast Queens knows the lack of community-based general medical practitioners that residents can access for their everyday health needs, and elected officials need to take the lead in fixing this problem.
To alleviate some of the financial burdens our city's public Health + Hospitals system currently endures, the City Council can shift back Emergency Medical Services (EMS) revenue from the New York City Fire Department (FDNY) to New York City Health + Hospitals. In 1996 then-Mayor Rudy Giuliani signed Local Law 20 merging EMS into FDNY, which moved the funds out of the hospital system. In Fiscal Year 2021 EMS revenue was a little over $339 million. Think about where the ambulances are going: not back to the fire houses, but the hospitals where the people they are trying to save need to be.
It does not make fiscal or practical sense for EMS to be funded through FDNY, and this is money that can be better served by the hospitals that the ambulance workers already coordinate with most. This new revenue into the system would allow more flexibility within it, helping to prevent any other hospitals from being closed in the future.
In order to ensure the community has a voice in any new health policies that are enacted, the new class of City Council members should convene task forces in their offices that bring together everyone in health care — labor leaders, community boards, health care professionals, elected officials, and community advocates — to specifically identify and address districts needs. Having an organized front will help ensure there is one voice coming out of each community so decision-makers in Albany, City Hall, and the relevant agencies know where they stand and the policies they want to see implemented.
Also, each community board can be allocated funds to develop its own health-care plan through the 197-A process, where city agencies would be mandated to implement the recommendations through their regulatory processes. This approach guarantees the policies we request will come to fruition so residents in the district can receive the medical care they deserve.
The next city government needs to take on health care directly and assertively. We've seen why. If we come together, we can improve health-care access for those living here today and for the future residents of New York.
***
Al-Hassan Kanu is a candidate for Council District 27 which includes the communities of Jamaica, Hollis, St. Albans, Queens Village, and Springfield Gardens in Queens. On Twitter @kanuforcouncil.
***
Have an op-ed idea or submission for Gotham Gazette? Email This email address is being protected from spambots. You need JavaScript enabled to view it.