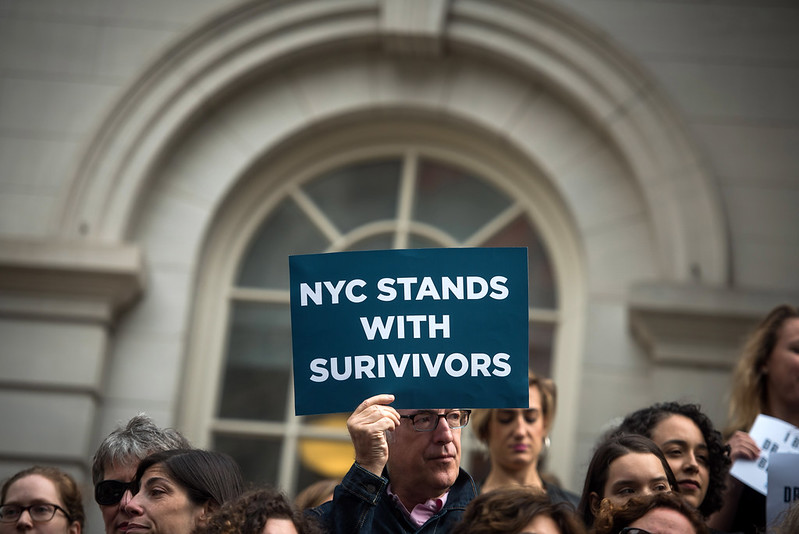 A rally for survivors (photo: Ed Reed/Mayoral Photography Office)
---
The Manhattan District Attorney's Office doesn't currently have prosecutors dedicated to combatting sex crimes. Yes, you read that right. Assistant District Attorneys responsible to victims of sexual violence simultaneously work in the Trial Bureaus and on sex crimes. This means that staff are overloaded, victims are not being put first, and the system churns rather than addresses the root causes of the violence.
As a survivor of sexual violence and as a prosecutor whose career has been focused on just processes and just outcomes, together we have thought a lot about how to best reform a sex crimes unit. In order to center survivors and fight the public health crisis that is sexual violence and gender-based crimes, a modern sex crimes unit must start by reorganizing its staffing and priorities in order to rebuild its reputation.
Here are some key steps to take in reform:
Be unequivocal about special access
Recent reporting showed how Linda Fairstein used her privileged access on behalf of New York elites to influence the outcome of sex crimes cases. This behavior and the DA's responsiveness further stacks the deck against survivors and denies accountability. We must foster an environment in which more survivors feel they can safely disclose abuse and there is not even the perception of conflict or favoritism. This starts with refusing to take campaign donations from any lawyer who appears before the DA's office. Leadership must be unequivocal about special access.
Focus and expand the staff
Dedicate staff to the Sex Crimes Unit who can develop deep expertise. And, have the team report directly to the DA. Staffing will include a significant number of non-attorneys, such as social workers, medical professionals, investigators, and others to help utilize the trauma-informed processes to foster an environment in which more survivors feel they can safely disclose abuse. Believing survivors means supporting them in many ways. This also means including ADAs and staff who themselves are survivors of sexual assault. Lived experience, empathy, and cultural humility are assets in this fight.
Mend strained relationships
We know that sexual assault is the most underreported violent crime in the country. We must build trust by centering the survivor. Staff the Sex Crimes Unit 24/7 so that survivors can always find support. Build back trust from the survivor and allied communities by stepping up to always be there. Create a meaningful staff partnership with the NYPD so that if victims contact them first, DA staff are involved at the very beginning of an investigation. Survivors should never be denied justice because of a tug of war between branches of law enforcement.
Reduce siloes
Throughout my career, I (Alvin) have done "connect-the-dots" investigations that look at systems of unlawful conduct: i.e. the hostile work environment at The Weinstein Company; New York Dioceses of the Catholic Church's role in facilitating and covering up sexual abuse (which led to a recent lawsuit accusing the Roman Catholic Diocese of Buffalo and three bishops connected to it of engaging in a years-long cover-up of sexual abuse by priests). This holistic approach is a sharp departure from the status quo. Staff need expertise not only in investigating individual sex assaults, but also investigating complicit entities.
DAs must look at the account of one survivor as part of a bigger picture with the possibility of serial misconduct, complicity by other individuals or an entity, cover-up activity like lying or obstruction, and laundering of funds to facilitate sex offenses. The office must rigorously track complaint data to look for trends, use of banking and financial services information to track money flows, and use of required business records to establish false filing cases. White-collar crimes can no longer be seperate from sex crimes because siloed offices hurt survivors. This approach will also help identify powerful groups who sought to protect their reputations by ignoring warning signs or even hiding violent criminal activity perpetrated on people they were supposed to protect.
Prosecutors' offices are about power — how it is exercised and on whose behalf it is wielded. Our experiences with the criminal legal system, while very different , have shown us both that there are two systems of justice — one for the wealthy and powerful and one for everyone else. It is time for this to end.
***
Alvin Bragg is a candidate for Manhattan District Attorney and former Chief Deputy Attorney General in New York State. Marissa Hoechstetter is an advocate and sexual assault survivor. On Twitter @AlvinBraggNYC & @MHoechstetter.
***
Have an op-ed idea or submission for Gotham Gazette? Email This email address is being protected from spambots. You need JavaScript enabled to view it.