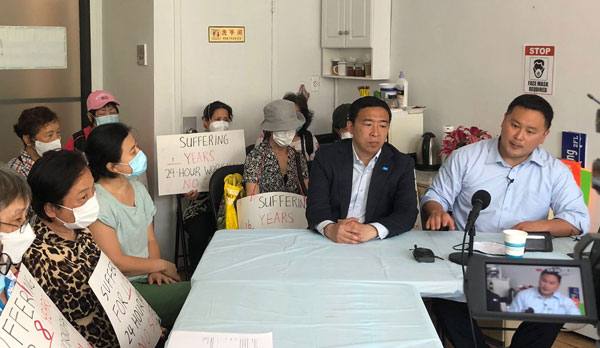 Andrew Yang & Ron Kim meeting with home-care workers (photo: @rontkim)
---
This past weekend, I hosted a town hall discussion between Andrew Yang and home-care workers at the Flushing Workers Center. The home-care workers set the stage for a substantive discussion about ending the exploitative 24-hour work-shift, and helping the workers recover back wages from their employer. At the end of the discussion, they would press Yang, a Democrat running for Mayor who I have endorsed, to sign their home care workers' pledge.
It was a tense, hour-long discussion. The workers shared heartbreaking testimonials of the physical, emotional, and psychological trauma they suffered from working 24-hour shifts over the years. Their scars, some visible, others more hidden, were deeply troubling to Andrew and his staff members.
For context: The 24-hour work-shift is a grueling around-the-clock work shift that endangers the lives of caretakers as well as patients. It is a cruelty that is unheard of in any other industry or even in the home-care industries of many other states.
More often than not, home-care workers on the 24-hour shift are forced by their agencies to work beyond 13 hours, cutting into the five hours of uninterrupted sleep and three hours of uninterrupted eating times they are mandated under Department of Labor regulations. As much as state regulations need to be amended to end the 24-hour shift and enhance worker protections and rights, even under the current legal regime, the law unambiguously states that should the agency fail to provide the sleeping and eating time requisites for their employees, the agency must be held liable to compensate the workers for all 24 hours of their labor.
However, these mandates are often ignored or not enforced due to the unfortunate superseding prioritization of industry stability over workers' rights; thus the home-care agencies that have exploited their workers and neglected to pay their wages are not only committing a grave moral wrong, but are also in direct contravention of state law.
The Chinese Planning Council (CPC) home-care workers pushed back against these abuses and sued their agency for back wages to fully cover their 24-hour shifts. In 2019, case law made it unambiguously clear that the home care agency — the provider — must be held accountable for all 24 hours' worth of wages. (See Andryeyeva, et al. v New York Health Care, Inc., et al. and Moreno, et al. v Future Care Health Services, Inc., et al.)
For the record, New York is the only state to have 24-hour shifts for home-care workers. This is due in part to Governor Andrew Cuomo's obstinate commitment to profit over lives. My colleagues in the Legislature and I are working to end this inhumane practice completely by the end of this session.
Andrew Yang sat and listened to the stories from the home-care workers, and was initially hesitant to sign their pledge. But after seeing the physical impairments of the workers—who themselves need around-the-clock care—he signed the pledge, becoming the first New York City mayoral candidate to do so.
It is rare for a politician to come from a place of vulnerability, listen, and be moved. It is even more rare to show this vulnerability over a live-stream, without preconditions or guardrails from a campaign, leaving their candidate open to public scrutiny.
Andrew demonstrated that the podium is reserved for the brave.
So far, he is the only mayoral candidate to see the obvious truth: that these home-care workers are being exploited. And because he is independent of establishment institutions, he is unafraid to take ethical stances when it is not politically expedient.
This should be a watershed moment for all of us—lawmakers, labor unions, activists, and nonprofit providers—to reflect on our shortcomings.
How did we allow ourselves to become aligned with exploitative institutions that brand themselves "socially just" and "progressive" without real scrutiny? Have we become so deferential that we assume any entity with "nonprofit" status is beyond reproach?
Andrew showed moral clarity even when some of my progressive colleagues have turned a blind eye towards these abuses. That hypocrisy leaves us open for criticism and exposes our stances as ones of convenience rather than consistency. Our values must hold strong regardless of who we need to hold accountable or who we call in to achieve them.
Home-care agencies like CPC have gaslit their workers in public and in the courts, and given morally and legally baseless excuses for not paying their back wages. Despite the courts weighing in on this, the employers choose to impose forced arbitration in order to litigate against their home-care workers.
Is this industry and system as a whole morally corrupt and dysfunctional? Yes. The Cuomo nursing home scandal elucidated the depths of immoral self-dealing and untenable working conditions. I am now laser-focused on cleaning up this industry failure from the top down.
What is taking place is wrong, there is no other way to slice it. These workers have been suffering for over ten years. With Andrew Yang on board, I'm more hopeful than ever we can get this right. He stood for and acted on his convictions — that is what I want for our next mayor.
***
Ron Kim is a member of the State Assembly representing parts of Queens and has endorsed Andrew Yang in this year's mayoral race. On Twitter @rontkim.
***
Have an op-ed idea or submission for Gotham Gazette? Email This email address is being protected from spambots. You need JavaScript enabled to view it.