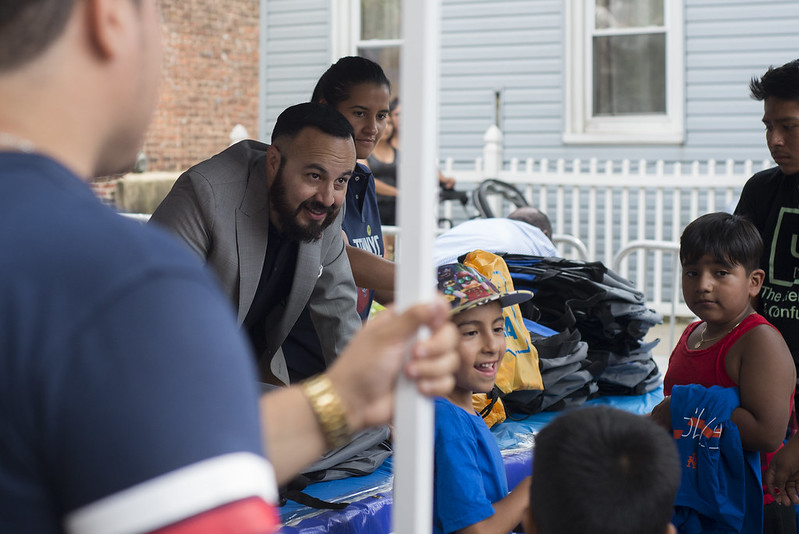 Council Member Francisco Moya (photo: Jeff Reed/City Council)
---
The Latino population in Queens has exploded over the last two decades, and it is prompting a coming of age in Latino political representation in the borough. If current trends continue, Queens may become another center of Latino political power in the City of New York, alongside the Bronx.
The rise of Latino political representation in Queens began in 2000 when Hiram Monserrate became the first Latino elected to a position in the borough, beating an incumbent for a Democratic district leader position. One year later, he became the first Latino from Queens to be elected to the City Council. While acknowledging his eventual conviction, one cannot ignore Monserrate, for in many ways he paved the way for other Latinos to win and hold local office.
Many of them, including former City Council Member Julissa Ferreras and current State Senator Jessica Ramos, were once members of his staff. Others, like the late Jose Peralta, were not only allies of Monserrate but Monserrate lent them his once effective organization for their electoral pursuits and eventual victories. To be clear, both Ferreras and Ramos disavowed Monserrate after his conviction. Peralta ran against Monserrate after his scandals and beat him in a special election for the State Senate seat that had once belonged to him.
As Latinos have increased in number in the overall and voting populations, the number of Latino elected officials has likewise increased. In addition to the names already mentioned, Francisco Moya (who is up for re-election and is facing a formidable challenge from Ingrid Gomez), Catalina Cruz, Jessica Gonzalez-Rojas, and of course Alexandria Ocasio-Cortez have all won legislative seats representing Queens. Other Latinos have won positions as Democratic district leaders in the borough.
The ramifications of this growth among Latinos will again be felt in this year's elections — all of city government is on the ballot in this month's primaries and the fall general election, with many competitive City Council races in Queens and across the five boroughs, as well as the races for mayor, comptroller, public advocate, and borough presidencies.
It is quite possible that the number of Latino elected officials in Queens will increase by as much as five (though I anticipate a gain of three), as the demographic changes in some City Council districts have tilted heavily from majority white to majority Latino.
In the 22nd Council District, based in Astoria, Tiffany Caban is a favorite for the seat left vacant by Council Member Costa Constantinides, who was term-limited but resigned recently due to family reasons and another job opportunity. Interestingly, this district is not majority Latino, though Latinos make up a quarter of the Democratic electorate, according to L2 voter data. Caban's strength lies in the fact that she comes to the race off an incredible run for district attorney, where she barely lost to Melinda Katz in a recount, and thus has considerable name recognition and other advantages. Furthermore, Caban is a darling of the progressive left, many of whom reside in this district. Together, this makes her a serious contender for the seat and therefore increases the possibility of another Latina being elected in the borough of Queens.
Further west, we come to the 25th Council District, the seat currently held by outgoing Council Member Danny Dromm, who is term-limited. This district, covering Jackson Heights and Elmhurst, has seen one of the largest increases in the Latino population in the entire borough, making it now a majority-Latino district. Of the Democratic electorate, an estimated 41% is Latino. The next closest group is Southeast Asians at 20% of the Democratic electorate. Four of the eight candidates running in the all-important Democratic primary are Latinos: Liliana Melo, Manuel Perez, Alfonso Quiroz, and William Salgado. Of the four, Melo and Quiroz have received over $140,000 in public matching money, significantly boosting their campaigns. This race is one to watch.
Another Council district with a rapidly increasing Latino community is Queens' 26th, covering parts or all of Sunnyside, Woodside, Long Island City, Astoria, and Dutch Kills. Its current occupant, Jimmy Van Bremer, is term-limited and thus cannot seek re-election to the Council. White voters only outnumber Latinos by an estimated 1,125 Democratic voters. Considering the trend of continued growth among Latinos, it is likely that in the next few years this district will also become majority-Latino. Two of the 15 candidates are Latinos: Lorenzo Brea and Glennis Gomez. Both have received public matching money and are competitive, creating another opportunity to increase Latino representation in the borough.
The 30th Council District is the fourth Queens district presenting Latinos an opportunity to increase representation this year. Covering the neighborhoods of Glendale, Maspeth, Middle Village, Ridgewood, Woodhaven, and Woodside, this district is now majority-Latino. Latinos have a slight edge in the Democratic primary (by just an estimated 61 voters) over white voters in what has been a white-ethnic enclave for many decades. Juan Ardila is taking on incumbent Council Member Robert Holden, who is up for re-election after he lost the Democratic primary in a 2017 bid to unseat Elizabeth Crowley, then defeated her in the general election running on the Republican and other ballot lines.
Ardila has proven to be a solid fundraiser, and like Holden, he has received the maximum in public matching money. Endorsed by Donovan Richards (the current borough president), State Senator Ramos, the Working Families Party, and many progressive groups, elected officials, and labor unions, Ardila has a good chance of defeating one of the few incumbents in this election cycle, at least in the primary.
The last Queens Council district I am looking at in terms of Latino representation is the 32nd. Eric Ulrich, one of the few Republicans in the Council, is the current occupant and is term-limited from running again. Latinos are now the majority of the Democratic electorate, though not a majority of the overall vote. Bella Matias is the only Latina on the ballot and has received over $52,000 in public matching money. If she is able to organize and turn out enough Latino votes in a crowded race, she may surprise some observers, though whoever wins will still have to defeat the Republican nominee in the general election in a district that has more Democrats than Republicans but has elected Ulrich several times.
On primary day and as the votes are counted over the following weeks, my eyes will be focused on Queens. With its sizable and growing Latino presence, Queens may well send even more Latinos to City Hall.
***
Eli Valentin is an adjunct lecturer at Union Theological Seminary, a frequent guest political analyst at Univision NY and author of the forthcoming, Reinhold Niebuhr: A Political Life. On Twitter @EliValentinNY.
***
Have an op-ed idea or submission for Gotham Gazette? Email This email address is being protected from spambots. You need JavaScript enabled to view it.