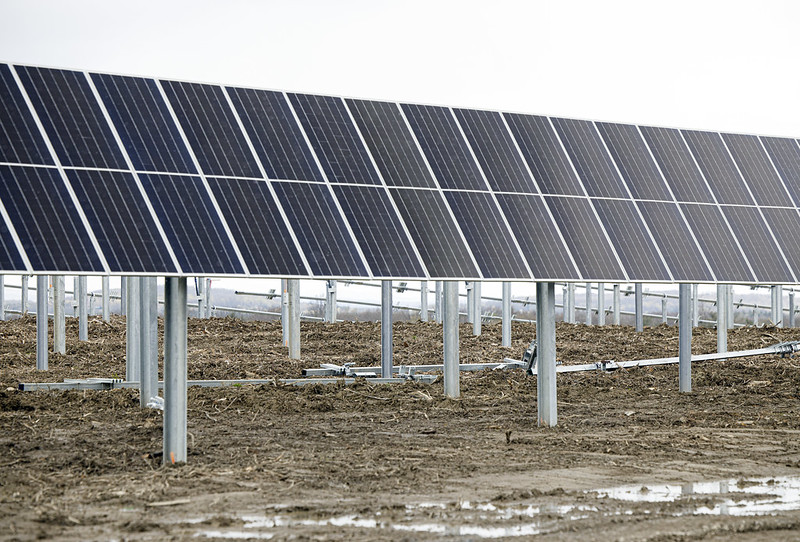 (photo: Mike Groll/Office of Governor Andrew M. Cuomo)
---
A state with the nation's most ambitious climate justice goals and a White House and Congress promising historic investment in green infrastructure should be a match made in heaven. If we act quickly and pass the New York Build Public Renewables Act, we can make the most of this historic opportunity to rebuild our energy system and economy, and ensure the historic targets we set in 2019 on eradicating carbon emissions and environmental racism become reality.
The New York Build Public Renewables Act, or "NYBPRA," (bill S6453/A1466a), introduced by State Senator Kevin Parker and Assemblymember Robert Carroll, will enable our nation-leading public power provider, New York Power Authority, to lead a mass buildout of 100% renewable energy.
According to a recent report from a University of Pennsylvania research group, this will create up to 51,000 jobs; build enough renewable energy to power the majority of the state; add as much as $93 billion to the state's economy; and put billions in green stimulus towards fighting environmental racism in frontline communities like the "Asthma Alley" shared by Queens and The Bronx. This is all achievable without raising taxes a single cent.
The NYBPRA is a revenue-neutral bill that jumpstarts renewable energy construction and adds over $90 million to the economy. Since its creation by New York Governor Franklin Delano Roosevelt, NYPA has gone from New Deal prototype to the nation's leading public power provider, supplying over 25% of New York State with 80% renewable energy. And it is funded by issuing its own bonds, which are highly-rated by all three major rating agencies.
And unlike for-profit options like NRG, which even in 2021 feel as comfortable as ever pushing fracked gas projects on Asthma Alley, despite fierce opposition from the community and its representatives, NYPA's long history as a top public institution has proven it a more accountable, transparent, and cost-effective option for all involved.
Though ambitious, this plan is not risky. NYPA is the rare institution to be as lauded by Green New Deal activists as by S&P Global. The fact is, the risk of not passing it is far greater. In 2021, New Yorkers know the climate crisis isn't some abstract fear—it's heightened COVID deaths, heatwaves, hurricanes, and the huge racial disparities in who they harm most.
NYBPRA will put New York in prime position to use every last federal dollar from the American Jobs Plan, the Department of Energy's $8.25 billion electrical transmission loan, and anything else our federal counterparts can offer as cost-effectively, transparently, and equitably as possible.
It will let Congress know that when the American Jobs Plan comes to our state, we'll execute it with the same leadership and success that makes "New York" a name known all across the globe. That when it comes to Building Back Better, New York will build back best.
***
Michael Gianaris is New York State Senate Deputy Majority Leader and represents parts of Queens. On Twitter @SenGianaris.
***
Have an op-ed idea or submission for Gotham Gazette? Email This email address is being protected from spambots. You need JavaScript enabled to view it.