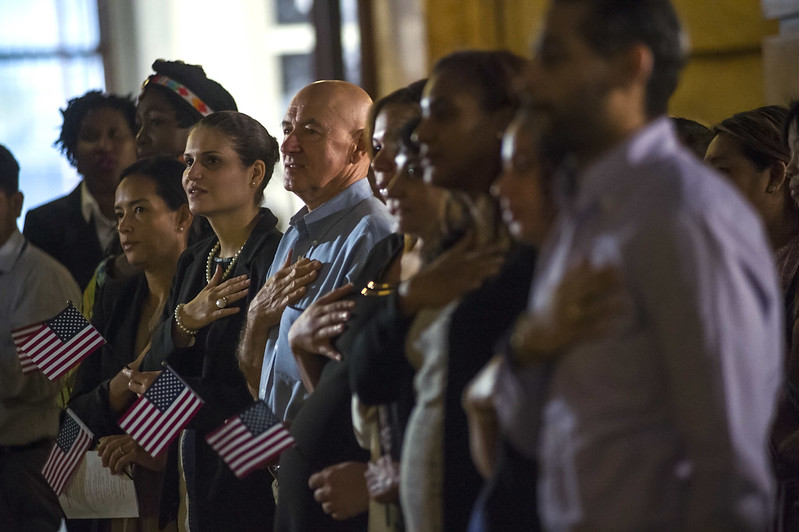 Becoming citizens (photo: Ed Reed/Mayoral Photography Office)
---
In his first several months in office, President Biden has taken significant steps to reverse the harm imposed by President Trump's cruelty that devastated immigrant communities, including working to reunite families separated at the border, reversing the Muslim ban, announcing the closure of ICE detention facilities, and reinstating Temporary Protected Status (TPS) for Haiti. Yet, when it comes to the most urgent demand of immigrant communities — creating a pathway to citizenship for millions of undocumented immigrants — the Biden administration and Congress have thus far fallen short of making any real legislative advances.
As the administration moves forward to pass an infrastructure package, it's time that Biden, Senate Majority Leader Schumer, and congressional allies include a pathway to citizenship for immigrant youth, TPS holders, essential workers, and as many of our loved ones and neighbors as possible as part of that legislation.
Since last fall, our communities looked forward to leadership that would allow us to turn the page on one of our darkest eras. Under the Trump administration, immigrants suffered from inhumane policies and feared being ripped apart from their communities. We remained strong, however, and tenacious organizing helped us win critical defensive victories and led us to the current moment, where Trump holds no governmental authority and bold legislative action to deliver justice and relief to all our people is again possible.
It's time to take advantage of this moment. During the pandemic, tireless efforts of our frontline workers, many whom are undocumented, kept this country afloat. Immigrant essential workers put their lives on the line to keep our communities safe and sustain our economy. From teachers and nurses to delivery workers and factory workers, immigrants are integral parts of communities who have helped save lives and worked to get key jobs done before, during, and after the worst of the covid crisis. And all while bearing the possibility of being separated from their loved ones due to their lack of immigration status. Before and during the pandemic crisis, over 5 million undocumented workers continued to be essential and yet deportable.
For our country to recover from the COVID-19 pandemic and begin to heal from the injustices brought on by our outdated immigration system, Congress must provide a long overdue pathway to citizenship for millions of undocumented immigrants — that means not just immigrant youth and TPS holders (who absolutely need a path to citizenship), but also these essential workers. Immigrants have waited decades to become fully recognized by this country, paying over $79 billion in federal taxes every year, starting businesses, and building their lives in the country they have come to call their home. With broad support from across the country for a pathway to citizenship for undocumented youth, TPS holders, and essential workers, and with President Biden's stated committment to providing them with that pathway, there should be no further delay.
In March, the House of Representatives voted to pass the Dream and Promise Act, which would provide a pathway to citizenship for immigrants with Deferred Action for Childhood Arrivals (DACA) and Temporary Protected Status (TPS). But the House passing bills with no Senate action will not deliver real relief to anyone. The best way for the Biden administration, Senator Schumer, and Congressional allies to deliver long-awaited permanent protections is to use the reconciliation process.
By including a path to citizenship for millions of undocumented immigrants — including DACA recipients, TPS holders, essential workers, and more — in the infrastructure plan, Democrats can pass legislation with a simple majority. Given the razor-thin Senate margin and Senate Republicans' stated goal of obstructing the Biden agenda at every turn, this is the only viable option that remains as long as the filibuster is in place.
Simply put, Democrats should use every legislative tool at their disposal to advance legalization for millions of undocumented immigrants. This is the window of opportunity for our communities and all of our allies, and we must take full advantage. Now, it is time for Congress to fulfill promises and finally deliver a recovery plan for our country that includes permanent protections for immigrants and their families. Our people cannot wait any longer.
***
Yaritza Mendez is the co-director of organizing at Make the Road New York. Murad Awawdeh is the Executive Director of the New York Immigration Coalition. Ana Maria Archila is the Co-Executive Director of the Center for Popular Democracy. On Twitter: @YariMendez05 of @MaketheRoadNY; @HeyItsMurad of @TheNYIC; & @AnaMariaArchil2 of @popdemoc.
***
Have an op-ed idea or submission for Gotham Gazette? Email This email address is being protected from spambots. You need JavaScript enabled to view it.