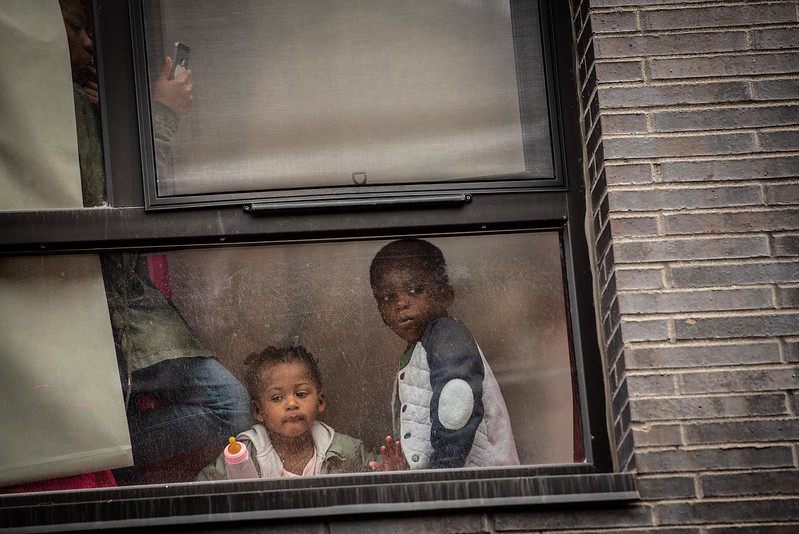 Time to focus on children (photo: Michael Appleton/Mayoral Photography Office)
---
Children live in poverty at higher rates than any other age group in the United States. Children make up 22% of the United States population and 31% of those living in poverty. Racial inequities are deep and persistent: 71% of America's children in poverty are children of color.
New York State entered the pandemic with more than 700,000 children living in poverty, 18% of all New York children. Black New York children live in poverty at twice the rate of white peers. Compared to the rest of the nation, New York children are more likely to live in poverty than children in 32 other states. More than 50% of Rochester's children and just under 50% of Buffalo's children live in poverty. In New York City, 22.2% of children live in poverty, with Bronx child poverty at 37.1%. By July 2020, the pandemic had pushed an additional 325,000 New York children into poverty or near poverty.
The impacts of child poverty can be severe and lasting and especially devastating for our youngest children who are most likely to live in poverty and most severely affected by it as their developing young brains and bodies are especially sensitive. Young children have the highest poverty rates of any age group in the country and poverty is a strong predictor of negative child outcomes.
While poverty is difficult for anyone, the impact on children can be permanently damaging. Children, especially those under the age of five, whose brains are just developing, need good nutrition, strong and stable parent/caregiver connections, and high-quality early learning experiences to grow and develop, but the odds are against them if they are poor.
This should concern all of us.
For our children experiencing poverty, every day New York fails to prioritize ending child poverty matters. The experience of poverty and trauma in childhood can have long-lasting impacts on development. The stress of poverty can alter the brain development of young children – causing permanent changes in the structure and functioning of the brain. As a result, many children who experience poverty face significant challenges – in the form of poor health, academic obstacles, lower earnings – for the rest of their lives.
This has a detrimental impact on children, and on the future viability of communities. Reactive interventions in the out-years through the provision of public benefits or interaction with the criminal justice system are far more costly than meeting the needs of disadvantaged children and families from the beginning. With the stakes so high, there should be no delay in tackling child poverty.
The federal American Rescue Plan Act is expected to significantly reduce child poverty in New York, and across the nation, in the coming year. However, the plan's enhanced Child Tax Credit leaves out children without a Social Security number and as a result leaves behind an estimated 72,000 of New York's children. These same children and families were cut out of the first round of stimulus checks, and the current one, along with many other family supports. The future of the child tax credit enhancement is also unclear.
Without thoughtful, intentional, and additional investments to address child poverty, hundreds of thousands of children will continue to live in poverty. And the income and economic effects of the covid recession will linger for years. But New York's children can't put their development on hold.
We know our fellow New Yorkers care about boosting families living in poverty. We know our legislative colleagues are pained to know their residents live in poverty. But child poverty is not going to go away without unified focus and effort.
We won't get returns on investments we don't make. As an investment in New York's long-term future, we must aim to eliminate poverty and mitigate its effects.
Our bill (S.2755/A.1160) will do just that. The Child Poverty Reduction Act -- which just passed the State Senate -- provides New York the tools needed to reduce child poverty. It makes a public commitment to cutting child poverty in half in ten years; requires an annual public report of the effects that any adjustment or reduction by the director of the budget will have on child poverty; establishes the Child Poverty Reduction Advisory Council to develop a plan to achieve this goal with attention to racial equity; requires regular reporting to hold government to account; and directs the Advisory Council to evaluate policies proven to cut child poverty.
Let's pass this bill in the Assembly and take on child poverty like the crisis it is.
***
New York State Senator Jessica Ramos represents parts of Queens and Assemblymember Harry B. Bronson represents upstate areas including Rochester, Henrietta and Chili. On Twitter @JessicaRamos & @HarryBBronson.
***
Have an op-ed idea or submission for Gotham Gazette? Email This email address is being protected from spambots. You need JavaScript enabled to view it.