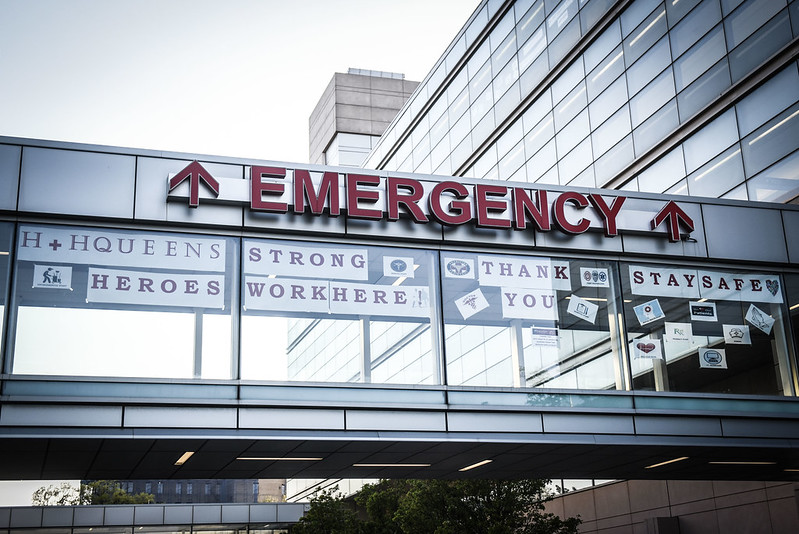 Emergency (photo: Michael Appleton/Mayoral Photography Office)
---
To the editor:
Last week, I joined the final day of training for the new teams who will soon begin responding to 911 mental health calls in East Harlem and Harlem. Through this pilot program - the Behavioral Emergency Response Assistance Division or B-HEARD - mental health professionals will be part of 911 response for the first time in New York City history. It's part of our commitment as a city to treat mental health crises as issues of public health, not public safety.
As we planned our pilot, we consulted with many practitioners and advocates around the city and country, including Correct Crisis Intervention Today in NYC (CCIT-NYC). We looked at health-centered responses in places like Denver, San Francisco, Harris County, and Toronto, as well as the long-running CAHOOTS program in Eugene, Oregon, to develop our model: small teams of emergency medical technicians/paramedics and behavioral health clinicians responding to nonviolent mental health calls that come through the 911 system.
CCIT-NYC has argued against using 911 -- as written in the recent op-ed published by Gotham Gazette: De Blasio is on right track, but mental health response teams need crucial changes to really work -- for the program. But every jurisdiction in the country dispatches their emergency response, including health-centered responses like CAHOOTs, through 911 for good reason.
Importantly, New Yorkers have options outside of 911 for urgent, in-person mental health support. NYC Well can dispatch mobile crisis teams to people's homes within hours. But if New Yorkers need help within minutes, they know to call 911. When they do, B-HEARD will ensure they get the most appropriate response for their needs. Our model builds on other strengths in New York City: FDNY EMS has decades of experience responding to more than 100,000 mental health emergencies each year, and Health + Hospitals has long been the City's behavioral health safety net, overseeing many significant crisis response and emergency psychiatric operations.
The B-HEARD team members themselves also bring impressive experience to this work. In addition to extensive crisis response and de-escalation experience, many team members have lived experience with mental illness and substance use disorders. This was intentional. By layering lived experience on top of tested crisis management skills and rigorous training protocols, we know the teams will be ready on day one.
And they are. The energy on the last day of training was palpable. The new teams are working together seamlessly, equipped with new skills and existing strengths. They are eager to be on the forefront of long-needed change. Everyone involved is looking to learn as much as possible from the pilot program, and use what we learn to inform our approach citywide. As we do, we will continue to learn from advocates, practitioners, community members with lived experience, and other cities embarking on this work.
Sincerely,
Susan Herman
Director, Mayor's Office of Community Mental Health
***
Have an op-ed idea or submission for Gotham Gazette? Email This email address is being protected from spambots. You need JavaScript enabled to view it.