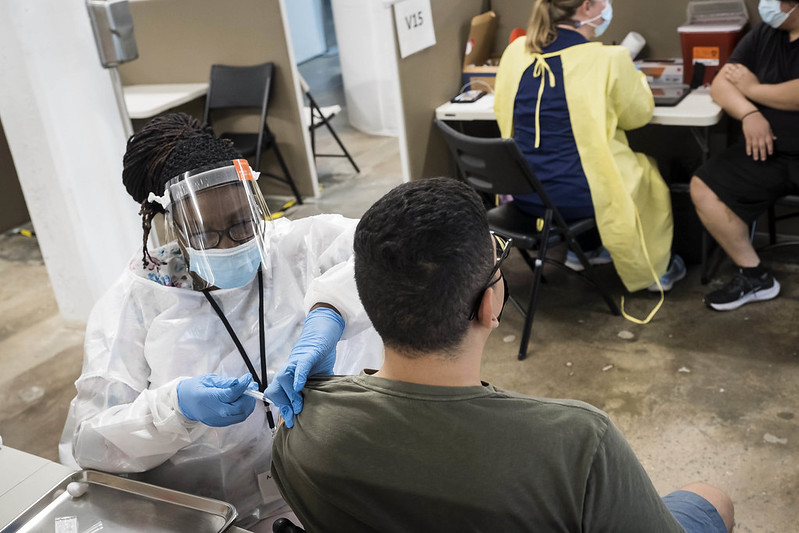 Vaccination (photo: Ed Reed/Mayoral Photography Office)
---
For the first time in more than a year, New Yorkers are starting to see a light at the end of the COVID-19 tunnel. The city is finally leaping toward the promised "new normal" as basketball fans flood arenas and restaurant patrons spill into the streets with fewer worries about masking up and keeping distance. When our next mayor and City Council take office in January, we're optimistic that the covid pandemic will be truly behind us.
But for many New Yorkers, the health disparities that COVID-19 created and exacerbated will be here to stay. The pandemic laid bare the brutal reality that results from an under-resourced and insufficient public health infrastructure.
It is in this environment that New Yorkers are now tasked with making critical decisions about who should lead our city. This is an enormous responsibility and an incredible opportunity to chart a more equitable course. More than ever, voters and candidates alike must consider health equity as the top issue in the upcoming New York City elections.
For the past 14 months, COVID-19 has justifiably dominated the public health conversation. Everyone has struggled, but for many, the pandemic has only magnified the health disparities that have existed for decades. Before COVID-19, nearly 13% of New Yorkers – a whopping 1.2 million people – experienced food insecurity. Now that number is more than 1.5 million, a 38% increase over just the past year. One in three children in New York don't have access to enough food. A recent Public Health Solutions survey of New York City residents revealed that 42% of respondents with a COVID-19 diagnosis in their household said they or someone in their household had been laid off in the last year, compared to 24% of those without a COVID-19 case.
Other major public health crises have been ravaging the city since long before anyone had heard of COVID-19. In New York, Black mothers are 12 times more likely to die of pregnancy-related complications than their white neighbors. Despite the Affordable Care Act, 12% of New Yorkers continue to lack any sort of health insurance, a number that has likely increased due to covid-related job loss. Moreover, Black and Latino New Yorkers are far more likely to suffer from asthma as a result of long-standing environmental racism, a likely contributor to higher covid-related death rates among those groups.
These issues have long lurked under the surface and at the margins of society, affecting our most vulnerable friends and neighbors. Though many of us eagerly anticipate a return to some semblance of normalcy, we must recognize that for millions of New Yorkers, that "normal" was not nearly enough to begin with. That "normal" is the reason New York's most marginalized communities suffered the most from COVID-19. As a city, we must do better when it comes to combating these long-neglected public health emergencies, and we should choose our leaders with this mission in mind.
As we emerge post-pandemic, New Yorkers have the opportunity to make our voices heard and to elect leaders that are committed to eradicating every health disparity that our city faces. From the mayor to comptroller to borough presidents to members of the City Council, we have the chance to vote for politicians that are committed to making health equity a key part of the plan to keep New York moving forward.
The ability to live a long and healthy life depends on whether a person lives in a safe neighborhood; experiences racism or discrimination; enjoys access to medical care, food, and stable housing; or has adequate income, knowledge, and opportunities to make healthy choices. Without systemic changes to our approach to health, and without new infrastructure that addresses the root causes of poor health and puts New Yorkers at the center of the health delivery system, we will be in the same situation and experience the same results again and again.
The major Democratic mayoral candidates have all espoused policies that focus on the need for a healthy city, with plans that range from supporting health clinics in underserved communities to dealing with the maternal health crisis. This is a good start, and it shows that the candidates realize addressing community health must be at the forefront of helping alter the path for millions of New Yorkers. I encourage you to read about their plans.
When you step into the voting booth and consider your options, think about what issues matter most to you. Is it racial justice? Educational reform? A fairer economy? Whatever it may be, it will be unachievable without first addressing the glaring health inequities of our city. Racial justice is impossible when Black and brown New Yorkers are dying from preventable causes at rates far exceeding their white neighbors. Education reform is out of reach so long as one-third of New York's kids don't have enough to eat. How can we have an economy that works for everyone when a single medical bill can ruin families?
When we cast our votes this week and next, it isn't just a policy decision. It's a moral one. We have the choice to radically redefine what a healthy city looks like, or the choice to condemn millions of our friends and neighbors to poor health just because of the circumstances of their birth and environment. For decades, health has been an afterthought at the ballot box, but COVID-19 has proven that the status quo simply won't work any longer. On June 22, let's finally get this right.
***
Lisa David is the President and CEO of Public Health Solutions.
***
Have an op-ed idea or submission for Gotham Gazette? Email This email address is being protected from spambots. You need JavaScript enabled to view it.