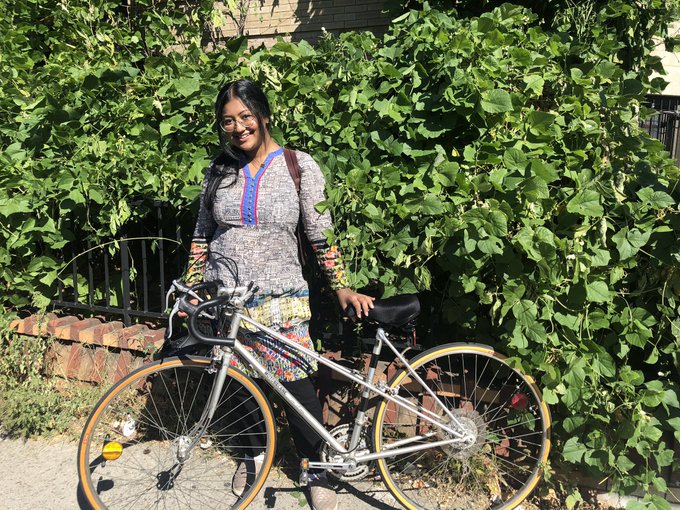 Shahana Hanif (photo: @ShahanaFromBK)
---
Trash is too often an afterthought. Voters and friends pause when I share my love for recycling, composting, and colorful trash cans. But, as a climate champion endorsed by Sunrise NYC, Resilience PAC, TREEage NYC, and NYC's chapter of Sierra Club, I know that waste equity is critical to achieving New York City's climate resiliency goals.
We need to stop thinking of waste as 'trash.' Waste is valuable material; compost is nutritious food for our community gardens' soil. Over one third of New York City's waste is made up of food and organics that should be composted. Instead, this resource is thrown away and transported to decompose in landfills, which contributed to 3.5% of New York City's carbon emissions in 2019. These landfills pollute Black and brown neighborhoods as far away as Virginia, furthering the disproportionate burden of waste inequity, pollution, and the immediate impacts of climate change on communities of color.
Environmental racism is local to Brooklyn too. It should be no surprise that predominantly Black and brown, working class, and immigrant neighborhoods, like my home neighborhood Kensington, are not prioritized in waste collection and other sanitation services.
I am calling for a Feminist Green New Deal for Brooklyn.
To me, feminism means collective action to address harm. Through the City Council District 39 Participatory Budgeting process, our community created the largest community-based compost facility in Brooklyn at the DEP/DSNY Salt Lot in Gowanus. Repairing the harm of waste inequity across the city and District 39 means investing in more sanitation services and creating good composting and recycling green jobs.
During the pandemic, the city's residential composting program and environmental education programs were also completely cut and the Department of Sanitation had its budget slashed by $106 million, despite operating the city's emergency feeding programs. Even though $2.9 million was restored in July 2020 for community composting, it was only for a few drop-off sites across the city, mostly in Manhattan. This lack of service has led to trash buildup.
To clean up our neighborhood, my neighbors and I have had to call in programs like ACE New York to pick up waste and rely on neighborhood trash cleanups organized by community members, like the Kensington Stewards and Ocean Parkway Cleanup. A Feminist Green New Deal calls for us to compensate those caring for our communities, instead of relying on nonprofits, private organizations, or volunteers to keep our neighborhoods clean.
As a lifelong resident of Kensington, I know the pandemic budget cuts did not cause this waste crisis. In our district, neighbors in Park Slope have long had curbside compost pick-up, while residents in Kensington and Borough Park do not. We must fully fund the Department of Sanitation to equitably handle waste and prioritize waste-overburdened neighborhoods. We need a comprehensive citywide composting program that will produce local green jobs, lower the carbon footprints of New Yorkers, and enhance our green spaces.
Composting is one local component to addressing climate change. We must dedicate resources to protect our existing compost sites, and expand funding for programs, like the NYC Compost Project, which provides training for community members to build and maintain more composting sites. We should also push for increased flexibility of park space for gardening and composting to encourage community engagement, environmental education, and ecological stewardship.
The climate crisis is at the crossroads of racial justice, migrant justice, economic justice, labor justice, and gender justice. We cannot waste another minute. We must secure a climate resilient future by building dynamic local solutions to our waste problem.
***
Shahana Hanif is a Democratic candidate for City Council in District 39 in Brooklyn. On Twitter @ShahanaFromBK.
***
Have an op-ed idea or submission for Gotham Gazette? Email This email address is being protected from spambots. You need JavaScript enabled to view it.