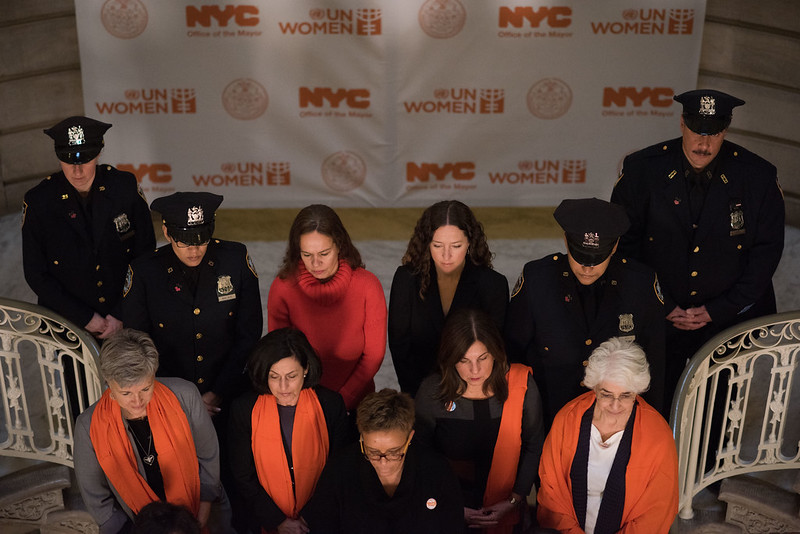 Ending violence against women (photo: Michael Appleton/Mayor's Office)
---
In poll after poll in the lead-up to the mayoral primary election, New Yorkers are citing crime and public safety as a top issue of concern. Yet debate after debate, the question never gets asked, "what will you do to root out sexual assault and street harassment as part of rebuilding New York and creating a world class city?"
Women want to know: when will leaders realize that running on a platform to transform how we treat women is a winning one.
It's an area of crime that no candidate for mayor has seized fully. It won't come as a surprise that the two leading women in the race, Maya Wiley and Kathryn Garcia (both of whom NOW-NYC has endorsed), have raised the issue in debates and on the campaign trail. Other candidates, Andrew Yang and Dianne Morales, have said they are in support of decrimihalizing the sex trade -- which sexually exploits the most vulnerable among us and goes hand-in-hand with other criminal activity. Morales has a vision for it, with red light districts around the city. Ms. Morales, how will you decide which lucky neighborhoods become magnets for sex buyers and violence?
We already know that the NYPD has to spend resources and time tracking and investigating human traffickers who import immigrant women and recruit local women and girls from our poorest neighborhoods to meet existing demand from wealthier New Yorkers looking to buy a sex act.
Red light districts would certainly exacerbate the problem of rape and sexual assault. As it stands, the NYPD hasn't been able to adequately respond to the current levels of assault. Year-to-date, there have been nearly 1,500 rapes reported; and as we know, what's reported is a fraction of the real picture.
This past year, Women's Justice NOW, in partnership with NOW-NYC, conducted a survey to evaluate the NYPD's response to survivors of sexual assault and rape. All 20 rape crisis programs and first responder organizations, working with an estimated 5,000 sex crimes victims, said the same thing: the quality of Special Victims Division (SVD) investigations varies widely (19) or that SVD handles these cases poorly most of the time (1). Not one organization said that SVD handles sex crimes well most of the time.
When asked how providers would rate the job SVD is doing, 13 out of 20 organizations (65%) said "not so good" or "poor." Not one organization believed that the NYPD's SVD was doing an "excellent" job. Only 3 out of 20 organizations (15%) said "good."
These results go hand-in-hand with the findings of a 2018 New York City Department of Investigation report, which found a persistent lack of investment in SVD and in the training and experience levels of its investigators.
How is it that in 2021 -- four years after MeToo had its breakout moment and three years after the devastating DOI report led to rallies and protests pressuring Mayor de Blasio -- reforming the NYPD's Special Victims Division is not a major theme candidates for mayor are running on this cycle?
It's a question worth asking at the final debate and when you get in the voting booth.
***
Sonia Ossorio is President of National Organization for Women NY. On Twitter @soniaossorio & @NOW_NYC.
***
Have an op-ed idea or submission for Gotham Gazette? Email This email address is being protected from spambots. You need JavaScript enabled to view it.