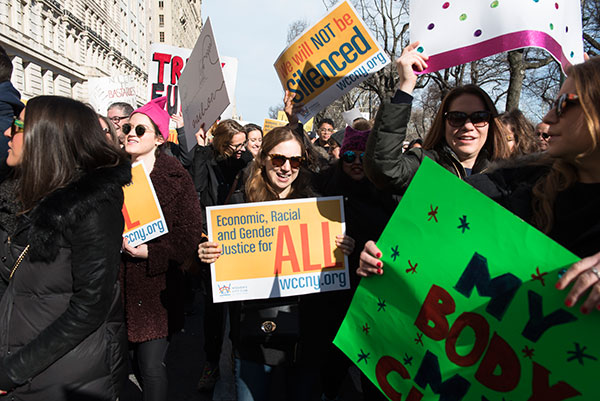 Elected officials and advocates (photo: Alycia Kravitz)
---
Even before the pandemic, we knew that women—especially women of color, immigrant, transgender, and incarcerated women, as well as gender non-conforming and non-binary individuals—experienced high levels of political exclusion alongside poverty, discrimination, and violence.
Now, we are at a pivotal moment in our country's history, as we emerge from a devastating pandemic and still bear witness to the consequences of systemic racism and social injustice.
Across the country, more women may be running for office than ever before—but more women are not getting elected. In New York City, women hold only 14 of the 51 seats in the New York City Council, and 12 are women of color. Due to term limits for 31 seats, that already low level of representation could be reduced even further once the ballots are counted from this month's primary elections.
While voting is not the only form of civic engagement, it is an important way for women to participate and advocate for themselves and their communities. In New York City, where we have three women candidates in the top tier of the mayoral primary and hundreds of women running for City Council and other elected offices, we are either on the cusp of significant change or about to repeat a pattern of unequal representation.
And while our organization, Women Creating Change, as a nonprofit, is not advocating for any specific candidates, we are encouraging women to flex their civic engagement muscles and show up at the polls and have their voices heard.
Our new report—A Blueprint for Women's Civic Engagement in New York City —illustrates that even with a record number of women seeking elected office, women are underrepresented at every level of government and confront harmful gender stereotypes and other barriers to participation on a daily basis.
Nearly all organizations we surveyed for the report (92%) believe that more significant investment in women's civic engagement in New York City is needed, particularly for women of color, immigrant women, and working-class women. We learned that women continue to encounter barriers to full participation, such as the burden of work and care, gendered and cultural stereotypes surrounding civic engagement, political exclusion, and voter suppression. These barriers persist in a context shaped by systemic racism, sexism, and classism.
There is a path forward, where all sectors can collaborate to dismantle those barriers and improve the ability of women to engage more actively, not only in voting but in all areas of civic life. Nonprofits and community-based organizations should continue to expand civic education and engagement programs. Government should expand voting access and rights; improve the city's election infrastructure and voter data analysis; ensure a fair and accurate U.S. Census and redistricting process; increase funding for, and coordination of, civic learning opportunities for families and adults; and give community boards a greater voice in our city's future.
Foundations and the private sector also should direct more resources to organizations implementing inclusive civic engagement programming, those that conduct work through an intersectional lens, organizations of color, multi-year initiatives, and community-based organizations focused on movement-building.
The recommendations are only a starting point to improve civic processes and begin remedying systemic injustices. Everyone should have the knowledge, resources, and connections to advocate for themselves, their families, and their community—and do so by community organizing, volunteering, serving on boards, demonstrating, and participating in community meetings, among other ways to engage. This will lead to stronger communities, an improved quality of life, and a better democracy where every voice is heard—especially those who have been historically excluded from civic life.
Civic engagement is fundamental to the underpinnings of our democracy, and supports jobs, community health, and equity. With the citywide municipal elections, it is more important than ever for all New Yorkers to have the opportunity to shape the future of our city so that we can serve as a national model for inclusive civic education and engagement.
Possibilities for women in this country abound. Yet the promise of the possible requires all of us to invest in the futures of women who seek to run for office, become civically engaged, or to yield changes in their communities and in society at large.
***
Carole J. Wacey is the President and CEO of Women Creating Change. On Twitter @WCChange.
***
Have an op-ed idea or submission for Gotham Gazette? Email This email address is being protected from spambots. You need JavaScript enabled to view it.