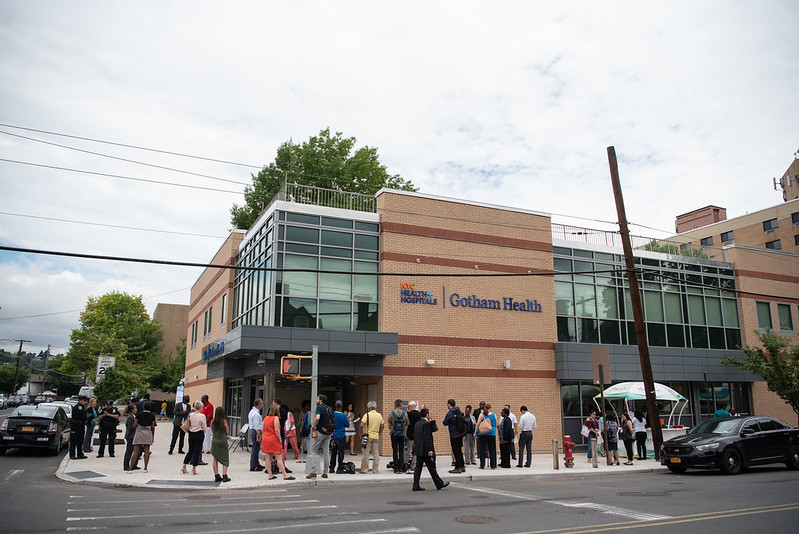 Local health care is key (photo: Michael Appleton/Mayoral Photography Office)
---
When COVID-19 struck 15 months ago, where did those who became infected and seriously ill go? To their nearest hospital.
Hospitals quickly became inundated with patients, and healthcare workers worked around the clock to save tens of thousands of lives. ICU beds filled up, and there was heavy demand on a limited number of ventilators.
While all hospitals were impacted, it was New York's most vulnerable communities – and the hospitals that serve them – that were hit the hardest. These "safety net" hospitals provide essential care to lower-income and rural communities throughout the state. Without them, many New Yorkers would be forced to go much further to get the medical help they needed.
Now these safety net hospitals need a safety net of their own. Financial struggles were a way of life for them long before the pandemic, and every week was a fight to keep their doors open. After all, these hospitals serve the most underserved New Yorkers, including those who are underinsured or have no insurance at all. Covid simply exacerbated what was already a serious problem and has created an existential threat for many of these hospitals.
Despite the critical role our safety net hospitals play in our communities, they receive little outside funding and are underpaid by Medicaid and Medicare. This chronic underfunding creates financial stress, making it difficult for facilities to make ends meet. It is not a stretch to say that most of these hospitals are in serious danger of closing their doors for good.
While safety hospitals struggle, Governor Andrew Cuomo and the State Legislature have allocated $250 million in state funding (the Distressed Provider Assistance Account) for "financially distressed" health-care institutions "that are critical safety-net providers as determined by the state." This annual funding was included in the state budget but has not yet been spent. New York is sitting on critically important funding that could be a temporary lifeline. The state must begin allocating this funding immediately.
The services safety net hospitals provide are not just related to the COVID-19 pandemic. These institutions are an essential piece of infrastructure in our communities, whether someone needs maternal care, treatment for a chronic illness, or has an accident and needs access to trauma care. If these hospitals close, the New Yorkers who rely on them will be forced to travel longer distances, potentially complicating an already dangerous situation.
What's more, these hospitals provide good-paying jobs to the medical professionals in their communities. Without them, patients who desperately need care will suffer, as will those medical professionals who suddenly find themselves out of a job. It is no understatement that hospitals truly are a linchpin for communities throughout the state. Yet, they are edging closer to financial catastrophe.
Critical funding cannot wait any longer. The $250 million that New York has allocated for safety net hospitals needs to be released as soon as possible to help keep them afloat. And going forward, more must be done to ensure that safety net hospitals keep their doors open and continue providing critical services to the New Yorkers who rely on them the most.
***
Jamilah Lasalle is a co-founder of Bait-ul Jamaat – House of Community, a community organization in Staten Island focused on various programs, educational series and advocacy support to the underserved. On Twitter @cprmuslimah & @baituljamaat.
***
Have an op-ed idea or submission for Gotham Gazette? Email This email address is being protected from spambots. You need JavaScript enabled to view it.